November 16, 2015
Jak Tichenor to deliver commencement address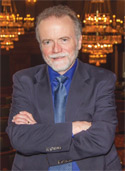 CARBONDALE, Ill. -- Jak Tichenor, a veteran news broadcaster, public affairs reporter and now retired senior producer at WSIU-TV, will be the keynote speaker for Southern Illinois University Carbondale's commencement exercise on Dec. 19. 
"I am delighted that Jak will serve as our commencement speaker," Interim Chancellor Brad Colwell said. "His professionalism, dedication and fairness have been at the forefront throughout his career, and I am sure the message he will share with our graduating students and their families will inspire our students as they embark on their own paths." 
Tichenor has more than four decades of media experience, working in commercial radio in Southern Illinois and western Kentucky from 1971 to 1981 as an announcer, copywriter, music director and news reporter. He retired from the university earlier this year after nearly 34 years with SIU Carbondale; he was the university's 2006 Lindell W. Sturgis Memorial Professional Achievement Award recipient. 
At the time of his retirement, Tichenor was a senior producer at WSIU-TV, the Public Broadcasting Service (PBS)-member station licensed to the university. He joined the television station in 1991 after serving as news and public affairs director since 1981 for WSIU radio, the university's National Public Radio (NPR) station. 
During nearly 10 years at WSIU radio, Tichenor led the effort to create a professionally staffed public radio news department that included students in the Department of Radio, Television, and Digital Media. He earned reporting and documentary production awards from the Associated Press and United Press International while at WSIU radio and produced stories for NPR's "All Things Considered," "Morning Edition," and "Monitor Radio." 
At WSIU-TV, Tichenor specialized in public affairs reporting and documentary television production as well as producing local political coverage and stories for the "InFocus" magazine series.  His latest documentary, "P.S. Illinois, The Paul Simon Story," aired across Illinois on public television stations in 2014.  He was also heavily involved in on-air fundraising for WSIU-TV. 
Tichenor is currently executive producer and host of the statewide "Illinois Lawmakers" series on the Illinois General Assembly for statewide Illinois Public Television and has served as statehouse correspondent for the series since 1991.  Since 1995, he has been lead producer for the Lincoln Academy of Illinois annual TV special distributed across Illinois. 
Tichenor also provides professional narration services and vocal characterizations for radio, television and digital media.  Recent examples include "The Tragedy of Bataan" and "Never the Same: The Prisoner of War Experience" by Professor Jan Thompson and the independent film "Cowboy Christmas" in 2013 by Associate Professor H.D. Motyl. Thompson and Motyl are both in the university's Department of Radio, Television, and Digital Media. 
Tichenor holds two degrees from SIU Carbondale -- a bachelor's degree in radio-television and a master's degree in public visual communications. 
Admission to the commencement ceremony is free, and tickets are not required.  The ceremony will take place at 2 p.m. in the SIU Arena.