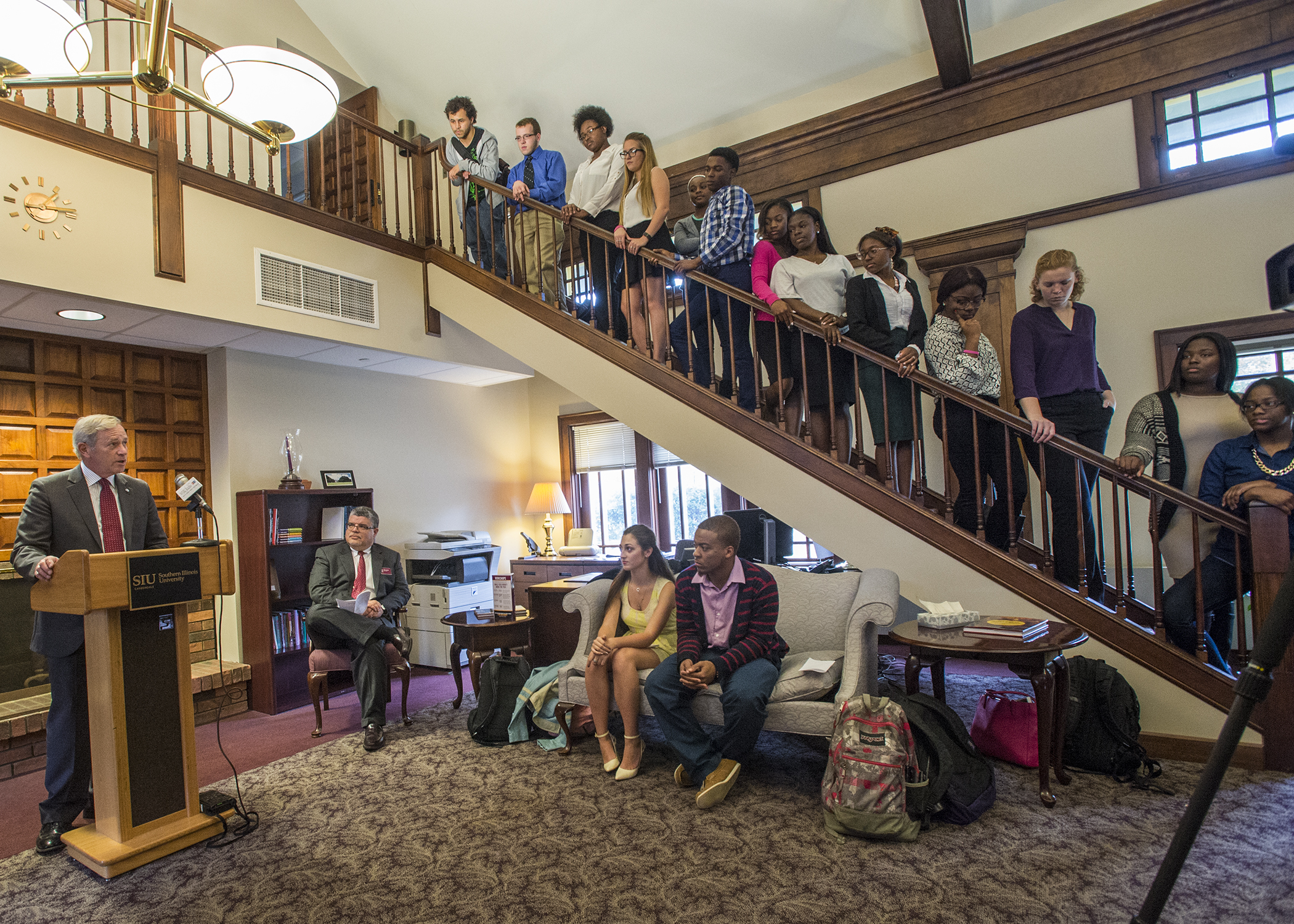 AT&T contribution assists rising scholars -- Jim Maurer, AT&T Illinois vice president, external affairs, discusses a $75,000 contribution to assist SIU Carbondale students who are in Rising Scholars -- a comprehensive program that provides mentoring, group tutoring, career coaching, work-study and scholarships. The funds also support students from the Metro East who participate in the annual Paul Simon Public Policy Institute's East St. Louis Metropolitan Leadership Weekend. With Maurer is Interim Chancellor Brad Colwell, seated right, and several Rising Scholars program students. (Photo by Steve Buhman)
November 04, 2015
AT&T support benefits high school, SIU students
CARBONDALE, Ill. -- Students at Southern Illinois University Carbondale and high school students from the Metro East are receiving mentoring, career coaching and other educational benefits thanks to a contribution from AT&T. 
A $75,000 contribution from AT&T is providing support for two SIU programs this year – Rising Scholars and the Paul Simon Public Policy Institute's East St. Louis Metropolitan Leadership Weekend. Combined, the two programs will serve 80 high school and college students.  
"We are grateful that AT&T again chose to support programs at SIU that invest in young people who show outstanding promise," Interim Chancellor Brad Colwell said. "These programs are vital to the future success of students as they seek opportunities to sharpen their collegiate academic preparation and hone their personal skills necessary to realize their full potential." 
This is the second year that AT&T has contributed to Southern Illinois University. Last year, a $50,000 contribution enabled 62 incoming freshmen to attend an intense two-week, on-campus residential program in July 2014 and receive comprehensive academic support in science, technology, engineering and math (STEM) as part of the Saluki Summer Bridge to Success program. 
"AT&T is thrilled to support these programs at Southern Illinois University Carbondale to make a difference in young lives," said Jim Maurer, AT&T Illinois Vice President, External Affairs.  "We're investing to support education programs because we want to improve opportunities for today's students who are tomorrow's workers and leaders."  
Renada D. Greer, Student Support Services director, said the Rising Scholars program provides continuing support for students who participated in the Saluki Summer Bridge program. Rising Scholars "is a comprehensive college success program that provides mentoring, group tutoring, career coaching, work-study and scholarships," she said. The program also helps improve retention, move students toward graduation and prepare them for the workforce. 
"Without the help of AT&T, we would not be able to provide this level of support for our students," Greer said. 
AT&T is supporting a program that allows students to attend a summer leadership program with the Paul Simon Public Policy Institute. The program brings Metro East students to campus for two days of activities that focus on enhancing leadership qualities of African-American young men through reinforcing positive qualities, building skills and increasing career awareness education. 
The annual program just concluded its 13th year and averages 45 to 50 students annually. Institute founder and former U.S. Sen. Paul Simon, then-associate director Mike Lawrence and Linda Renee Baker, an institute/university professor and project director, established the program in November 2003. 
Baker said students "learned many skills that will assist their growing as leaders and provide a solid foundation in the years to come."
"Their financial support is another sign of their commitment to the youth of our community and for that, we are extremely grateful," she said. "Many of our youth will be first-generation college students. As many of our past participants point out, the weekend is filled with life-changing experiences."
The institute is grateful to AT&T for its support of this program, David Yepsen, institute director, said. 
"We couldn't keep doing this program without support like this. At a time when young African-American men still face unique challenges, we are grateful that a major organization like AT&T has stepped up to help our small efforts to do something about it here at SIU," Yepsen said.