November 03, 2015
Lee, Stemper earn Global Music Gold Medal Award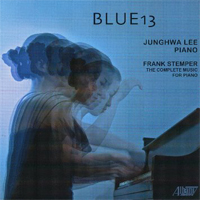 CARBONDALE, Ill. – The classical music and New Music communities seem to agree that the team of piano virtuoso Junghwa Lee, associate professor of piano at Southern Illinois University Carbondale, and composer Frank Stemper, SIU Carbondale professor emeritus, is worthy of serious attention and admiration. 
Lee and Stemper released the CD "Blue 13" in April with Albany Records, and have been accumulating praise for it since. Fanfare magazine, a bimonthly review of classical and jazz music, praised the "'in your face' virtuosity," and said it was "urgently recommended." The American Record Guide reviewer said "all (Lee's) performances are bold and colorful. Stemper is lucky to have her as his companion." Another reviewer wrote, "… (Stemper's) music demands virtuosity as well as sensitive interpretation…. (Lee) is the perfect interpreter for this recording of Stemper's complete music for piano." 
Now the CD has earned another accolade: a Global Music Gold Medal Award. Gold Medal Awards go to only the top 10 percent of entries for the record competition. Global Music Awards are industry awards meant to recognize original music and emerging artists. The professional recognition from the Global Music Awards can help take a musician from well-known in the classical world to household name. 
"Blue 13" is a complete record of Stemper's compositions for piano so far. He also composes music for orchestra, chamber ensemble, voice and computer. His music has traveled to 22 countries and all over the United States. Stemper has spent his 30-plus-year career not only at SIU, where, in addition to his teaching position he also served as composer-in-residence, but at many other universities and music conservatories as guest composer or artist or teacher in-residence. His compositions reflect the middle 50 years of the 20th century, with influences from jazz and other music forms informing his unique style. 
Concert reviewers and critics describe Lee as "a pianist of acute intelligence, conviction … and passion," and as having "flawless technique and exquisite attention to details." Lee is also well traveled and well known, performing in solo recitals, chamber concerts and lecture recitals. She has presented solo performances, and as a soloist with symphony orchestras, in her native Korea, in New Zealand and Australia, and in nine other countries in Europe, Asia and North America. She debuted Stemper's composition "Global Warning" in Orleans, France, in 2008 and included it in her Carnegie Hall recital that same year. 
Stemper described "Global Warning" as "an impassioned and even angry comment about 'our leaders' unwillingness to take environmental problems seriously." Other compositions on the CD include the title track, "Blue 13," "Klavierstuck I" and two piano sonatas. 
Lee is available for interview. Contact her at jlee@siu.edu, 618/453-5816 or 618/536-8742.