October 28, 2015
Illinois House minority leader to visit campus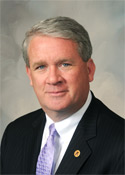 CARBONDALE, Ill. – State Rep. Jim Durkin, the Illinois House minority leader, will present a lecture next week at Southern Illinois University Carbondale. 
"We are delighted Minority Leader Durkin is coming to visit our campus," David Yepsen, director of the Paul Simon Public Policy Institute said. "Any time we can bring a legislative leader to SIU, it is a good opportunity for students, faculty and the community to get to hear firsthand about issues." 
Durkin's lecture is at 7 p.m., Nov. 5, in Student Center Ballroom B. The lecture is free and open to the public. 
Durkin, R-Western Springs, has been the House Republican leader since August 2013. A former Illinois assistant attorney general and assistant state's attorney in Cook County, Durkin, 54, has served Illinois government for nearly 20 years. He became a state representative in 1995, and was the unsuccessful Republican nominee for U.S. Senate against U.S. Sen. Dick Durbin in 2002. He was appointed to fill a vacancy in the state's 82nd House district in 2006 and has been re-elected since. He served as the ranking Republican on the Illinois House of Representatives Special Investigation Committee for the impeachment of Gov. Rod Blagojevich in 2008. 
As Illinois House Republican leader, Durkin negotiated and helped pass the state's pension reform proposal in November 2013. 
"As we all know, Illinois and its policymakers are facing a number of issues and fiscal challenges so this is a particularly good time to have him on campus. We are grateful to him for taking time out of his schedule to make the trip to Carbondale and spend some time with students," Yepsen said. 
In 2000 and 2008, Durkin was state chair for U.S. Sen. John McCain's presidential campaigns and was the Illinois delegation chair to the 2008 Republican National Convention in Minneapolis, Minn. 
Durkin is a graduate of the Illinois State University and the John Marshall Law School in Chicago. 
Yepsen said Durkin's visit means all four of the legislative leaders, House Speaker Michael Madigan, D-Chicago; Senate President John J. Cullerton, D-Chicago; Illinois Senate Minority Leader Christine Radogno, R-Lemont, and Durkin, will have been institute guests. 
"We don't lobby for legislation and we certainly don't endorse candidates," Yepsen said, noting that the late U.S. senator and institute founder Paul Simon "wanted his institute to be non-partisan, and we try to present a diverse variety of speakers and viewpoints to the community." 
For more information on the program, contact the institute at 618/453-4009 or visit http://paulsimoninstitute.siu.edu/.