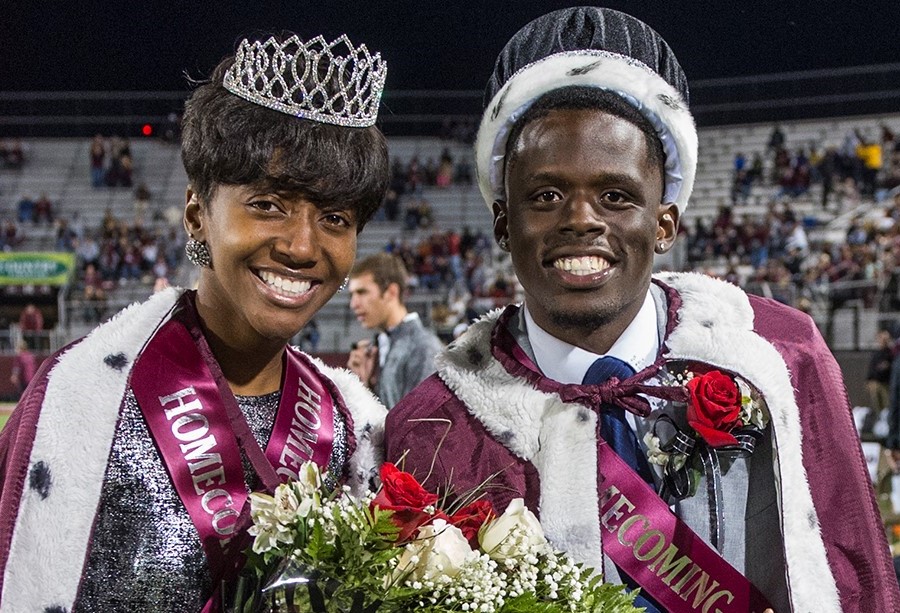 October 27, 2015
Shelton, Johnson crowned Homecoming royalty
CARBONDALE, Ill. -- It was a winning weekend in more ways than one as Southern Illinois University Carbondale celebrated "Respect the Royalty" Homecoming 2015. 
In addition to the Salukis' overtime victory against Youngstown State, SIU crowned a homecoming king and queen and awarded prizes in other competitions as well. 
Allen Shelton, a senior communications studies major with a minor in journalism from Hazel Crest is the 2015 king, chosen by fellow students through online voting. The student body chose Taylor Johnson, a senior radio, television and broadcasting major with a minor in public relations, from Peoria, as homecoming queen. 
Delta Zeta sorority won the inaugural Spirit Competition, claiming a $400 prize and trophy for being the registered student organization with the most participation in homecoming festivities throughout the week. 
Organizers also announced the winners from the Oct. 24 homecoming parade. Alpha Gamma Rho and Alpha Gamma Delta won the overall parade competition for the float they built cooperatively. 
Winners in the marching band competition, listed by categories, include:
Class A -- 1. Harrisburg High School; 2. Carbondale Community High School.
Class B -- 1. Egyptian High School.
Class C -- 1. Harrisburg Middle School; 2. Sparta Lincoln Middle School.