September 11, 2015
University to host Illinois lieutenant governor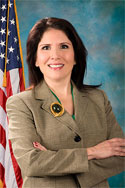 CARBONDALE, Ill. -- Illinois Lt. Gov. Evelyn Sanguinetti, the first Latina elected to statewide office, will speak at Southern Illinois University Carbondale next week as part of National Hispanic Heritage Month. 
Sanguinetti's presentation, sponsored by the Paul Simon Public Policy Institute, is from noon to 1 p.m., Thursday, Sept. 17, in the Saluki Stadium Club. Parking will be available in the SIU Arena parking lot. 
The lecture is free and open to the public, but space is limited. Lunch is included and advance registration is required. The registration deadline for lunch is Monday, Sept. 14. Open seating will be available for those who wish to only listen to the speech and not be included in the meal.  Email rsvp@paulsimoninstitute.org to register 
A former Wheaton City Council member, Sanguinetti became the first Hispanic and Latina to hold statewide office when elected alongside Gov. Bruce Rauner in November 2014.  Born to teenage parents in Hialeah, a neighborhood outside of Miami, Fla., Sanguinetti's father legally immigrated from Ecuador and her mother entered the country as a Cuban refugee, and Sanguinetti grew up with Spanish as her first language. 
She earned a bachelor's degree in piano performance from Florida International University and her law degree from The John Marshall Law School in Chicago. Sanguinetti later joined then-Illinois Attorney General Jim Ryan's office as an assistant attorney general. 
For more information on the program, contact the institute at 618/453-4009 or visit http://paulsimoninstitute.siu.edu/.