September 10, 2015
Brad Colwell to return to SIU Carbondale as interim chancellor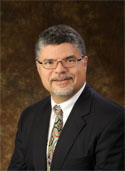 CARBONDALE, Ill. -- William Bradley Colwell, dean of the College of Education and Human Development at Bowling Green State University and former associate dean of the College of Education and Human Services at Southern Illinois University Carbondale, will return to SIU Carbondale Oct. 1 to serve as its interim chancellor. 
His appointment, approved by the SIU Board of Trustees today (Sept. 10) upon the recommendation of President Randy Dunn, is effective through June 30, 2017.
"Dr. Colwell is highly respected at SIU, in the Illinois education community, and nationally in his field," Dunn said. "He is deeply committed to the university and his native Southern Illinois.
"Brad is also a highly collaborative leader," Dunn added. "I have confidence that he will engage the entire campus community as he helps SIU Carbondale address the challenges and embrace the opportunities ahead."
Colwell will replace Dunn, who has been serving as acting chancellor in addition to SIU system president, since the November 2014 death of Interim Chancellor Paul Sarvela. After a national search did not yield a permanent replacement, university trustees asked Dunn to identify an interim chancellor to serve for up to two years prior to a new search.
"Brad's optimism for SIU, combined with his dedication to students, quality and our region – in addition to his proven, strong academic management skills -- make him ideally suited to lead the university through a period that will bring significant change," Dunn said. "The board recognizes that a long-term interim chancellor with these skills and attributes is the best immediate leadership solution for SIU Carbondale given the state's budget uncertainty."
Dunn said top priorities for the new interim chancellor include working with faculty and staff to recruit and retain students, review and realign academic programs, and identify and implement new financial strategies and efficiencies. In addition, he says he hopes Colwell will build the university's outreach and service to the region.
Colwell has been dean of the College of Education and Human Development and professor in the School of Educational Foundations, Leadership and Policy at Bowling Green since 2010. Under his leadership, the college's new freshmen enrollment for fall 2015 was up 14 percent from the previous fall semester, and freshmen retention has risen to 85 percent. Colwell has also increased the college's emphasis on external grant funding, use of technology, fundraising and marketing.
At SIU, he served as associate dean for academic and student affairs for the College of Education and Human Services from 2008 to 2010. He was chair of the Department of Educational Administration and Higher education from 2004 to 2008 and served as the department's director of graduate studies from 2001 to 2004. He came to SIU in 1996 as an assistant professor and was appointed associate professor in 2001 and professor in 2005.
He served as chair of the university's Graduate Council and as a member of a number of university-wide committees related to accreditation, the first-year student experience, administrative searches and other areas.
Before joining the SIU faculty, Colwell was an attorney with Miller, Tracy, Braun & Wilson Ltd. In Monticello, Ill., representing more than 125 Illinois school districts in legal matters and labor negotiations. He also served as a graduate assistant in the College of Education at the University of Illinois at Urbana-Champaign.
Colwell, a native of Bluford, Ill., said he is honored to return to SIU and Southern Illinois.
"SIU is a unique institution that combines the best attributes of a strong public university – outstanding programs, dedicated faculty, relevant research and a symbiotic relationship with the region and state," he said.
"I have great respect for SIU faculty and staff because I have seen their commitment to the university and its students first-hand," Colwell added. "While there are challenges ahead, I believe we have the internal will to overcome them and be an even better university as a result."
Colwell is former president of the Education Law Association and currently serves on the board of examiners of the National Council for the Accreditation of Teacher Education and as chair of the Ohio Dean's Compact on Exceptional Children. He was recently named by Mometrix Test Preparation among the 30 most influential deans of colleges of education in the United States.
His academic focus is on legal, policy and school management issues, including educational labor relations, education law, school finance and the politics of education. He has presented or co-presented more than 50 papers at national professional conferences; published nearly 60 articles, book chapters and monographs; and written more than more than 80 case reviews related to his field. In addition, he has been delivered more than 150 papers and presentations at meetings and conferences in Illinois and the Midwest. 
In addition, he has been the investigator or co-investigator on a number of grants, including two recent grants focusing on personnel development from the U.S. Department of Education. 
Colwell holds a bachelor's degree in political science from Anderson University in Indiana and a master's degree in educational administration, a juris doctor (law) degree and a doctoral degree in educational administration, all from the University of Illinois at Urbana Champaign.
(Contact: Rae Goldsmith, 618/453-2589)