June 25, 2015
White named interim dean of education college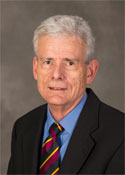 CARBONDALE, Ill.  -- Lyle J. White, most recently professor and coordinator of counselor education in Southern Illinois University Carbondale's College of Education and Human Services' Department of Counseling, Quantitative Methods and Special Education, has been named interim dean of the college. White's appointment, effective July 1, is subject to approval by the SIU Board of Trustees. 
White has a longtime affiliation with SIU Carbondale and the college. He came to the university in 1989 as assistant professor in educational psychology and special education and as a clinical staff member at the Clinical Center. Since that time, he has served in a number of teaching and administrative roles, including as professor and chair of the Department of Educational Psychology and Special Education from July 2002 to October 2013.  
White won the college's Teacher of the Year award in 2001 and the Association for Counselor Education Research Award in 2003. He is a former president and board member for the Illinois Association of Marriage and Family Therapy and earned the organization's Distinguished Service Award. He has held various offices and appointments in other professional organizations as well. 
White will serve as interim dean until Dec. 31, 2015, or until a new dean is hired, according to Susan Ford, acting provost and vice chancellor for academic affairs. He replaced Keith Wilson, who is stepping down from his role as dean June 30. 
"Dr. White's administrative experience, deep knowledge of the College of Education and Human Services and commitment to SIU ensure that the college will continue to move forward during the search for a permanent dean," Ford said.
White's research has focused on outcome and process in family therapy, teaching and supervision practices in counselor education, and the application of conceptual metaphor theory, imaginative language and social constructivism to counseling and counselor education. 
He has received grants for technology enhancement, family therapy and other initiatives and has made numerous regional, national and international presentations and workshop appearances. Many of his presentations, as well as various published works, are in conjunction with students. He has also served on a variety of committees, including the Faculty Senate from 2013 to 2015. 
White's previous experience includes work as a school psychologist in Council Bluffs, Iowa, elementary school counselor and teacher, behavioral technician and work in a marriage and family therapy clinic practice. He has extensive experience as a consultant, and served as a lieutenant in the United States Naval Reserve. 
White holds a bachelor's degree in psychology and a master's degree in elementary education from the University of Nebraska and a master's degree in elementary guidance and counseling from Kearney State College (now the University of Nebraska at Kearney). He earned a doctorate in education/school psychology at the University of Iowa, an education specialist degree at Kearney State College and his elementary education certificate from the University of Nebraska. He completed a post-doctoral fellowship in family therapy and school consultation at the Galveston Family Institute.