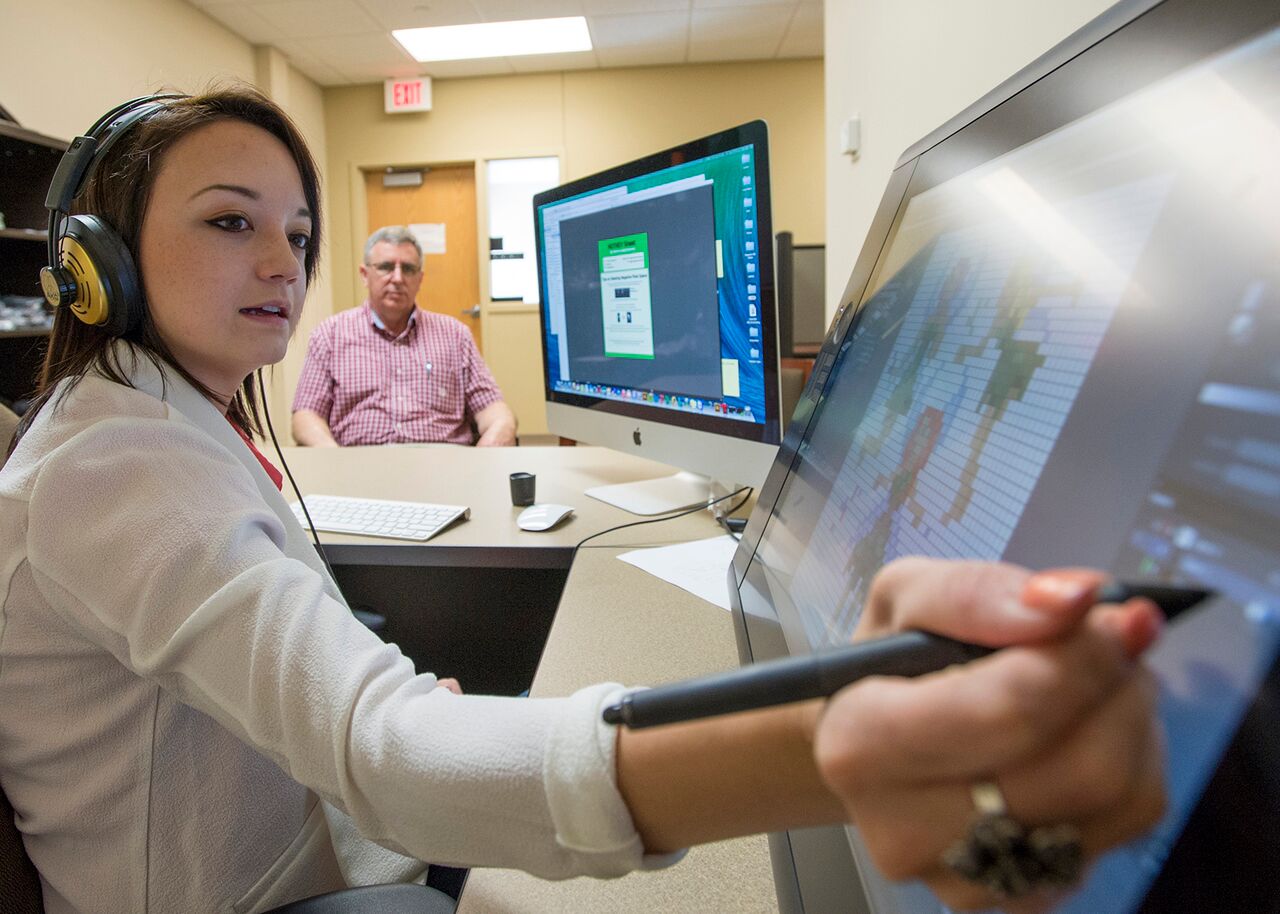 Gamification Animation -- Sara Saito, a recent SIU graduate in professional media and media management from Rolling Meadows, demonstrates the animation figures she created for a gamification project to Thomas Hovatter, project coordinator for the Illinois Nurse Assistant/Aide Training Competency Program at SIU. (Photo by Russell Bailey)
June 11, 2015
Nurse Aide Testing Project promotes engaged learning
CARBONDALE, Ill. – A Southern Illinois University Carbondale program with a long legacy of contributing to the health care industry is now sharing its innovations and expertise across the campus – and beyond. 
SIU took over administration of the Illinois Nurse Assistant/Aide Training Competency Evaluation Program nearly 23 years ago. In that period, nearly 300,000 people have registered to take the exam to become certified nurse aides – including 18,500 in 2014 alone. In recent years, the staff and student employees in the program, part of the Department of Workforce Education and Development in the College of Education and Human Services, have focused on more than administering and scoring tests, recording results and reporting certifications earned, according to Thomas W. Hovatter, project coordinator. 
Initially, efforts went toward streamlining and bringing the whole process into the 21st century, including a move toward online registration. Work is wrapping up on the first phase, a pilot program offering completely online registration and payment. The goal is total conversion to online registration and eventually, to offer online testing as well. 
Fully implementing a comprehensive online registration and testing program will save approximately $100,000 in mailing and processing costs annually and it will get people employed faster, Hovatter said. 
The Nurse Aide Testing Project also registers Direct Support Personnel for the Illinois Department of Human Services. These employees provide care to people with traumatic brain injuries or who are developmentally disabled. The Nurse Aide Testing Project program is exploring ways to enhance this registration process as well, getting people employed more quickly and filling holes in the workforce. 
Steve Sitt, a Workforce Education and Development doctoral candidate from Hong Kong, has focused on modernizing the registration program since 2010. Previously, the process took about 30 days to complete. Through a modified and upgraded online process, the wait now averages 24-48 hours and is usually less on weekdays. 
Sitt, who plans a career teaching in the radiology field, also is working on a nurse aide testing rescoring project, evaluating the tests themselves, seeing which questions are frequently missed and providing that data to individuals to help them improve their test preparation efforts. 
As staff and student employees began exploring ways to improve testing, they quickly found applications for their research and discoveries to other areas of the university and beyond. They are now involved in evaluating test anxiety and the impact personality attributes have on test results, creating and delivering online training courses, implementing green screen technology to improve webcasts and training, developing educational games to engage students, using low-speed motion capture to train people for employment, and other technologically advanced projects. 
"People come to us with the craziest things and we never say 'no,'" Hovatter said. "We can't violate the laws of nature but we will look at anything else that can be tied in to training and see how we can apply technology to make it better. We promote engaged learning." 
Numerous students are involved in the work, making valuable contributions, getting hands-on learning and research experience, and making notable contributions to the field, Hovatter said.  
Eric Essen, a May 2015 graduate from Carlyle with a master's degree in curriculum and instruction, has been involved in gamification, the use of video games for educational purposes. Rather than studying with books or notes, people can study by taking quizzes via video games in which they answer questions, jump to different levels, accumulate points and badges and even keep track of top scores on a leaderboard. Essen is developing those instructive video games and has also collaborated with Andrey Soares, assistant professor in the School of Information Systems and Applied Technologies, on the project.  
"It really reinforces the learning and because it's fun, it motivates people to learn," Essen said.  
Creating an app that is both a game and a study tool has been Alan Franklin's focus. A senior psychology major from O'Fallon, Franklin developed an app to help people study for the nurse aide test and it features multiple question lists, bonus questions and other elements. The idea is to make studying appealing and he said the game can easily be modified to fit other programs of study. 
Sameer Ahmed, a Workforce Education and Development doctoral student from India, has been busy evaluating how personality affects performance during standardized testing, with the ultimate goal of creating better tests. Due to the complexity of his research, there are a couple of phases. For a six-month period, those taking the certified nurse aide test at more than a dozen sites in different regions of the state completed surveys that assessed their thinking, studying, learning and test-taking styles. Those results are now being compared to the actual tests and test results to determine correlations.  
For example, if numerous people who report similar personality styles consistently miss the same questions on a test, this can lead test formulators to look at the wording of a question and possibly revise it to be better understood by test-takers. Ahmed said the same analytical process can be applied to other tests to make them more fair and accurate assessments of knowledge. 
Kelli Whittington, a Benton native who completed her WED doctorate in 2014, has worked for the last four years on a project converting Department of Human Services classroom curricula to online classes. This enables people to complete their training any time of the day and night for caregiver positions where they provide assistance to people with developmental needs. She said it's been a great learning experience and she is continuing to develop additional online course curriculums for the state. 
Researchers are also working on a computer system that measures test anxiety by monitoring heart rate and breathing. And, they are further enhancing augmented reality technology by making even more realistic the capture of a paper image and translating it into a virtual reality for use in training. 
They also are developing "Dawg Walk," an app that is downloadable and helps people navigate the SIU campus without an Internet connection. They are also working on a scanning project that allows responses from multiple-choice tests to be read electronically without the use of expensive sheets and scanners now commonly utilized. 
The Nurse Aide Testing Project is highly collaborative too. For instance, the green screen lab is a collaborative effort also involving the College of Mass Communication and Media Arts and Continuing Education and Outreach. 
"People are amazed with what goes on here. We try to reach out to everyone we think will be interested in what we've got going on," Hovatter said. 
The Nurse Aide Testing Project is self-funded, taking in enough revenue for services provided to cover its own costs. In addition to the numerous research projects, the Nurse Aide Testing Project also won a contract to revamp the health care workers training for the Laborers International Union of North America. The project delivered eight training modules last year and will deliver four more this year.