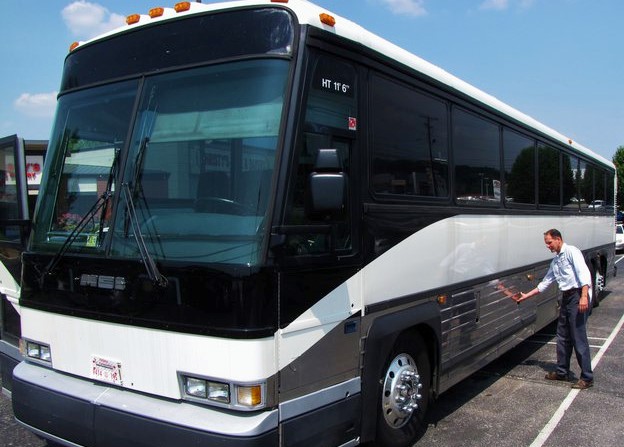 June 05, 2015
Veteran entrepreneur still relies on SBDC
CARBONDALE, Ill. -- Not all of the people who come to the Illinois Small Business Development Center at Southern Illinois University Carbondale are new to the world of business. 
Mark Robinson's first foray into business ownership came while he was still in high school. Through the years, he's owned a number of businesses, including an army surplus store, a bicycle shop and a limousine company. But in the late 1990s, he conceived "Bus to Chicago" and the SBDC was there to help. 
That enabled Robinson to open his niche business in 2011. The initial plan was to offer SIU students from the Chicago area an affordable way to travel back and forth between the university and their hometown. But, the company now provides rides to anyone between Carbondale and the "Windy City" and also offers charter bus service. 
"We're the only bus service that does what it does from Carbondale to Chicago," Robinson said. 
Robinson provides transportation to Chicago via bus about 25 weekends annually and runs a van route on less popular weekends. He said the company prides itself on being consistently on time and that "people seem really happy" with the service he provides. He emphasizes personal service, answering the phone himself when people call rather than using a call center like many popular mass transportation companies do, he said. 
Robinson actually has about 28 years of experience in the transportation industry, at one time owning a Greyhound bus station, which he later sold. 
"I'm proud to see that all of my businesses still exist," he said. "As long as you can make a living while doing the business you enjoy, the payout is at the end." 
Despite Robinson's previous business successes and his experience, establishing Bus to Chicago wasn't easy. His first major obstacle was finding financing. Many bankers were unwilling to take a chance on such a new concept. 
"I tried traditional financing and they just weren't interested – not even close to being interested," Robinson said. 
Instead of giving up, Robinson contacted the SBDC. There, he got help revising and improving his business plan and in finding alternative funding through the Champion Community Investments program. Since that time, he's sought the expertise available at the center for other questions and needs and said he highly recommends the SBDC to other prospective and expanding business owners. 
"I like to build things and see how they grow. There is no better way to see how something works or grows than to start a new business," Robinson said. 
While Robinson encourages others to pursue their business ownership dreams and do it wisely by consulting the experts at the SBDC, he also warns aspiring owners "to avoid doing it for the money" but rather, to do something they enjoy doing, regardless of how profitable it is. He said business ownership is a big learning experience and the challenges for him have been many, including everyday maintenance and time constraints. He said he has made it a priority though to assure his vehicles are well-maintained and up-to-date for the safety and comfort of riders. 
He continues to look for ways to improve Bus to Chicago and plans in the future to provide outlets on the bus, install better Wi-Fi and add graphics to the bus exteriors. As his business grow and thrives, Robinson said he'll return to the SBDC for sound guidance and in seeking assistance in securing financing. 
The Illinois Small Business Development Center/International Trade Center is funded in part through a cooperative agreement with the U.S. Small Business Administration and the Illinois Department of Commerce and Economic Opportunity and hosted by Southern Illinois University Carbondale. 
For more information about the SBDC or the numerous services it provides to new and growing businesses, contact Robyn Laur Russell at rrussell@biz.siu.edu or 618/536-2424.