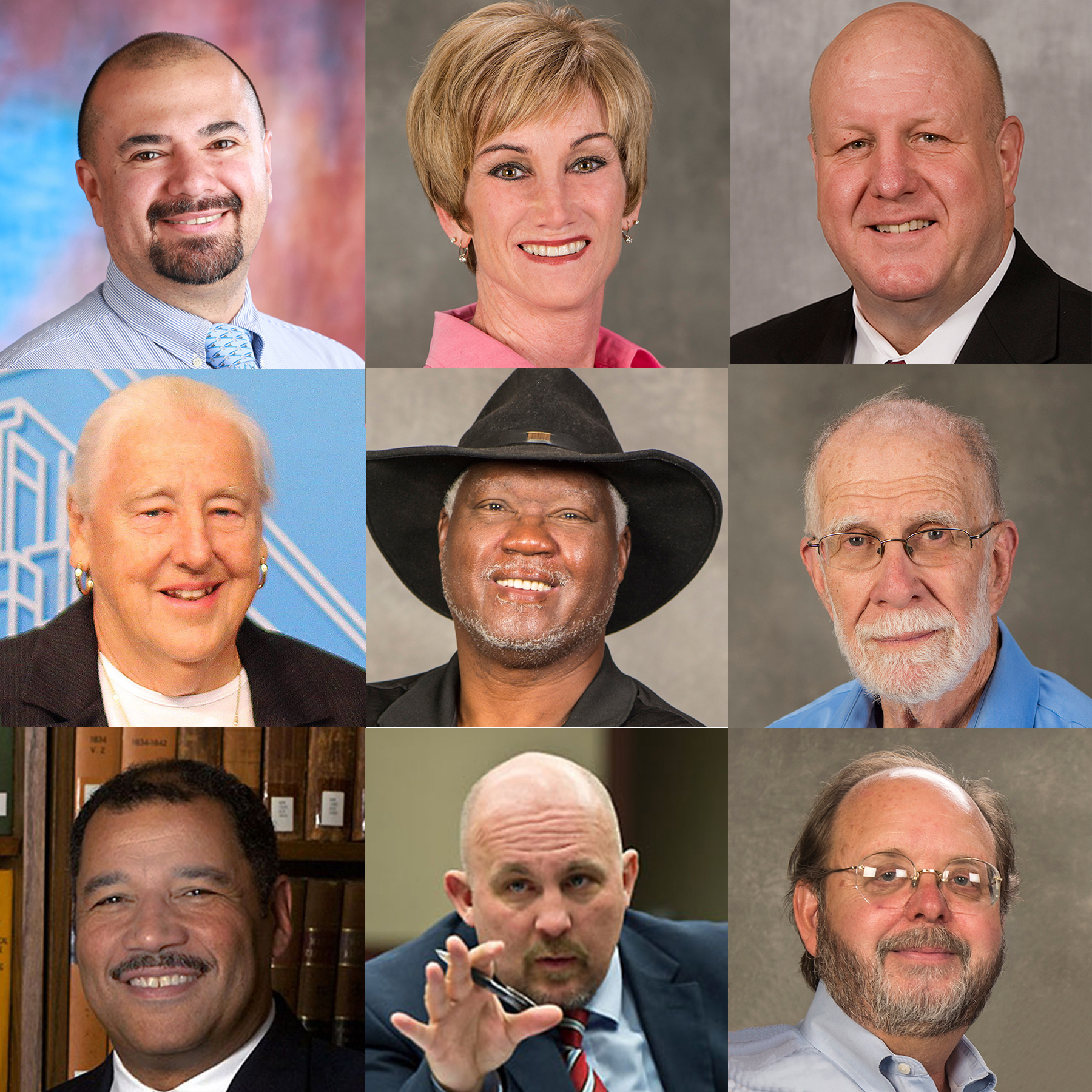 Contestants in the upcoming 'Singing with the Stars' event for the McLeod Summer Playhouse at SIU Carbondale are, from left: top row – Alex Garrido, Ronda Dunn, Mike Kasser; middle row – Charlotte West, Milton McDaniel, Herb Donow; bottom row – Peter Alexander, Chris Behan and Mark Brittingham.  (Photo provided)
May 28, 2015
'Singing with the Stars' takes to the stage June 5
CARBONDALE, Ill. – "Singing with the Stars" puts local leaders on the spot and in the spotlight as they vie for title "MSP Idol of the Year." This annual Friends of the McLeod Summer Playhouse (FMSP) "no-talent-necessary" singing competition is a favorite area event and a fundraiser for Southern Illinois University Carbondale's McLeod Summer Playhouse. 
Doors open at 7 p.m. on June 5 in the McLeod Theater, and the competition begins at 7:30 p.m.
"Some of the contestants are actually quite good," Carolyn Donow, FMSP Board of Directors vice president, said. "And for the others, well, the main focus is on having fun."
---

Media Advisory
Members of the media are welcome to attend the June 4 dress rehearsal for a sneak peak photo opportunity; and they are welcome to attend the event June 5 for photos of the event. To make arrangements, call Vincent Rhomberg at 618/453-7589 or email to mcldpub@siu.edu.
---
This year's event boasts a fantastic line-up of local-celebrity competitors. They include:
• Alex Garrido, the bow-tie wearing bon vivant
• Milton McDaniel, hometown hero and country western crooner
• Charlotte West, retired SIU women's basketball coach and gutsy tap dancer
• Ronda Dunn, Benton native and SIU alumna, and also SIU's first lady
• Mike Kasser, petrified public performer and chief financial officer of Southern Illinois Healthcare
• Herb Donow, retired professor, cattle farmer and Shakespeare enthusiast
• Mark Bittingham, Chris Behan and Peter Alexander, the legal eagle trio, all of them with past or present affiliation with the SIU School of Law 
Jak Tichenor, retiring after 34 years of service to WSIU, is the emcee. Judges are River Radio's Juli Ingram; last year's winner Kathie Fralish; and current editor of the Southern Illinoisan, Autumn Phillips. 
There are rumors about surprise guest appearances by a certain university president and a newly elected mayor, but the specific identities of said surprise guests remain a mystery. 
Those who attend this event should bring their appetites as well as their critical listening skills and/or senses of humor. Hunan Village provides appetizers after round one, and Lipe Orchards serves homemade desserts after round two. 
Tichenor will announce the winner at the end of the evening. Votes, in the spirt of democracy, are available for a dollar each or six votes for $5. Cash and checks may also count as votes. Coupons, however, do not.  "Coupons don't count," Trish Welch, FMSP Board of Directors president, said. "Bearer bonds or real estate are O.K." 
Tickets are $35 per person, and include wine, soft drinks, and the aforementioned foods. Tickets are available at the McLeod and SIU Arena box offices, weekdays from noon to 5 p.m.; by calling 618/453-6000, or online at playhouse.siu.edu. Tickets are also available at the door beginning at 6:30 the evening of the performance. Proceeds support the McLeod Summer Theater 2015 season.