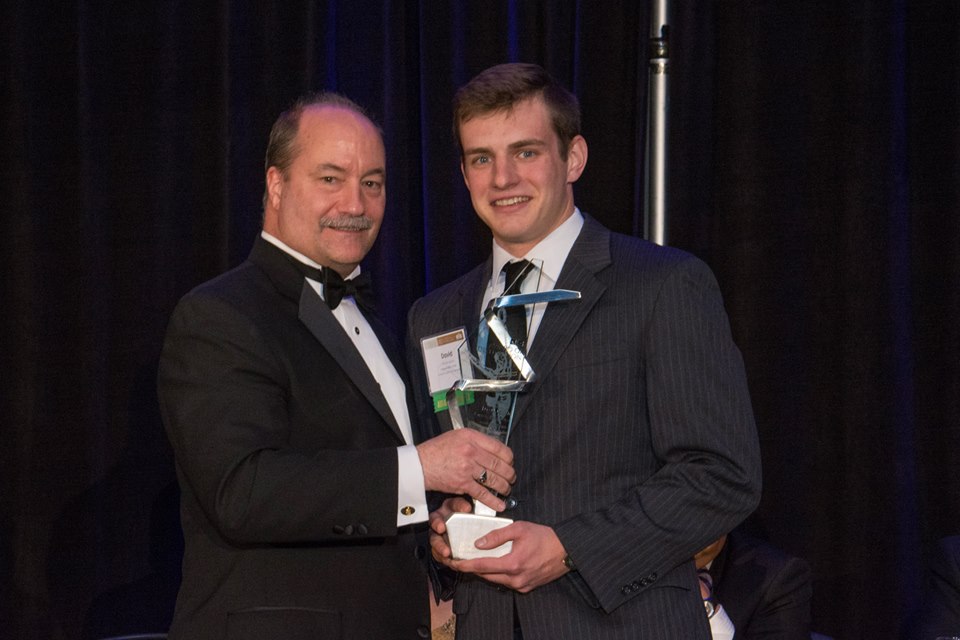 Award-winner – David Lynch, right, a Southern Illinois University Carbondale senior from Rockford, receives the North-American Interfraternity Conference Undergraduate Award of Distinction from Buddy Coté, chairman of the NIC.  (Photo provided)
May 20, 2015
David Lynch earns national undergraduate award
CARBONDALE, Ill. -- David Lynch, a May 2014 political science and economics graduate from Southern Illinois University Carbondale, is a recipient of the North-American Interfraternity Conference Undergraduate Award of Distinction. 
Lynch, of Rockford, won recognition as "the fraternity man who has found in his experience an outlet for developing as both a leader and a better man" and who strives to "embody the values of his fraternity," according to officials of the organization. Lynch is a member of the Zeta sigma chapter of Kappa Alpha Order at SIU. He is one of just nine men across the country this year to earn the award, which recognizes recipients for their leadership, embodiment of fraternity values and contributions. 
Lynch has earned numerous honors and been very active on- and off-campus while attending SIU. He is the university's 2014 Lincoln Academy of Illinois student laureate, a Chancellor's Scholar and a University Honors Program student and he earned the John and Nancy Jackson Scholarship, presented to the top junior political science student. He is the recipient of the 2014 SIU Environmental Ambassador Award for work on recreational trails in the Shawnee National Forest and elsewhere and he volunteers on a regular basis at Giant City State Park and with Keep Carbondale Beautiful and the Red Cross. He is also a safe zone-trained LGBTQ ally. 
He served as executive director of the 2013 SIU Leadership Conference and was also the winner of the Paul Simon Public Policy Institute Director's Award that year. He was a student member of the Student Legal Assistance Board of Directors and served on the Dean of Students Advisory Board. As a sophomore, he was one of two SIU students chosen to participate in the National Formosa University's English Summer Camp. 
Lynch has been a leader in SIU's Greek life community as well, serving as vice president of Kappa Alpha Order and of the Interfraternity Council. He earned the 2014 Betty Lou Mitchell Award, given to the top two fraternity/sorority students on campus.  
Lynch is also the winner of the 2015 Service to Southern Award, the highest honor presented to a student leader at SIU.  The award, supported and funded by the Inter-Greek Council, goes to an outstanding graduating senior in recognition of his or her participation and service contributions to the university. Lynch received the award at the 68th annual Theta Xi All-Campus Variety Show this spring. 
He also worked at the Paul Simon Public Policy Institute and the University Honors Program while attending SIU and served internships with U.S. Sen. Dick Durbin, D-Illinois, Illinois Attorney General Lisa Madigan and at the Illinois Department of Commerce and Economic Opportunity. 
Lynch's senior honors thesis was "Millennials in Southern Illinois" and he has been involved in various student organizations including Political Science Ambassadors, the Newman Catholic Student Center, and was a founder and president of the University Honors Leadership Organization, a registered student organization.