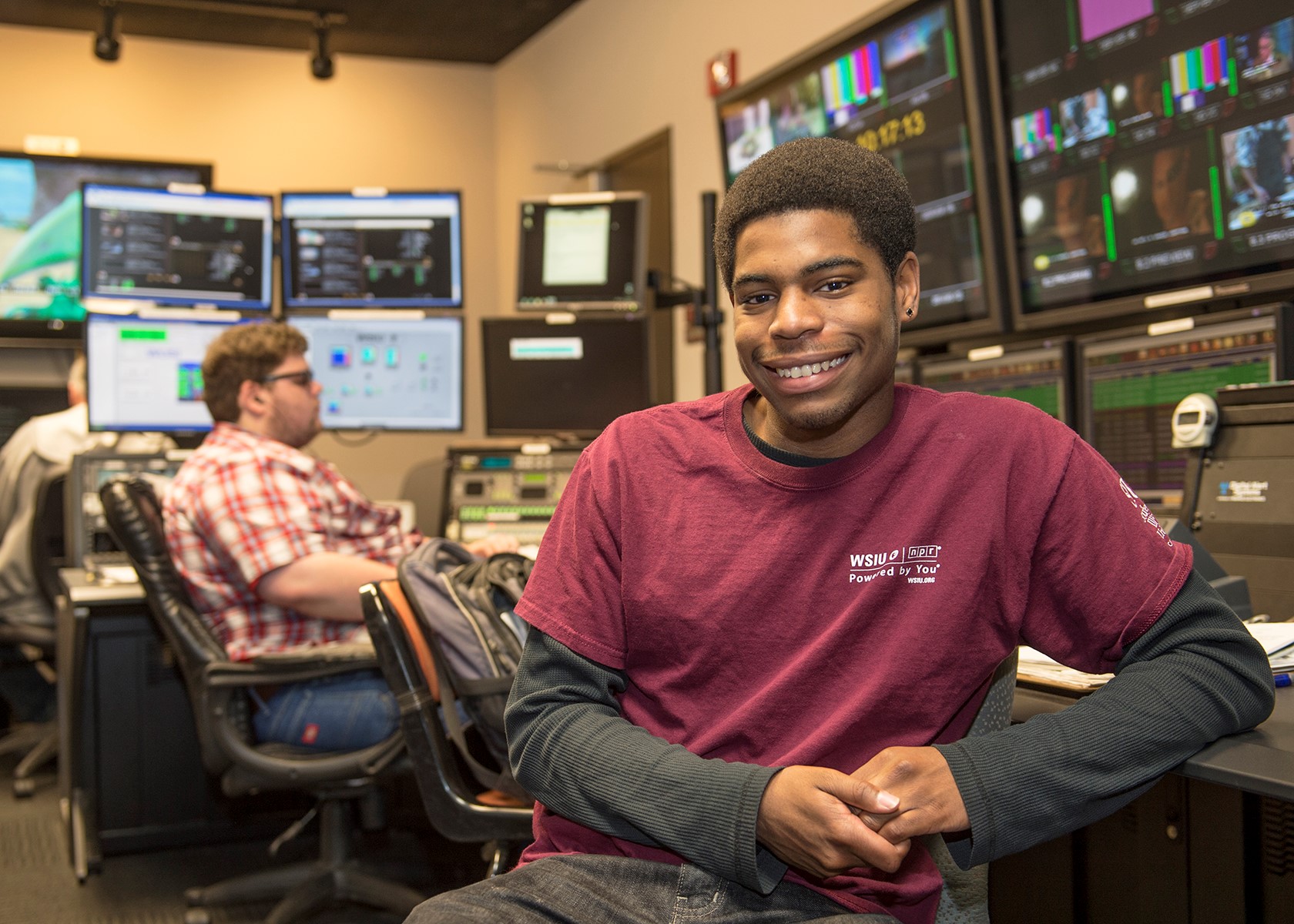 Earning degree -- Christopher Downing of Downers Grove will earn a bachelor's degree from Southern Illinois University Carbondale in Radio, Television, and Digital Media with a specialization in television/video production. Commencement exercises for the College of Mass Communication and Media Arts are set for 5:30 p.m., Saturday, May 16, at the SIU Arena. (Photo by Russell Bailey)
May 13, 2015
'Sky is the limit' for graduating senior
CARBONDALE, Ill. -- Christopher Downing realizes the lofty expectations he faced as a university student -- from family, friends, and most importantly, from himself. 
Nearly four years after arriving at Southern Illinois University Carbondale, Downing will realize one dream on Saturday, May 16. He will be among the graduates earning degrees during commencement exercises for the College of Mass Communication and Media Arts at 5:30 p.m. at the SIU Arena. 
A 2011 graduate of Downers Grove South High School, Downing will earn a bachelor's degree in Radio, Television, and Digital Media with a specialization in television/video production. Downing credits his parents, including his father, Darren Downing, also of Downers Grove, with instilling in him the belief that he could succeed in higher education. His father did attend community college. 
"There hasn't been another option for me," he said. "My parents never got the opportunity to attend a school like this; it was a goal they really wanted me to achieve because they never got to." 
Downing worked as a student master control operator at WSIU-TV. He also participated in "movie camera militia," a registered student organization that gives students hands-on experience in making movies and operating equipment. 
Novotny Lawrence, associate professor and chair of the Department of Radio, Television, and Digital Media, watched Downing grow into a "confident, happy and comfortable young man" with a "very serious" approach to education. He recalls Downing, then a freshman, sitting among 80 other students in a Lawson Hall classroom on the first day of his "Understanding Electronic Media" class. Downing's "level of engagement" made an impression. 
"Regardless of what I was talking about, whether it was history or a more contemporary issue, he was with me," Lawrence said. "I can see him looking at me invested in the things I was teaching and then expressing a desire to apply those to his life so he could become a good media consumer and creator." 
Downing will be a residential counselor this summer in Duke University's Talent Identification Program (TIP) -- an academic program for gifted high school students. He credits Lawrence, who designed a film course and taught students there in the TIP program, in helping him. Downing then plans to pursue his career as a stand-up comedian in the Chicago area; he performed during open-mic nights in Carbondale. 
Lawrence is a role model and mentor, Downing said. 
"I respected him as a person. Being able to see a male African-American who has been a part of the academic life for decades, who isn't afraid to learn new things and loves to learn new things -- I felt I was that type of person, but I never really had anyone to show me that that is cool. I gravitated toward Novotny." 
Downing said his two sisters and a brother went to work after they graduated high school, so being the first in his family to earn a college degree pushed him. Many African-American men his age do not get that opportunity, Downing said. 
"That has been motivating to me to not mess this up and see this out to the end," he said. "I realize that I am in a special situation that everybody doesn't get. I'm blessed." 
Lawrence believes Downing will be a success, whatever his profession. Downing participated in various campus activities while earning a degree, and understood and met others' expectations, Lawrence said. 
"Recognizing that can add pressure or it can fuel you. It has fueled him and that is a testament to the kind of person he is," Lawrence said. "In many ways, I believe the sky is the limit for Christopher because he has the intelligence and the personality that is going to take him a long way, whether he continues to focus on his stand-up comedy or focus on his video production. He has the desire."