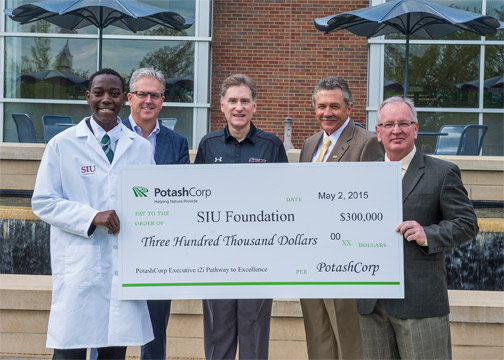 Representatives from Southern Illinois University Carbondale and PotashCorp were on campus Saturday for a presentation and announcement of a $300,000 donation to the College of Agricultural Science's PotashCorp Pathway to Excellence Program. Shown here are, from left, Ashani Hamilton, a senior graduating from SIU's animal science program and an i2i alum; G. David Delaney, executive vice president and chief operating officer for PotashCorp and a member of the SIU Foundation Board of Directors; SIU President Randy Dunn; Greg Cook, president of the SIU Foundation Board of Directors; and Mickey A. Latour, dean of the College of Agricultural Sciences at SIU.  (Photo by Steve Buhman)
May 05, 2015
PotashCorp invests in SIU agriculture students
CARBONDALE, Ill. – Students in Southern Illinois University Carbondale's College of Agricultural Sciences Ideas to Investigation program, better known as i2i, will benefit from the generosity of PotashCorp, the world's largest fertilizer company by capacity. 
The PotashCorp Executive i2i Pathway to Excellence program and the Department of Agricultural Sciences received a $300,000 contribution from the corporation. David Delaney, PotashCorp's executive vice president and chief operating officer and also a member of the SIU Foundation Board of Directors, attended a check-signing ceremony on Saturday, May 2. Other attendees included SIU President Randy Dunn; College of Agricultural Sciences Dean Mickey A. Latour; and Greg Cook, president of the SIU Foundation Board of Directors. 
The PotashCorp Executive i2i Pathway to Excellence program creates new options for students interested in conducting mentored research to address issues facing agricultural industries. Ideally, students work on research projects directly relevant to and immediately applicable to industry partners. Students who participate in the program learn from their research mentors and from each other while gaining valuable practical experience. 
"Private-public partnerships such as this are essential to our ability to help students develop the skills they will need to make significant contributions nationally and globally," Dunn said. "We appreciate PotashCorp's confidence in the College of Agricultural Sciences and SIU Carbondale."  
Latour initiated the fledgling i2i program in the spring semester 2014 to provide an avenue for practical research skills, and opportunities for immediate application of what is learned to give students a real-life foundation for building career skills. 
With the contribution from PotashCorp, the next phase, the Potash Executve i2i Pathway to Excellence, will focus on developing the next generation of highly trained executive talent with premier leadership, critical thinking and problem-solving skills. The program is a collaborative program with SIU and Purdue University. 
"This contribution from PotashCorp embodies what we hope we can achieve with the i2i program – finding and maintaining industry partners to help our students develop marketable research and career skills, leadership qualities and professional networks," Latour said. "Because of this gift, students selected for this elite program will receive a hands-on research experience by providing a collaborative environment for participating SIU and Purdue students, faculty mentors and industry representatives to explore controversial issues in food, agriculture, and the environment and receive training in executive leadership and business etiquette." 
"Great gains in agricultural productivity grow from creative, insightful leadership," Jochen Tilk, president and chief executive officer of PotashCorp, said. "Our company believes that the PotashCorp Executive i2i Pathway to Excellence program will train and inspire leaders who share our vision of playing an integral role in the global food solution. We are pleased to be a partner in this project and to support students committed to improving agriculture for the benefit of all." 
As the world's largest crop nutrient company, PotashCorp plays an integral role in global food production. The company produces the three essential nutrients required to help farmers grow healthier, more abundant crops. With global population rising and diets improving in developing countries, crop nutrients such as potash, phosphates and nitrogen offer a reasonable and practical solution to help produce the food we need from the land we have. For more information about PotashCorp, contact Rhonda Speiss at Rhonda.Speiss@potashcorp.com.