May 04, 2015
SIU Carbondale announces College of Liberal Arts dean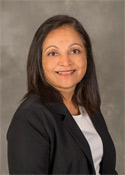 CARBONDALE, Ill. -- Meera Komarraju, chair of the SIU Carbondale Department of Psychology, will become the new dean of the university's College of Liberal Arts on July 1 pending approval of the Board of Trustees. 
The appointment, announced by Acting Provost and Vice Chancellor for Academic Affairs Susan Ford, follows a national search to replace former dean Kimberly Leonard, who left for a position at another institution. Psychology Professor Jane Swanson has been serving as interim dean. 
"Dr. Komarraju is highly respected on campus as well as within her field," Ford said. "She is an exceptional faculty member known for both teaching and research, and she brings to her new role a commitment to the future of the college as well the university."
Komarraju said she is honored to serve as dean. 
"I consider it a privilege to be given the opportunity to serve as dean of the College of Liberal Arts, the largest college on campus," she said. "I am excited about working with our amazing students, talented faculty, dedicated staff, and other stakeholders and am confident we can collectively work toward realizing CoLA's full potential." 
Komarraju came to SIU as lecturer in 1986 after completing her graduate training in psychology at Osmania University in India and the University of Cincinnati. At SIU she taught in the departments of psychology and management until her appointment as an assistant professor in the Department of Psychology in 2005. She became an associate professor in 2009 and a professor in 2014. She has held administrative roles as director of the psychology department's undergraduate program, chair of the department, and associate dean for student and curricular affairs in the college. 
Her research interests include cognitive, non-cognitive and sociocultural factors related to motivation and performance, teaching self-efficacy, and the influence of ethnicity and gender on perceptions of leadership effectiveness. She is widely published in her field and has earned Fellow status from the American Psychological Association, Division 2, and MPA fellow status, the organization's highest honor, from the Midwestern Psychological Association. In addition, she has earned SIU's university-wide Outstanding Teacher of the Year Award and has twice been its nominee for U.S. Professor of the Year. She is currently serving as co-chair of the advisory committee leading the search for a new SIU chancellor. 
Komarraju holds a doctoral degree in applied social psychology from the University of Cincinnati and doctoral and master's degrees in industrial-organizational psychology from Osmania University in India. She also earned a master's degree in psychology from Osmania University and a bachelor's degree in psychology, philosophy and English Literature from Nizam College in India.