April 20, 2015
Illinois Policy Institute CEO to visit region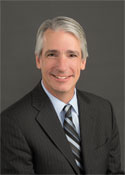 CARBONDALE, Ill. -- John Tillman, CEO of the Illinois Policy Institute, will discuss free markets, income disparities and government spending during a visit to the region next week. 
Tillman's presentation, sponsored by Southern Illinois University Carbondale's Paul Simon Public Policy Institute, is from 11:30 a.m. to 1 p.m., April 29, at the Carbondale Civic Center, 200 S. Illinois Ave. 
Tillman will discuss the nation's options regarding the problems and effects of income disparity, and how his organization views Illinois' budget problems and what should be done about them, David Yepsen, institute director said. 
"John Tillman and the Illinois Policy Institute he heads are among the leaders in conservative, free-market, libertarian politics in Illinois today," Yepsen said. "Paul Simon wanted his institute to offer and consider diverse points of view and we're happy John is again coming to share his thoughts with us." 
The lecture is free and open to the public. Lunch is included but advance registration is required for meal considerations.  The registration deadline for lunch is Friday, April 24. Open seating will be available for those who wish to only listen to the speech and not be included in the meal.  To register, contact Carol Greenlee, institute project coordinator, at 618/453-4078 or by email at rsvp@paulsimoninstitute.org. 
Founded in 2002, the Springfield-based Illinois Policy Institute is an independent, non-profit, think-tank and research organization that supports free market principles and liberty-based public policy initiatives.  Tillman came to the Illinois Policy Institute in 2007, and in 2011, earned the Roe Award, presented annually by the State Policy Network, for his leadership, innovation and accomplishments in public policy for advancing free market philosophies, according to the Illinois Policy Institute. He also serves on the board of the National Taxpayers Union, National Taxpayers Union Foundation and American's Future Foundation. 
Tillman is a regular contributor with numerous media outlets, including FOX News Channel, FOX Business, the BBC, National Public Radio, The Wall Street Journal, and Washington Times.
Tillman is former president of Americans for Limited Government, a national organization that advocates property rights, spending limits and term limits.  He also founded Illinois Policy Action, the Liberty Justice Center, Illinois Opportunity Project, Illinois Liberty PAC and more. 
For more information on the program, contact the Institute at 618/453-4009 or visit paulsimoninstitute.siu.edu/.