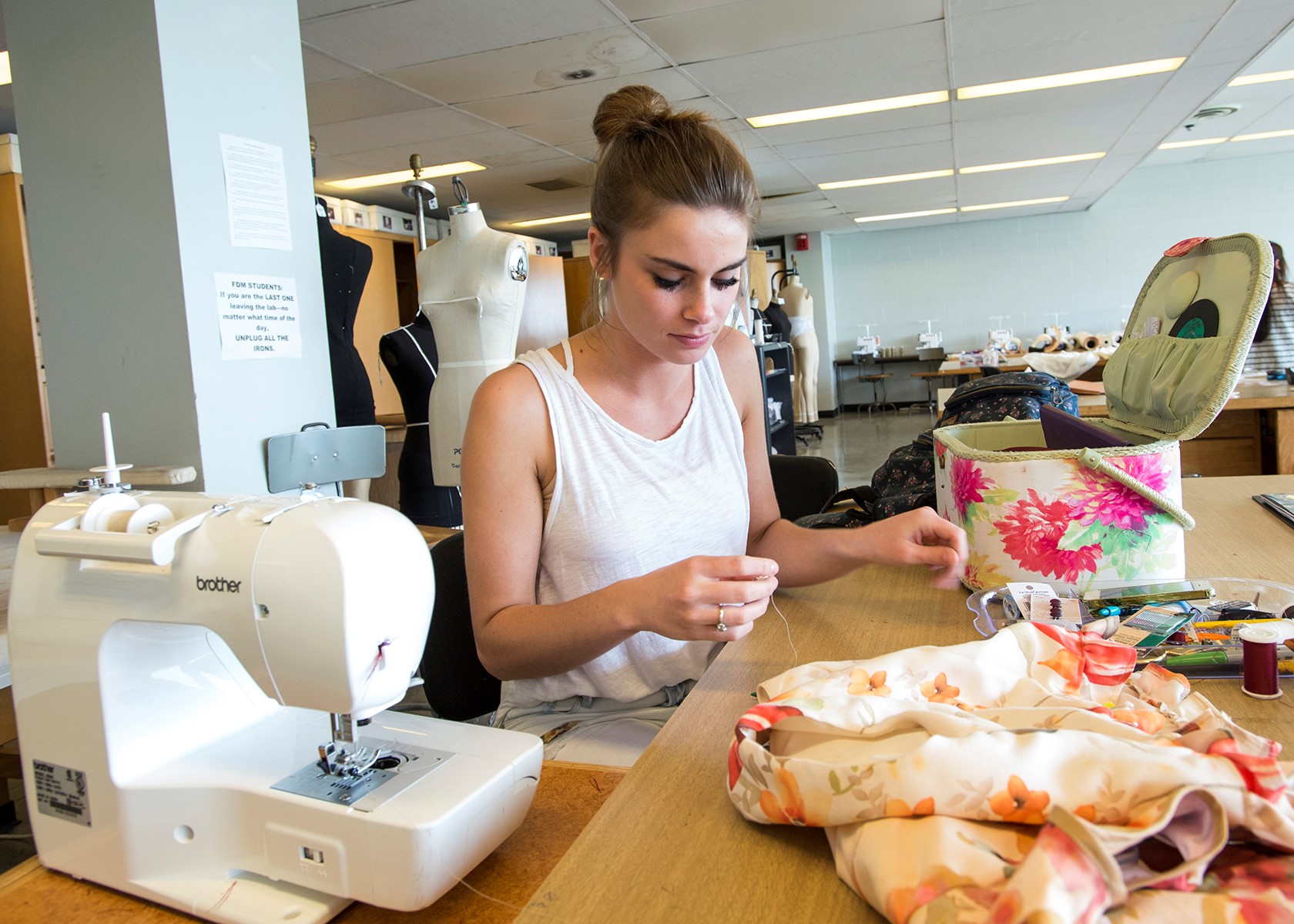 Working toward her goal -- Jade Ellen Tracy of Oblong, a senior in Southern Illinois University Carbondale's Fashion Design and Merchandising program, works on one of her creations for her "Genesis" collection ahead of the annual student showcase and fashion show. This year's event is April 29 in the Student Center ballrooms. (Photo by Russell Bailey)
April 20, 2015
Fashion design showcase set for April 29
CARBONDALE, Ill. -- With winter out of the way, it is always a good time to clear out some of those musty old clothes and reconfigure the closet. 
Student designers at Southern Illinois University Carbondale will once again present the latest in fashion and clothing trends at the 2015 Fashion Design and Merchandising student showcase and fashion show. 
This year's showcase includes the works of five student designers who have been creating their final collections. The event is at 7 p.m., April 29, in the Student Center ballrooms. The event is free and open to the public. 
The evening starts at 6 p.m. with a student showcase of exhibits in the Student Center's J.W. Corker Lounge and Ballroom C. The exhibits include examples of course work and student projects from a variety of classes. One of the exhibits is a brand development collaboration, a project that displays the creative talents of fashion merchandising students, fashion designers, fashion stylists and interior design students. The exhibits are available for viewing until 7 p.m. 
At 7 p.m., the runway fashion show starts with the 2015 "Weekend Getaway" collections presented by fashion design and merchandising students Cristyn Farris, Jamie Gossman, Christa McGrath, Mia Strickland, and Kelsey Wallace. 
The feature event follows with the presentation of five original garment collections from senior fashion designers. The students are responsible for every detail of their collections -- from concept to fashion illustration, fabric sourcing, patterning and construction, model and music selection, and accessory coordination. 
More than 150 students from across campus are involved in this event, including cosmetology students from John A. Logan College who help complete the final runway looks. 
"The careers of these young fashion designers start with the production of their senior lines. Design students get hands-on experience in the entire design process, from design concept to garment production, and gain a deeper appreciation and understanding of the pressures that are inherent in the fast-paced fashion industry," said Laura Kidd, an associate professor in the School of Architecture, who supervises the final senior designer collections and their presentation. 
The featured senior designers and names of their collections, listed by hometown are: 
Illinois 
Batavia: Leslie Drummond with "Isolated."
Chicago: Emily Kaye with "Lesions.
"Tram Mai with "Alluring."
Oblong: Jade Ellen Tracy with "Genesis." 
Missouri           
St. Louis: Linh Hong with "The Darkest Mind."           
Brief profiles of each of the five featured designers are available at architecture.siu.edu/undergraduate/fdm/designer-profiles-2015.php. SIU Carbondale is the only public university in Illinois that offers specializations in fashion design, fashion merchandising and fashion stylist.