April 17, 2015
University to host noted physicist Michio Kaku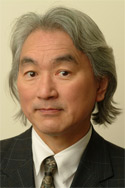 CARBONDALE, Ill. – Michio Kaku, a best-selling author and theoretical physicist whose work includes predicting trends affecting business, commerce and finance, will visit Southern Illinois University Carbondale next week as part of the Distinguished Speaker Series. 
The Distinguished Speaker Series brings influential speakers to Southern Illinois to discuss ideas and issues of significance to the region, state and world. Kaku's presentation, "The Future of the Mind," will begin at 7:30 p.m., Wednesday, April 22, in the Student Center ballrooms. Admission is free and the public is welcome. Doors will open at 6:45 p.m. Copies of Kaku's books will also be available for sale at the lecture.
---
Media Availability
Michio Kaku will be available to reporters, news crews and photographers only during a media availability at 1:15 p.m., Wednesday, April 22, in the Student Services Building, Room 346. For more information, contact Tom Woolf at twoolf@siu.edu or 453-6796.
---
In addition to the evening presentation, Kaku will spend time with students, faculty, alumni and special donors throughout the day, including a small group luncheon with students from the College of Science. 
One of the most internationally recognized figures in science, Kaku is attempting to complete Albert Einstein's unified field theory that unites the four fundamental forces of nature -- the strong force, the weak force, gravity and electromagnetism. 
He is the author of several books and publications, including three New York Times bestsellers. His most recent book, "The Future of the Mind: The Scientific Quest to Understand, Enhance and Empower the Mind," was released in February 2014. It presents the latest advancements in neuroscience and physics, including radical new ways to think about "consciousness," and how those new thoughts might give us new insight into mental illness, artificial intelligence and even alien consciousness. 
Kaku's other New York Times bestsellers are: "Physics of the Future" and "Physics of the Impossible." He also makes television appearances on shows including ABC's "Nightline" and "Good Morning America," CBS's "This Morning," MSNBC's "The Ed Show," FOX News, CNN's Quest Means Business," "Real Time with Bill Maher," and numerous other programs, including the Science Channel, Discovery and the BBC. Other science programming includes the History Channel's "Universe" series, a biography of Einstein and numerous science documentaries. He has also been a featured columnist for publications including Popular Mechanics, Discover, Newsweek, and is host of two weekly radio programs. He is also the author of several Ph.D.-level textbooks. 
Kaku is the Henry Semat Professor of Theoretical Physics at The City College of New York (CCNY), where he has been a professor for 31 years. Kaku started with the university as an assistant professor of physics in 1973. He has also taught at Princeton and Harvard. 
He earned his doctorate in physics from the University of California, Berkeley in 1972, and his bachelor's degree from Harvard University in 1968, where he graduated first in his physics class. 
The SIU Foundation, Paul Simon Public Policy Institute, Office of the Chancellor and the College of Science are sponsoring this event.