April 17, 2015
Carmona earns health care management honor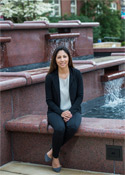 CARBONDALE, Ill. -- Geraldine Carmona, a senior in health care management at Southern Illinois University Carbondale, earned recognition on April 9 for her academic excellence, volunteer activities and leadership.
Carmona, who is from Cobden, earned a certificate and monetary award from the Mid-America Health Care Executives Forum. Faculty in the university's Health Care Management program nominated Carmona, who finished her last semester with a 4.0 GPA, for the award. Bart Millstead, vice president/administrator of Memorial Hospital of Carbondale, presented the award on behalf of the Mid-America organization.
"We appreciate the Mid-America Health Care Executives Forum for acknowledging another one of our excellent Health Care Management students.  Ms. Carmona shows great promise as a future health care manager and leader.  We are very proud of her and her accomplishments," Sandra Collins, health care management associate professor and program director, said.
Carmona, the daughter of Salvador and Maria Carmona, is completing an internship with Southern Illinois Healthcare at the Center for Medical Arts in Carbondale.
"I am humbled and honored to have received this award," she said.
"One of the best parts of the program is to see where alumni are now, to hear from them what steps they took to get to where they are. I also enjoy listening to the stories my professors have to share in class. It engages the students in the lessons coming from the textbook," Carmona said.
While at SIU Carbondale, Carmona served as board member of the Student Health Care Management Association, a registered student organization. She also received a certificate of appreciation from the College of Applied Sciences and Arts for her support and contribution to the Health Care Management program.
Carmona found her passion for health care when she began volunteering for Su Casa Migrant Head Start in Cobden as a 15 year old. She said volunteering is a favorite pastime and it brings her joy, fulfillment and a wealth of experience. She is a certified Spanish medical interpreter at Southern Illinois Healthcare, helping limited English-proficient people. 
Carmona hopes to attend graduate school to pursue a Master of Health Administration degree.