April 16, 2015
Yueh-Ting Lee named Graduate School dean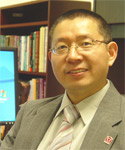 CARBONDALE, Ill. – An educator described by former colleagues as "a committed teacher and active scholar" and "an unfailingly enthusiastic team player" will become dean of Southern Illinois University Carbondale's Graduate School this summer. 
The SIU Board of Trustees, meeting today (April 16) in Edwardsville, approved the appointment of Yueh-Ting Lee, effective July 9. 
Lee has been a professor of psychology at the University of Toledo, Ohio, since 2007 and has served as director of the university's Social Cognition and Intercultural Relations Laboratory since 2009. He has served in a variety of administrative roles, including as dean of the College of Arts and Sciences and associate vice president at the University of Toledo, and as dean of the College of Arts and Sciences at Minot State University in North Dakota. 
"Dr. Lee brings substantial experience and a strong record of involvement in graduate education," Susan Ford, SIU Carbondale's acting provost and vice chancellor for academic affairs, said. "He is committed to SIU's mission and is enthusiastic about the future of graduate education at our university. We are pleased and fortunate that he is joining us." 
She also pointed to his experience with and commitment to diversity initiatives and international education, fund raising, and external relations and outreach. 
Lee cited the university's "excellent academic reputation" as the key reason he applied for the position. 
"As a nationally ranked public research university, SIU Carbondale has many outstanding graduate and undergraduate programs," he said. 
He said his goals include increasing graduate student enrollment and retention, "including recruitment of graduate students from diverse backgrounds." He also plans to work with colleges and groups on- and off-campus on excellence in graduate education, including developing disciplinary and interdisciplinary graduate programs in the classroom and online, and supporting graduate student-faculty engagement and graduate program assessment. 
Lee wants to promote what he refers to as "total quality care" for graduate students. 
"That means pre-graduate school, focusing on recruitment and admission, during graduate school, when our focus is on academic excellence and accountability, and post-graduate school, making sure we remain connected with our alumni," he said. 
Prior to joining the University of Toledo, Lee was a professor and dean of the College of Arts and Sciences at Minot State University from 2005 to 2007. From 2000 to 2005, he was chair of the Department of Ethnic Studies at Minnesota State University in Mankato, and from 1994 to 2000, he was an assistant professor and then associate professor in the Department of Psychology at Westfield State College in Massachusetts. 
Lee earned a doctorate in personality/social psychology in 1991 from the State University of New York at Stony Brook and did post-doctoral training and research in the psychology department at the University of Pennsylvania from 1992 to 1994. He earned his master's in psychology from Beijing Normal University in 1986 and his bachelor's degree in English language and American literature in 1984 from Central South University in China. 
He has produced nine scholarly books and has been the author or co-author of approximately 100 refereed journal articles, peer-reviewed book chapters and other general publications. Lee's community service includes chairing the Toledo China Advisory Council since 2008 and serving as a member of the board of trustees for Toledo Sister Cities International, also since 2008.