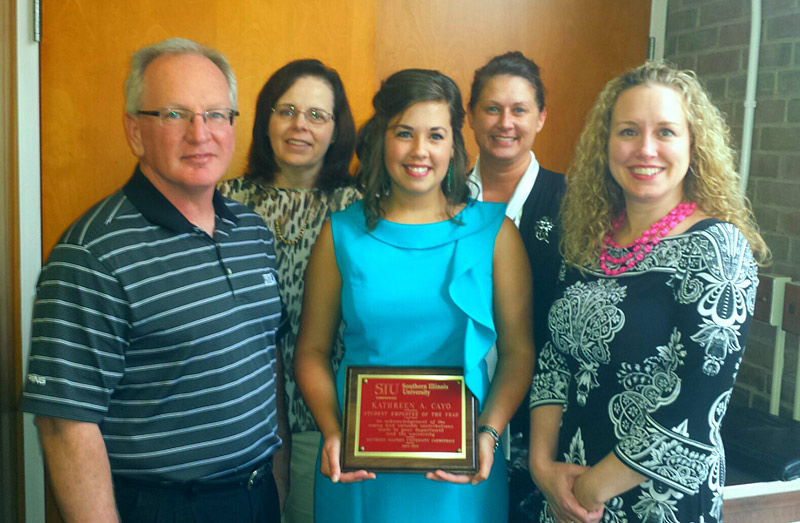 Kathreen "Katie" Cayo, center, is the 2015 Student Employee of the Year at Southern Illinois University Carbondale. She is a senior from Smithboro, and works for the College of Agricultural Sciences. With Cayo, are from left: College of Agricultural Sciences Dean Mickey A. Latour;  Kim Taylor, academic adviser; Susan Graham, business manager and assistant to the dean, and Katherine Elson, academic adviser.  (Photo by Andrea Hahn)
April 16, 2015
Cayo named Student Employee of the Year
CARBONDALE, Ill. – Southern Illinois University Carbondale honored outstanding student employees at a breakfast recognition ceremony April 16 as part of its observance of the annual National Student Employee Recognition Week. 
Kathreen "Katie" Cayo, a senior from Smithboro, majoring in agribusiness economics, is this year's Student Employee of the Year. Kristi Strobbe, a senior physical therapist assistant major from Ferguson, Mo., is the runner-up. 
Cayo is a student office assistant for the College of Agricultural Sciences. Susan Graham, business manager and assistant to the dean, said in her nomination letter that Cayo is a natural leader in her academic and collegiate life and that shows in her work ethic.   
"She is a vital team player in our recruitment activities, open houses and this year, in planning our week of farm tours at SIU Farms," Graham said. "Katie was quick to volunteer and accept the responsibility of handling the logistics of approximately 1,000 kindergarten through third-grade students visiting the farms in April." 
Graham praised Cayo for her role as Agbassador, Agribusiness Club treasurer, founding member of the Collegiate Farm Bureau RSO at SIU, and her willingness to accompany the department on recruiting visits. 
"I think it would be impossible to identify a student employee more deserving of the honor of the SIU Outstanding Student Employee of the Year than Kathreen Cayo," she said. 
Strobbe is the departmental assistant manager of educational services for Information Technology. Olinda Hubbs, education coordinator, wrote that since the first day, Strobbe has gone far beyond expectations. She noted that Strobbe is able to use what she learns in a professional manner, taking her campus employment to a higher level than simply a student job. 
"She came to us with the basic work skills most students learn during their student employment, and has taken these skills to a professional, ready-for-any-workplace level," Hubbs wrote, adding that Strobbe's work ethic and enthusiasm inspire the rest of the team. 
Strobbe is also a campus leader, and is involved with Alpha Lambda Delta, the Tennis Club and the Exercise Science Club. 
Terri Harfst, director of the Office of Financial Aid, said National Student Employment Week is an important opportunity to thank student employees, and those who nominated them for the end-of-year recognition. 
"We take our student employees under our wing, they become like family," she said. "So I want to thank the nominators as well today." 
To the student employees Harfst said, "You have taken a student employment job, and you have risen to the top. You will be the students people remember and talk about years from now. The paycheck is nice, but student employment is more than that. It's about the relationships you build as well." 
Other nominees for the 2015 Student Employee of the Year were:
• Qassem Alweh, nominated by Tammy Hopkins, Department of Mechanical Engineering.
• Nichole Beckman, Oakwood, nominated by Elizabeth Cheek, Plant and Service Operations.
• Amie Conway, Cutler, nominated by Rachel Frazier, Transfer Student Services.
• LaTaiya Duncan, Bloomington, nominated by Amelia Ketzle, SIU Alumni Association.
• Makayla Hartmann, Campbell Hill, nominated by Cheryl Carlson, Human Resources.
• Sarah Henson, Herrin, nominated by Gayla Stoner, SIU Extended Campus.
• Gabriel "Gabe" Herbst, Pinckneyville, nominated by Cheryl Bauersachs, Office of the Bursar.
• Lauren Lancaster, Bloomington, nominated by Andrea Steen, Department of Chemistry and Biochemistry.
• Shelby Luebke, Carbondale, nominated by Stacia Weinhoffer, Center for Environmental Health and Safety.
• Antresa Lumpkin, Hazel Crest, nominated by Pam McGuire, University Housing.
• Alec Macko, Fenton, Mo., nominated by Jeremy Graham, Department of Plant Biology.
• Brittany Quintanar, El Paso, Texas, nominated by Kevin Burish, Department of Public Safety.
• Rachel Slick, Rockton, nominated by Jason Davis, Recreation, Sports and Services.
• Mackenzie Vancil, Du Quoin, nominated by Casey Loman, College of Education and Human Services.
• Leigh Anne Whistle, Jonesboro, Ark., nominated by Clarissa Voyles, School of Allied Health -- Dental Hygiene.
• Kyle Whittington, Elkville, nominated by Barbara Tuthill, School of Medicine.
• Evan Williams, Marion, nominated by Cordy Love, New Student Programs.