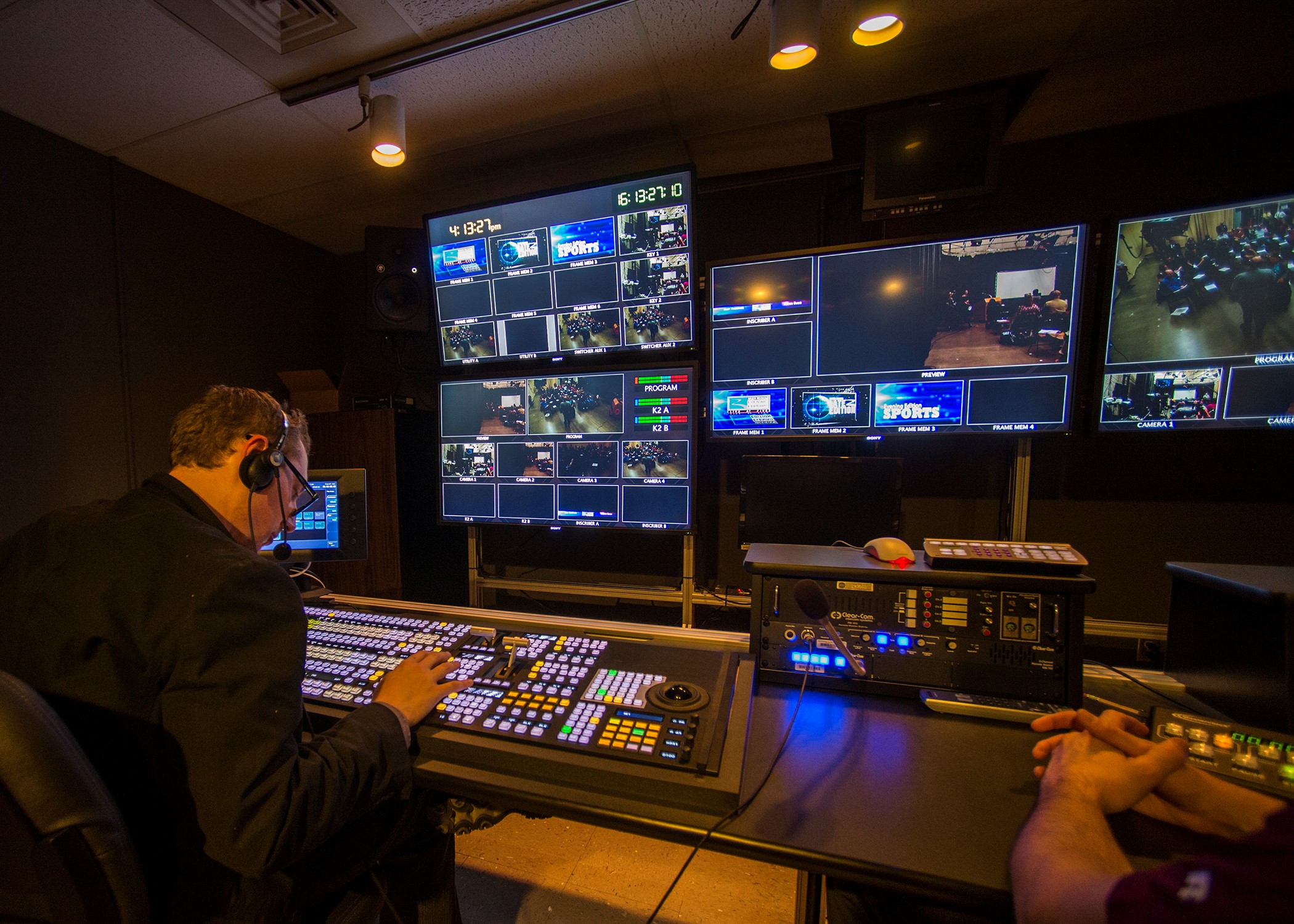 Setting the bar -- Mark St. George, a TV production specialist with WSIU Public Broadcasting, oversees a recent community programming event in the state-of-the-industry HD control room in Southern Illinois University Carbondale's College of Mass Communication and Media Arts. (Photo by Steve Buhman)
April 13, 2015
Equipment upgrade benefits broadcasting students
CARBONDALE, Ill. -- A state-of-the-industry high definition control room is part of a recent production facilities upgrade that gives students in Southern Illinois University Carbondale's Radio, Television, and Digital Media program access to equipment they will likely see only in larger markets. 
"They get a very solid foundation on how to function in a working environment," Darryl Moses, associate director for television and video services with the university's Broadcasting Service, said. "There is one thing between learning it in the classroom and another in putting it to use. Students who come here and work with us will be able to go into a work environment and not go 'look at this.' The room might be different, but they will be comfortable working on that room." 
A $749,000 Public Television Digital Transition Grant through the U.S. Department of Agriculture's Rural Utilities Service enabled WSIU Public Television to replace existing equipment with digital switching, routing and monitoring equipment, in addition to four new HD studio cameras, teleprompters and camera control units. 
"I've not been in every TV control room and campus in the state, but I would have to say there is no TV control room that exceeds the capability of this on a college campus in the state," Greg Petrowich, WSIU Public Broadcasting executive director, said. 
An old control room that two years ago featured black-and-white monitors on the wall and that was "packed" with nine people has given way to a new control room, a few feet away. The older equipment is still in use for training purposes. A new switcher is the same model used by WGN and networks, Moses said. 
"You are not going to find anything better than this outside of Chicago and possibly St. Louis," he said.  "When students come here and work on this, they go somewhere else and are going to have to take a little bit of a step down because they are trained very well on this unit." 
Kyle Tellor, a senior in Radio, Television, and Digital Media from Morton, said the HD control room is "all top of the line equipment." He said he could not have gained the knowledge and experience learned here anywhere else.
"Being able to work with the equipment and get hands-on professional experience is one of the best things I could ask for in college," he said. "When I graduate, I will have three years of professional experience on my resume already. That's something that I can say that other students from other schools might not be able to say." 
WSIU Public Television produces more than 190 hours of local content each year, including live coverage of major political speeches, local forums and debates, a 30-minute River Region Evening Edition newscast four nights a week during the fall and spring semesters, and a weekly public affairs magazine series, "WSIU InFocus." 
Jon Jenkins, a senior in Radio, Television, and Digital Media from Aurora, said the HD control room is a great addition. 
"Not only does it give us a better understanding of today's top-of-the-line technology, it also gives us a leg up over other students in the industry who aren't as lucky to have access to brand new equipment," he said. "Being able to use the HD setup for all of our work is a great asset to our education and I brag about it to all my friends at other universities." 
Greg Todd, an instructor and news director with River Region Evening News, said the HD control room not only brings the region's viewers "high-quality programming, but it also continues and builds on SIU's reputation as one of the finest radio-TV programs in the nation." The news program has trained students in live broadcasts for 45 years, and the new control room and studio cameras "take the hands-on experience for our students to a new level … that few other universities can offer." 
The variety of programming broadcast in the studio also benefits students, including studio interviews, "Scholastic Hi-Q," a high school scholar bowl competition, choral performances, and other original programming. Students also get practical experience in production from Saluki basketball games and the Lincoln Academy ceremonies. WSIU is preparing to launch a live music show, similar to "Austin City Limits," featuring local artists performing at various locations in the region. Petrowich anticipates those performances will air this fall. 
The combined signals of WSIU and WUSI through over-the-air, cable and home satellite reach potentially 3 million people in six states -- Illinois, Indiana, Kentucky, Missouri, Tennessee and Arkansas. The station's core broadcast signal extends to nearly 2.7 million citizens in predominately rural counties in Southern Illinois, southeastern Missouri and southwestern Indiana.