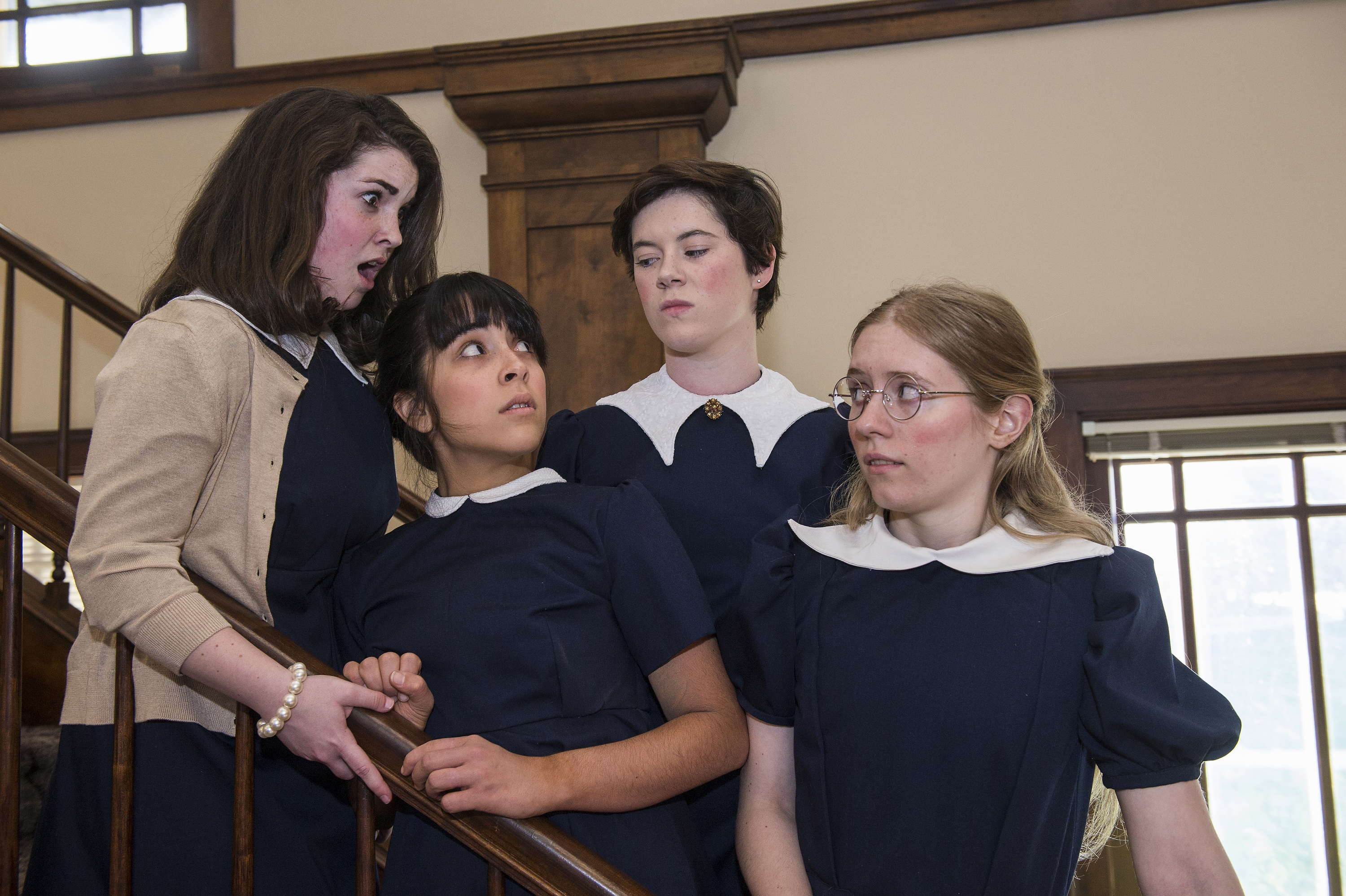 Production of "The Children's Hour:" Students at the Wright-Dobie School, played by, top to bottom: Jordan Ray, Chloé Leos, Kelli Cotter and Emmelie Hall-Skank.  (Photo by Steve Buhman)
April 13, 2015
'The Children's Hour' to take McLeod stage
CARBONDALE, Ill. – Children, like rumors, can be nasty things – or so the audience may decide during "The Children's Hour," playing at Southern Illinois University Carbondale's McLeod Theater April 23-26, the final play of the 2014-2015 season. 
Lillian Hellman's 1934 classic, gut-wrenching drama about the power of lies and moral righteousness is set in an all-girls boarding school run by two single women. An angry and spoiled student tells her influential aunt a lie about the nature of the relationship between the two headmistresses. The malicious lie "goes viral," destroying lives, relationships and careers. 
Hellman based the play on a true story from Edinburgh, Scotland, in 1810. The original Broadway production of her play was one of the first to approach the subject of "illicit love." Though it enjoyed a two year run, censors initially banned the play in Boston, Chicago and London. It has since seen two film treatments: "These Three," an altered version made in 1936, and a more famous 1961 movie using the play's title starring Audrey Hepburn, Shirley MacLaine and James Garner. 
Anne Fletcher takes on the director's mantle for this SIU production. Fletcher, recent recipient of the Kennedy Center American College Theater Festival Teaching Award for Innovation, has a long history of directing but this is her first SIU production. 
The play has a large cast: Krista McEwan and Kateline Coursey play the accused headmistresses Karen and Martha; Zach Bollman is Joe, Karen's fiancée. Dierde Rose is schoolteacher Mrs. Mortar; Cathy Field is wealthy aunt Mrs. Tilford. Kelli Cotter is the trouble-making Mary, and Jordan Ray, Chloé Leos and Olivia Gordon are Mary's friends. Hasanah Brown, Ariel Gorham, Emmalie Hall-Skank, Alexis Nwokoji, Olivia Pierce and Shantesia Jordan play other students, and Matt Wickey is a the snickering Grocery Boy. 
Kyle Ludwig designed the set, Anthony Patti set the mood with lighting, Lauren Josef designed the costumes and Logan Reagan created the sound scape. 
"The Children's Hour" will play April 23-26 with performances Thursday-Saturday at 7:30 p.m. and Sunday at 2 p.m. in the McLeod Theater. Tickets are available in advance at the McLeod or SIU Arena box offices, by phone at 618/453-6000 or online at theater.siu.edu. Tickets are also available at the door beginning one hour before the performance. 
On Sunday, Visiting Guest Artist Bob Schanke, nationally known theater historian and LGBTQ activist, will present a pre-show lecture at 1 p.m. on April 26 before the matinee. The lecture is in the College of Mass Communication and Media Arts Dean's Conference Room off the McLeod Theater Lobby.