April 09, 2015
Student's background photo selected for ID cards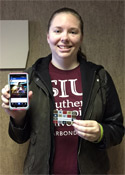 CARBONDALE, Ill. -- Beginning later this month, all Southern Illinois University Carbondale identification cards will include a background picture taken by Hannah Redenius of Minonk. 
Redenius' photograph of the Student Services Building fountain near sunset was the winning photo in the Student Center's SIU ID Photo Contest. A junior cinema major, Redenius said she was walking from East Campus to West Campus and spied the sun "perfectly positioned behind the fountain." Knowing it was a beautiful photo, she took the shot with her smartphone. 
Redenius said she enjoys taking nature pictures, especially in the woods surrounding campus lake, and notes that SIU "has a lot of great photo opportunities." Although Redenius is working on a minor in photography, this is the first time she has ever entered a photo contest. 
Students submitted nearly 250 entries for the contest via Instagram or email. Redenius won a $100 University Bookstore gift card for submitting the winning campus scene picture. SIU will incorporate the picture Redenius snapped in the background on all official campus ID cards issued April 13 or after.