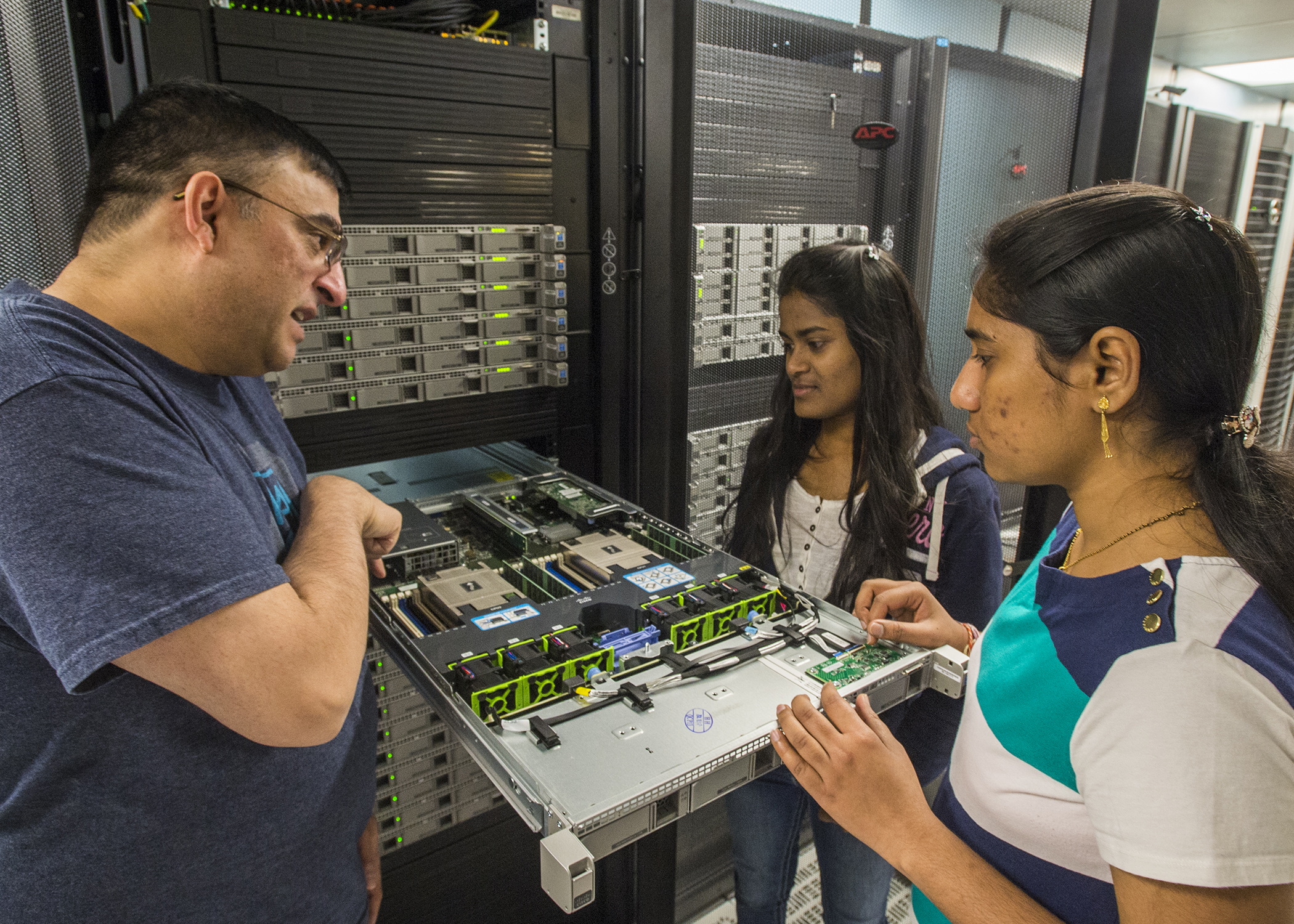 Behind the curtain -- Rustomji "Gi" Vania, left, deputy director of Information Technology and Research Computing and Cyberinfrastructure at Southern Illinois University Carbondale, examines a component of a new mid-range supercomputer being assembled on campus. Made up of 40 new clustered computers and select existing equipment, the new machine will give researchers better access to high-powered computing resources and data storage. It will go online this month. Pictured with Vania are graduate assistants Dedeepya Boddu, right, and Kranthi Chintala, center. (Photo by Steve Buhman)
April 08, 2015
Enhanced technology will benefit researchers
CARBONDALE, Ill. – Researchers today have no shortage of data. They have data coming out of their proverbial ears. 
Instead, one of the biggest challenges they face is the need for powerful computers to crunch that plentiful data, teasing out of it a tale of discovery. 
Researchers at Southern Illinois University Carbondale soon will have a leg-up in the area, thanks to a brand new bank of computers linked together to form a mid-range super computer. 
That, coupled with a huge increase in bandwidth also on tap for this spring, will "change everything," officials said. 
The overall $364,000 investment in hardware and network interconnectivity is the first of several the university plans on a centralized computer-based research technology effort over the coming years, officials said. The funding comes from a percentage of research grants that has been dedicated to enhancing the technological infrastructure for research at SIU. 
Information technology officials are putting the finishing touches on a bank of 40 new computers that, when linked and connected to select existing equipment, will provide researchers with unprecedented computing power and storage capacity. 
The new high performance computer cluster environment – as of yet, unnamed -- is considered "midrange" in technical terms – somewhere between a small cluster of linked desktop-sized computers and a true super computer, and sharing the characteristics of both. 
Generally speaking, researchers will log in and decide which type of process to use based on their needs. Researchers can utilize one or two units alone or the entire apparatus together, depending on their needs. And because of its similarity to a true supercomputer, they will be able to experiment with specific code before requesting access to a national-level supercomputer. 
Of the 40 linked computers, four of them are specialized. Two of those four are focused on high memory, with 768 gigabytes of RAM each (a common desktop computer, by comparison, may only have 4 or 8 gigabytes of RAM.). These units will help faculty doing complex genomic research, which is extremely demanding in terms of memory needs. 
Just doing one genomic sequence in the past, for instance, could take seven or more days, and if anything went wrong with the power or processing the researcher would have to start over. With the new equipment, the processing time will drop to just a couple of hours. 
"Previously, we found this (time requirement) to be very limiting for those researchers," said Rustomji "Gi" Vania, deputy director of Information Technology Research Computing and Cyberinfrastructure at SIU. "These machines will greatly improve that process, which means researchers and their students be able to do more runs, learn more and make more discoveries." 
The other two specialized units contain two Nvidia Tesla GPU cards each, with each card in turn containing 10,000 graphical processing units being used as general processing units. The cards make extremely high-speed parallel data processing possible. Parallel processing occurs when computer code is divided among many processors and processed at the same time as opposed to in sequence, making the overall processing speed faster. 
"Those cards allow for a certain specialized type of parallel processing, and we have researchers who work with that," Vania said. 
The initiative is overseen by the new Research Computing and Cyberinfrastructure unit, which was created to help bring computer expertise that traditionally has functioned as information technology support staff and focus them directly on research efforts around campus. The group, which includes graduate students and two doctoral students, as well as Vania and other support staff, has several areas of work including solving problems of adequate data storage for researchers, computer power, processing optimization, scientific visualization, research network bandwidth and others. 
Vania said researchers up until now generally have used three styles of computing: desktop, small computer clusters and the so-called XSEDE level (Extreme Science and Engineering Discovery Environment) in which they compete for time on a national-level supercomputer located at another site. The new computer environment will mean exponential improvement in research data processing capabilities, he said.
Vania said the new system will help scientists seeking to use national-level supercomputers in several ways. 
"When you're trying to get an allocation one of the first things they want to know whether what you're doing is going to work," Vania said. "Does your code work? Well, there are two way to find out. Either you test it first on a midrange like we have now, or you get a testing allocation, which is much harder to do, and you won't have as many people who are comfortable going directly to that level. 
"So here on campus, you can now work with it, use it and test it right here," he said. "If you prove it works here, that's evidence the researcher can use to get the allocation." 
Vania and his staff members are putting the finishing touches on hardware assembly and are configuring software that will allow the separate units to work together as one machine called a distributed cluster system. They also soon will begin working with a handful of researchers to test the computing environment as it slowly comes online. 
 "We'll start talking to researchers in April, seeing what they need and seeing if the software will work for their needs," he said. "I expect that over the summer we'll see a lot more use as we make progress." 
Jim Garvey, interim vice chancellor for research and dean of the graduate school, said the new computer cluster will allow faculty and students to conduct research that is computationally intensive in fields as diverse as chemistry, climatology, architecture, ecology, genetics, and art. 
"The world is awash in data and this facility allows SIU researchers to take this information and make sense of our complicated world," Garvey said. "Many of our researchers already have external funding for high-performance computing, although they've had to work on small clusters in their labs or go to other universities to access equipment. Now, they can conduct their research with state-of-the-art equipment at home at SIU, and my hope is that sharing this equipment will lead to interdisciplinary interactions and more research opportunities." 
As work continues on the new computer environment, Vania and others are preparing to alleviate another obstacle – or more like a bottleneck -- to research in computer and data power: bandwidth. 
The amount of bandwidth available has a huge impact on the amount of data that a computer can send or receive. Currently, SIU has 3.1 gigabits of bandwidth available to it. The RCC, however, is making arrangements for a 40 GB per second transit connection to a facility in Chicago that will allow for a tenfold increase in bandwidth, for half the price. 
The increase in bandwidth will allow researchers to move large amounts of data much more quickly, better enabling their cooperation with scientists and researchers all over the world.