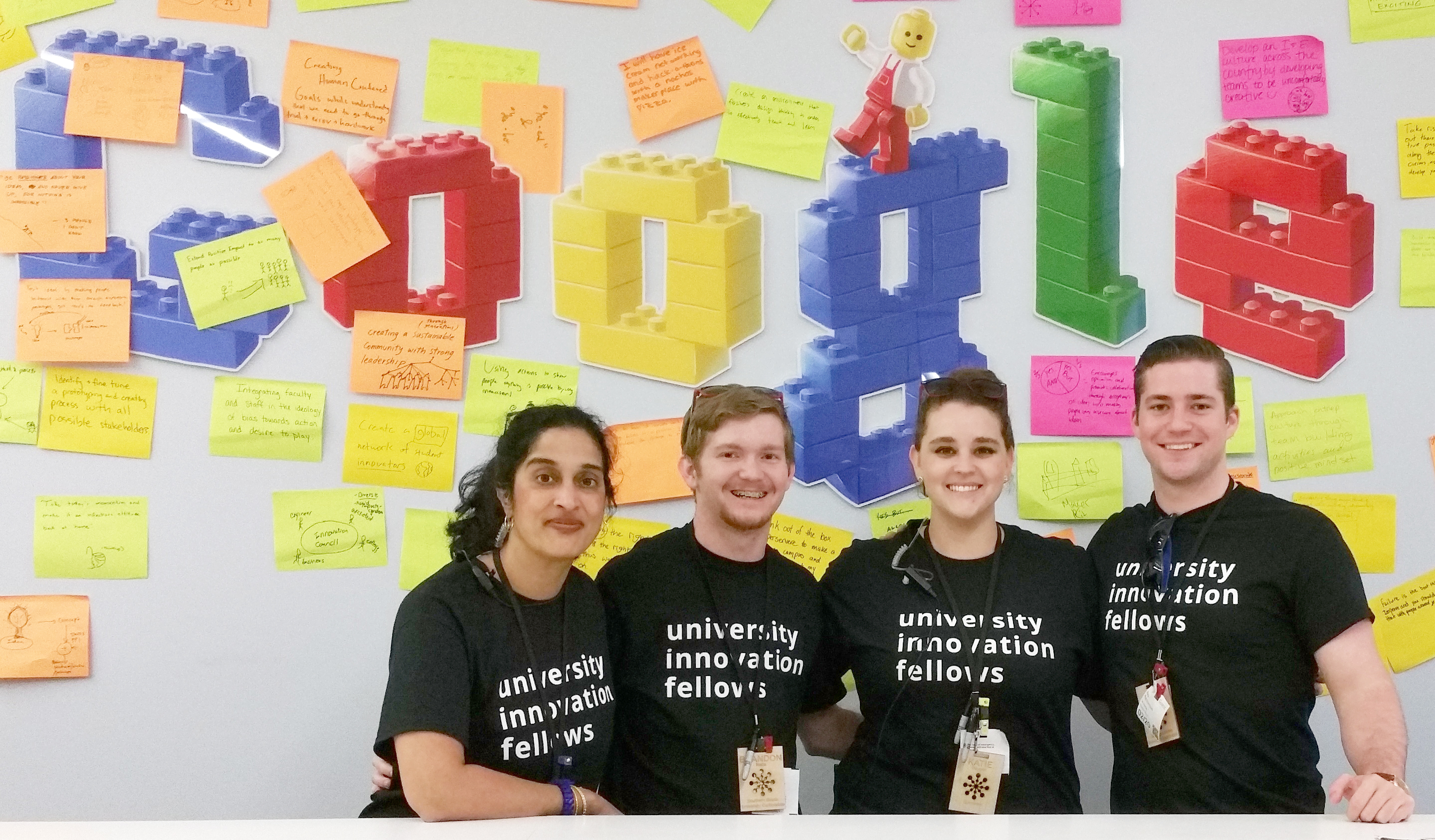 University Innovation Fellows – Brandon Nolte, second from left, and Alex Hutchinson, far right, were chosen as participants in the University Innovation Fellows program, enabling them to help foster student entrepreneurship and innovation on campus. They studied at Google and at Stanford University. Pictured with them at Google are Humera Fasihuddin, left, a co-leader of the program, and Katie Dzugan, second from right.  Dzugan is a triple alumna of SIU who participated in the program as a graduate student and now works for the University Innovation Fellows program. (Photo provided)
April 08, 2015
Students accepted into national innovation program
CARBONDALE, Ill. -- Southern Illinois University Carbondale students Brandon Nolte and Alex Hutchinson are participating in a national program that is providing them with the tools and know-how to help increase entrepreneurship and innovation among students across campus. 
The National Center for Engineering Pathways to Innovation (Epicenter) selected Hutchinson, of Johnsburg, and Nolte, of Golden Eagle, as University Innovation Fellows . The program is funded by the National Science Foundation and directed by Stanford University and VentureWell. 
The program "empowers student leaders to increase campus engagement with entrepreneurship, innovation, creativity, design thinking and venture creation," according to Laurie Moore, communications manager for Epicenter. Hutchinson and Nolte are among 123 new fellows from 52 institutions of higher learning selected for the recent 2015 program launch. 
There are now 291 fellows at 115 schools. The program is designed to stimulate science and technology invention, innovation and entrepreneurship.  
Nolte and Hutchinson applied last fall and were accepted as candidates earlier this year. While in Silicon Valley for the University Innovation Fellows Annual Meetup, they took part in immersive experiences at Stanford University and Google. 
"Without exaggeration, I can tell you that our visit to Silicon Valley was one of the most incredible experiences of my young career," Hutchinson, a senior with a double major in finance and marketing, said. "It was intoxicating to experience a culture fundamentally built around sharing ideas and promoting changes that harbor global impacts." 
Nolte, a senior studying management with emphasis on entrepreneurship, said the time at Google was "eye-opening" as they visited the "Noogler Room," where new Google employees train, and participated in design thinking activities and heard from a member of the team that developed Google glass. 
"Beyond design thinking, there was one big takeaway that has stuck with me since then," Nolte said. "People need to be 'uncomfortably excited,' meaning you need to take out the opinions and judgment of others and go for it. As entrepreneurs, innovators and engineers, we have to look at the ideas that are out there. If everyone is going to worry about someone else's opinion and not explore their ideas, then we might not find the next big thing." 
While at Stanford, the innovation fellows explored their ideas and concepts using principles they learned at Google. They learned to look at things from many different angles and explored a variety of ways to implement and market, including mobile applications. 
Their ongoing fellowship experience also incorporates online programming, events and conferences and connections with mentors and leaders in academia and industry. 
"Having two undergraduate students involved in University Innovation Fellows is a big plus for SIU," Lynn Andersen Lindberg, director of business innovation and research, said. "Alex and Brandon are learning best practices from students at other universities, making incredible contacts through networking, identifying gaps in our programs and activities and applying everything they learn to increasing and enhancing SIU's innovation and entrepreneurship opportunities."  
The goal of the program is for Hutchinson and Nolte to not only learn, but also to teach their fellow students. 
"Fellows are developing the skills, mindset and tools so they can help all students create their own futures, harness their potential and challenge their peers to solve the world's biggest problems. It's exciting to have Alex and Brandon ignite SIU's student body in design thinking, lean practices, creativity workouts and more," Katie Dzugan, a Mt. Prospect native, triple alumna of SIU and former innovation fellow who now works for Epicenter and the UIF program, said. 
Hutchinson and Nolte have drafted a set of strategies and plans for increasing SIU student innovation, and they are wasting no time in carrying out their mission. Nolte and Hutchinson are partnering with Saluki Ventures and Saluki CEO Corps to host a design thinking event open to all SIU students from 10 a.m. to 3 p.m. on April 25 at the Dunn-Richmond Economic Development Center. 
Hutchinson said they encourage any student "interested in outside-the-box thinking to come experience this fun event. It will include fun, creative activities and visual learning concepts that we brought back from our trip to Stanford and Google." 
The event is free and includes lunch but pre-registration is required by calling 618/453-5044 or sending an email to innovation@siu.edu. Nolte is also working to create other events for students, including competitions and seminars. He is exploring the possibility of a 3-D printing and product prototyping course as well. 
Hutchinson is also working to develop an "expertise database," which is essentially a "virtual collaborative network that will help students reach other student champions and faculty ambassadors as they pursue their inventions, business ideas and intellectual property, promoting interdisciplinary communication and encouragement for student innovators," he said. 
Entrepreneurship and innovation are far from new concepts for Hutchinson and Nolte. Both are members of Saluki Ventures, SIU's student innovation incubator, and both are members of Saluki CEO Corps, a registered student organization focusing on entrepreneurship. Nolte is the RSO's president while Hutchinson's term in the office just ended. 
In addition, Hutchinson, the son of Mary Lou and Robert Hutchinson, won the 2013 Saluki CEO Corps Elevator Pitch Competition, earning a trip to the Collegiate Entrepreneurs' Organization national conference and contest where he placed fourth nationwide. Nolte, the son of Cliff and Yvonne Nolte, won the SIU contest in 2014.