March 03, 2015
Nature photographer Tom Ulrich to share work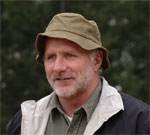 CARBONDALE, Ill. -- Nature photographer Tom Ulrich returns to Southern Illinois University Carbondale this month for his annual presentation of wildlife photos from around the world.
Ulrich will present his latest work at 7 p.m., March 17, in Lawson Hall, Room 161. The show is free and open to students, the campus community, and the public.
A 1971 SIU graduate in biological sciences and a former area high school biology teacher, Ulrich returns to Carbondale each year with photos of wildlife and places he has traveled during the past year.  His presentation will focus on the southwest United States, bird migration in south Texas, rain forest birds of Ecuador, and images of Glacier National Park.
Ulrich's images have appeared in many magazines including National Geographic, National Wildlife and Time, and he has published several books, field guides, and calendars. A native of Chicago, the SIU Alumni Association life member lives near Glacier National Park in Montana. He has been a freelance photographer since 1975.
Ulrich is a charter member and fellow with the North American Nature Photography Association and a member of the Outdoor Writers Association of America. He also is a member of the Rocky Mountain Outdoor Writers and Photographers.
The SIU Alumni Association, the SIU Center for Ecology, and the Southern Illinois Photographic Society are sponsoring the event.