January 30, 2015
Student to meet with nation's Ag industry leaders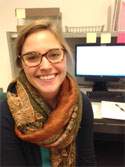 CARBONDALE, Ill. -- Emily Loehmer, a Southern Illinois University Carbondale graduate student, wants to make an impact in public health nutrition. She'll have the chance to meet policy makers and experts in that area at the U.S. Department of Agriculture's Agricultural Outlook Forum next month as a participant in the Student Diversity Program, a section of the forum. 
Loehmer, a Culver, Ind., native, is one of 10 graduate student winners from a nationwide, essay-based competition. USDA program sponsors will pay for her travel, lodging, and her forum meals and registration. The assigned, two-page essay topic was: the greatest challenge facing agriculture in the next five years. 
Loehmer decided to focus on a topic about which she was passionate, but one that impacts the most different areas of agriculture. Her passion is food access for low-income populations and food insecurity. She focused on food waste. 
"Ending food waste acknowledges food insecurity, nonrenewable resources such as oil and land, and health – among other things," she said. 
Loehmer zeroed in on fruit and vegetable food waste, identifying consumer perceptions of food appearance as part of the underlying cause. "Ugly fruit" has the same nutrition benefits as "pretty fruit." In her essay, she referred to a study in France that suggests consumers will buy "ugly fruit" at discounted prices. Similar practices in the United States could have the effect of reducing food waste, both in the store and on the farm. 
The Agricultural Outlook Forum is set for Feb. 19-20 in Arlington, Va. The theme for this year's forum is "Smart Agriculture in the 21st Century: A Discussion on Innovation, Biotechnology and Big Data." 
Students in the diversity program arrive on site Feb. 17 for some additional opportunities, including a meeting with the USDA World Agricultural Outlook Board, dinner at the Pentagon City mall, and a tour of the USDA/Agricultural Research Service Beltsville Research Center. 
The diversity program targets students – 10 graduate and 20 undergraduate – from across the agricultural industry majors. The forum provides a venue for food producers, policymakers and representatives of business, agricultural industries and government to share ideas and discuss issues. 
"This is a tremendous achievement for me," she said. "This forum is a great step toward achieving my career goals. As a policy maker, I will want to have enough exposure to the communities I'm working with to be able to propose policy grounded in fact, not theory, so I can help to make positive change in people's lives." 
Loehmer is in SIU's Combined Master's Degree in Community Nutrition and Dietetic Internship program, and will graduate in May. She is an intern with the Illinois Department of Human Services in Chicago. During her time at SIU, she was a graduate assistant at the Wellness and Health Promotion Services, where she started the Wellness P.E.E.R.S.program. Her presentation at the Mid-America College Health Association about the program earned her and her team the Chris Labyk Award for Promising Student Health Initiatives.