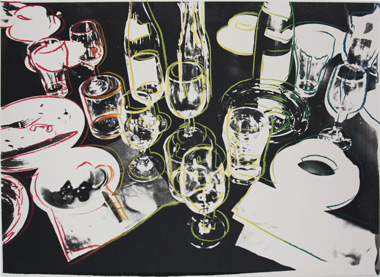 January 28, 2015
University Museum to highlight exhibitions
CARBONDALE, Ill. -- It's not an Andy Warhol event without a camera. Not to worry -- the University Museum at Southern Illinois University Carbondale has that covered. 
The first exhibition reception of the spring 2015 semester is Feb. 6, 4-7 p.m. at the museum in Faner Hall. "Celebrity and Scintillation: Andy Warhol's Party" is just one of the exhibits being celebrated. But it's arguably one of the most fun. 
Curator Alison Erazmus said she wanted to design an exhibit that would give the impression of Warhol's devotion to the superficial -- to party as performance art, to being "seen" as an artistic goal. The exhibit highlights the new screen prints the Andy Warhol Foundation for the Visual Arts donated to the museum. Erazmus paired the colorful screen prints with Warhol photographs in the museum's collection -- another gift from the Foundation. 
"He took a camera everywhere he went, emphasis on 'everywhere,'" she said. "He was a celebrity himself, and he had access to other celebrities -- so he had this amazing collection of photographs and Polaroids. I wanted to show our collection of photos, particularly how they served as source material for his other art including the screen prints." 
In keeping with the spirit, the exhibit includes a photo booth. Museum visitors can take a photo -- or several. Museum staff will upload the photos to the museum Facebook page (www.facebook.com/universitymuseum) for a Warhol-esque gallery. Options to apply a Warhol-esque filter to one's photo may be forthcoming. 
Other exhibits currently running with the Warhol exhibit are:
"Cloth as Community: Hmong Textiles in America," a traveling exhibit arranged through Exhibits USA. The exhibit showcases embroidered textiles that were and remain important to Hmong culture, particularly when Hmong refugees began arriving in the United States after the Vietnam War.
"Crossing Borders: Treasures of the Hmong and South East Asia," graduate student Wes Stoerger, curator, selected items for this exhibit from among the museum's large collection of Vietnamese and East Asian collection.
Fred Myers exhibit, Kyle Clymore, curator, highlights one of Southern Illinois' most famous self-taught artists. Myers was a woodcarver. This exhibit includes his last, unfinished, sculpture.
"The Photographs of Bob Benyas: Politicians, Celebrities, and a Decade of the Southern Illinois Music Festival." New York City photographer Bob Benyas (father of SIU's Ed Benyas) was present for appearances by major personalities in New York City. He was also ready to photo-document the music festival his son initiated at SIU.
Old Fashioned Valentines from the Museum's Collection -- just in time for Valentine's Day.
The museum is open Tuesdays through Fridays, 10 a.m.to 4 p.m., and on Saturdays, 1 to 4 p.m. It is closed on Sundays and during university breaks. There is no admission fee, though donations are always welcome.