January 21, 2015
David Axelrod to present Morton-Kenney lecture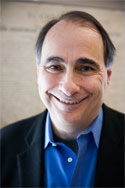 CARBONDALE, Ill. -- David Axelrod, a political adviser who served as a key senior strategist for President Barack Obama's two presidential campaigns and later as White House adviser, will discuss his more than 40 years in politics this spring at Southern Illinois University Carbondale. 
Axelrod will also discuss current events and his new book when he presents a lecture at 7 p.m., April 13, at Shryock Auditorium. The event is part of the Morton-Kenney Public Affairs Lecture Series. 
Admission is free and open to the public. The Department of Political Science and the Paul Simon Public Policy Institute sponsor the lecture. 
David Yepsen, institute director, said he hopes Axelrod will also share some stories about Simon, who was elected to the U.S. Senate in 1984 for two terms after serving in the U.S. House of Representatives for 10 years. 
"We are honored to host David Axelrod," Yepsen said. "Not only is he a successful, well-regarded American political figure but he had close ties with Senator Paul Simon, who was one of the first politicians David worked for after leaving the Chicago Tribune.  Over the years, he has remained a supporter of the Institute and what we are trying to do." 
Axelrod is director of the Institute of Politics at the University of Chicago and a senior political analyst for NBC News and MSNBC. A recent inductee into The American Association of Political Consultants' Hall of Fame, Axelrod's memoir, "BELIEVER: My Forty Years in Politics," is will be published next month. 
Axelrod was among the Obama administrations most visible presences while in the White House, appearing on numerous Sunday talk shows including NBC's "Meet the Press," ABC's "This Week," CBS's "Face the Nation," "Fox News Sunday" and CNN's "State of the Union." 
Axelrod began his career as a reporter covering national, state and local politics for the Chicago Tribune, becoming the newspaper's youngest political writer and columnist in 1981. He was also the newspaper's city hall bureau chief. 
He entered politics in 1984 and in 1985 founded the consulting firm AKPD Message and Media, where he was a senior partner until 2008. While there, he managed media strategy and communications for more than 150 campaigns. 
In 2004, he helped Obama, then a state senator from Chicago, win a challenging primary before going on to a landslide victory for a U.S. Senate seat.  In 2006, he ran the independent expenditure media program for the Democratic Congressional Campaign Committee in helping Democrats take control of the U.S. House of Representatives. He was also the media adviser to Deval Patrick, the first African-American elected governor in Massachusetts in 2006, the state's first Democrat governor in 16 years. 
A native of New York City, Axelrod and his wife, Susan, support Special Olympics and Misericordia. In 1998, the couple helped found Citizens United for Research in Epilepsy (CURE), which has raised more than $29 million in a search for a cure. 
Axelrod graduated from the University of Chicago. He has served as an adjunct professor of communication studies at Northwestern University and lectured on political media at Harvard University, the University of Chicago and the University of Pennsylvania. 
Axelrod is the 37th lecturer in the series that began in 1995.  The Morton-Kenney lecture series brings speakers to campus in the spring and fall of each year. Jerome Mileur, originally from Murphysboro, is a professor emeritus in political science at the University of Massachusetts-Amherst, retiring in 2004 after a 37-year teaching career there.  Mileur established the series in 1995 in honor of two of his political science professors -- Ward Morton and David Kenney -- who inspired him as a student.  Mileur earned his bachelor's degree in speech communication in 1955, and a doctorate in government in 1971, both from SIU Carbondale.  
For more information on the program, contact the institute at 618/453-4009 or visit paulsimoninstitute.siu.edu/.