December 23, 2014
Student is finalist in national design competition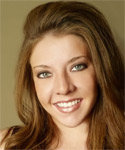 CARBONDALE, Ill. -- A Southern Illinois University Carbondale student's vision of a future classroom is among the finalists in a nationwide design competition. 
Sara Diesburg, a senior interior design major from Paxton, is one of five finalists who will present their projects to judges and meet with Steelcase executives in Grand Rapids, Mich., Jan. 11-13. The NEXT Student Design Competition attracted more than 800 entries from college students in the United States and Canada. Students from programs accredited by the Council for Interior Design Accreditation were eligible to compete. 
Diesburg's design for a new academic building at a fictitious small liberal arts college features a floor plan that includes a circular classroom.  Diesburg, the daughter of Ann and Robert Diesburg, said the idea was creating a number of spaces that will suit various modes of work, study and relaxation "to offer the most valuable education experience possible." While utilizing the company's furniture pieces and technology to highlight their many uses, Diesburg's focus was on creating "active learning classrooms" where students and faculty become actively involved and work together. 
Diesburg said she was able to navigate space and square footage requirements of the competition by incorporating the circular classroom, which proved to be her design key.  The floor plan also includes student learning spaces, a café and faculty lounge. 
All of the students in Assistant Professor Laura Morthland's Interior Design 491 corporate design studio course submitted in-class entries and internal judging chose work by Diesburg and Samantha Harden, another senior in interior design, as contest entrants. Last year, Taylor Behl, a May 2014 SIU Carbondale graduate who is now working with a design firm in St. Louis, was among the competition's 10 semifinalists, Morthland said. 
Morthland said she was very confident that both Diesburg's and Harden's designs would be competitive. The competition is a challenge for students because in this case, for example, they needed to learn how to meet the needs of university-level learning as they considered how to integrate space layout, furniture, lighting and acoustics into the mix. 
"Sara had an innovative plan and interesting take," Morthland said.  "She did a really nice job of putting it together and explaining her ideas. She didn't just deal with furniture but also with the space, the client and brand as a whole." 
Diesburg said she is "ecstatic" to be among the top design entries. 
"It validates that the material I am learning and the work I am doing at SIU is preparing me for a dream career," she said.  Diesburg plans to work toward her interior design licensure after she graduates and build a career designing in the hospitality industry. As a hobby, she hopes to renovate historic homes "to their original glory." 
Melinda LaGarce, associate professor and interior design program director, notes that SIU's program has a history of winning national competitions. 
"While this is an arduous program, we are also able to attract excellent students who are up to the challenge," she said. "Sara Diesburg is an outstanding example of carrying on our history of excellence." 
Morthland said the success of SIU students in the competition shows the interior design program is "nationally competitive and we excel." Another benefit for students is that doing well in the competition can attract the interest of design firms as potential employers, she said.