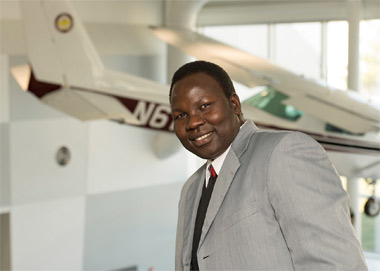 Pursuing his dreams -- Chol "Simon" Ajoksis, who spent 13 years in refugee camps as one of "The Lost Boys of Sudan," will realize one of his dreams when he graduates with a bachelor's degree in aviation management from Southern Illinois University Carbondale during commencement exercises on Saturday, Dec. 13. (Photo by Russell Bailey)
December 10, 2014
From Sudan to SIU, student pursues his vision
CARBONDALE, Ill. -- For Chol "Simon" Ajoksis, there is no looking back -- only working hard to realize his future. 
From the 13 years he spent in refugee camps as one of "The Lost Boys of Sudan"; to working several jobs in Texas after arriving in the United States just days after Sept. 11; to moving with his wife and three children to Southern Illinois in 2012 to continue his education, the 36-year-old Ajoksis remains focused on the horizon. 
Ajoksis will earn his bachelor's degree in aviation management during commencement exercises at Southern Illinois University Carbondale on Saturday, Dec. 13. The ceremony starts at 2 p.m. in the SIU Arena. Ajoksis hopes to enroll in the university's Master of Public Administration program with a concentration on aviation and then earn a doctorate. 
The civil war in Sudan that broke out in the early 1980s forced thousands of children to flee their homes for safety. As a 10 year old, Ajoksis ran in the Sudanese bush for several months, not knowing where he was going other than to escape gunfire. He stayed in camps in Ethiopia and northern Kenya before resettling in the United States through the efforts of Dallas-area churches. His parents are deceased and a brother became ill and died. A sister lives in South Sudan. 
There were times in the camps that he had one cup of corn designed to last seven days. Despite the hardships, Ajoksis remained focus on education, earning 21 certificates in mostly medical-related fields. As he prepares to walk across the arena stage to receive his degree, Ajoksis is adamant that education and believing in yourself are vital. 
"There is something much bigger than what I am doing right now," Ajoksis, a naturalized U.S. citizen, said. He lives in Carbondale with his wife, Ayen, daughters Blessing and Glory, and son, Emmanuel. 
Ajoksis is grateful to his instructors for their help. While English might be his second language, Ajoksis said that is not a barrier. The key is to stay focused, work hard and take education seriously. 
"All of my instructors are really nice. They are understanding, sit down and help you when you need it," he said. 
José R. Ruiz, professor and interim chair of the Department of Aviation Management and Flight, said it is difficult to fathom the struggles that Ajoksis and others faced before coming to the United States. Ajoksis always has a smile on his face, never complains in class and routinely takes time to meet with faculty if he does not understand something, Ruiz said. 
"He embraces education," Ruiz said. "He sees it as a gift. He has that kind of an attitude. A lot of folks take that for granted and he doesn't." 
Ajoksis said it was while working long hours as a baggage runner for Prospect Airport Services, Inc., at Dallas/Fort Worth International Airport, that he became enamored with aviation. With an associate degree from Tarrant County College in Fort Worth, Texas, in 2010 and a certified nursing assistant background, Ajoksis' first thoughts were of a medical career. However, with family commitments and his increasing passion for aviation, Ajoksis chose to pursue that dream. 
Ajoksis learned of SIU's nationally recognized aviation program during an Internet search for best aviation schools in the United States. Working with David Jaynes and other aviation advisers helped seal Ajoksis' decision to come to Southern Illinois. Since arriving in fall 2012, Ajoksis worked several jobs to help defray expenses, including as a home health care assistant, at the Illinois Secretary of State facility in Carbondale and at a local fast food restaurant. He recently started his own cab service, "Jet Taxi."  He is enthusiastic about pursuing his private pilot's license through the aviation flight program. 
Ajoksis envisions returning one day to what is now the Republic of South Sudan, saying that he cannot just "gain information and sit on it." He would like to help the nation build the best airports and improve the educational system. 
"I need to be one of those people who can bring change to my country one day," he said. 
He thanks God and those who helped him in his journey to the United States, including Grace United Methodist Church in Arlington, Texas, which sponsored his journey to the United States. 
"America is a land of opportunity. You don't have to sit in your room and watch TV 24/7," he said. "You have to run after opportunity. You have to look at what you can do."