December 08, 2014
Hands-on experiences prepare student for career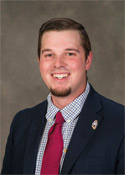 CARBONDALE, Ill. -- Lane Kreiling, a plant and soil science major graduating from Southern Illinois University Carbondale on Dec. 13, said that at first, leaving his "comfort zone" was difficult. Yet, almost right away at SIU, he tried something new and unexpected, and it changed his whole approach to his education and his career. 
Kreiling, a Mason City native, said joining a fraternity was not part of his college plan. However, the summer before he began his SIU career, he received introductory information from Alpha Gamma Rho, a national social and professional fraternity for those interested in agricultural or food-related careers. Since a friend was already a member, Kreiling decided to go against what he thought he knew and join. 
A year later, he was in a leadership position within the fraternity. 
"The leadership opportunities I had with Alpha Gamma Rho taught me so much about myself," he said. The SIU chapter of the fraternity elected him Vice Noble Ruler of Recruitment. The next year, 2013, the fraternity elected him Vice Noble Ruler of Planning. And the next year, he became Noble Ruler, akin to president of the fraternity. In that capacity, he said, he found it important to connect with every member of the fraternity. 
"I had to look hard at myself sometimes, and look for something I could connect to students I didn't know yet," he said. "It's not easy to lead 50 or so 18 to 22 year old young men with different opinions and different backgrounds!" 
Community service, particularly to the College of Agricultural Sciences, is a major function of the Alpha Gamma Rho fraternity. Kreiling said the fraternity is always ready to assist the college in any of its endeavors, but the annual barbeque to welcome new students is one of the biggest AGR events. 
Kreiling credits his fraternity experience with helping him succeed at two summer internships that helped him define his career goals. The summer of 2013, Kreiling was in Iowa working for the Monsanto Co. as a contract crew leader. One of his crews was mostly high school age workers, and the other was mostly migrant workers. Kreiling pulled out his admittedly weak high school Spanish, called upon his "connect with people" leadership style, and found a way around the language barrier. 
Even more crucial, though, was this past summer, spent working at AgReliant Genetics, a commercial seed development company. He worked in crop scouting, morphological data collection, and by-hand corn pollination as part of a corn breeding program. 
If he'd had any doubts, the AgReliant internship confirmed for him that his heart is in research, and corn is his crop. 
"I was involved almost from seed to harvest," he said. He spent hours in a handful of acres to understand precisely and with detail what various corn hybrids look like as they grow. The morphological data he collected creates a physical description profile of the hybrid, which protects AgReliant from seed and hybrid theft. It also provides the researchers with details about leaf growth and color, stalk thickness, ear production and other factors that make a corn hybrid desirable. The hand pollination, Kreiling said, ensures that the hybrid is the correct pairing during development, which open pollination can't guarantee. Hand pollination is not necessary at the commercial stage. 
"When you work a field like that, from planting through almost finish, you can see the differences in hybrids, you can see which ones may continue to further development," he said. "I want to be involved in that research. Corn -- corn is my focus." 
Rachel Cook, assistant professor of plant, soil and agricultural systems, taught the class Kreiling said was one of his most challenging – soil fertility. She said his good humor and experience contributed to class discussion in a positive way. 
"Lane is one of those students you can tell is going to take a leadership role in the agricultural community," she said. "I expect to keep hearing about Lane in the future, and know he will represent our college well." 
Kreiling opted to graduate in December with the option of returning in January to finish credits necessary for a double major in agricultural systems.