December 03, 2014
Savage named Provost Faculty Fellow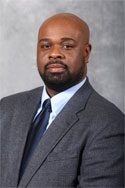 CARBONDALE, Ill. -- Mandara Savage, associate professor of technology and chairperson of that department, will be the Provost Faculty Fellow for the spring 2015 semester. 
The program's goal is to provide part-time academic leadership experience and skill development to university faculty with an interest in academic administration.  Savage will be involved in regular operations and activities of the Office of Provost and Vice Chancellor for Academic Affairs. 
Susan Ford, acting provost and vice chancellor for academic affairs, said Savage is an excellent scholar and a dynamic leader in his department and his college. He will work on student retention efforts in the so-called "STEM" areas of science, technology, engineering and mathematics, she said.
"We are pleased Dr. Savage will be serving in this position next semester," Ford said.  "During his time in the provost's office, he will make a genuine contribution to our student recruitment and retention efforts in STEM fields and reinforce our focus on student learning in distance education, both major strengths of his as chair of the Department of Technology in the College of Engineering. 
"Our university strives to build strong leadership for today and the future, and that is the major thrust of this program," Ford said.
Under the program, which began about three years ago, fellows gain insight into administrative practices and procedures including budgeting, academic planning, shared governance, student success programming, retention activities and assessment. 
Savage, who has served as chairperson of the Department of Technology in the College of Engineering since 2008, said the position will give him broader insight into the workings of the university at a higher level. 
"Having this opportunity to work with the provost's office will allow me to see the operations across the university, and will expand my background in university administration," Savage said. 
Savage said he is pleased SIU has such a position, which helps it continually develop its own people as leaders. 
"Most faculty work within their colleges and we tend to have a lot to offer at the university level, but might not have the opportunity to have an impact. So this opportunity gives faculty members a chance to see what it takes to run the university and maintain a level of excellence," he said. "The university should be in the business of developing inside talent. To do that, those in the organization have to be given an opportunity for new experiences and challenges so that at some point in the future, if it is looking for that, then it has a group of individuals prepared to step in and move forward ... individuals who already know the culture and inner workings." 
Savage said while in the position, he plans to work on promoting interdisciplinary programs, removing roadblocks and creating logistics that will allow the university to move forward even further in that area. 
Savage started at SIU in 1999, later serving as interim director of the Minority Engineering Program, which has since been renamed Success in Engineering through Excellence in Diversity. He earned tenure in 2007 and became chair of his department in 2008, leading the department as it developed the first two online degrees in the College of Engineering. He is currently working to develop additional new programs, including interdisciplinary programs.