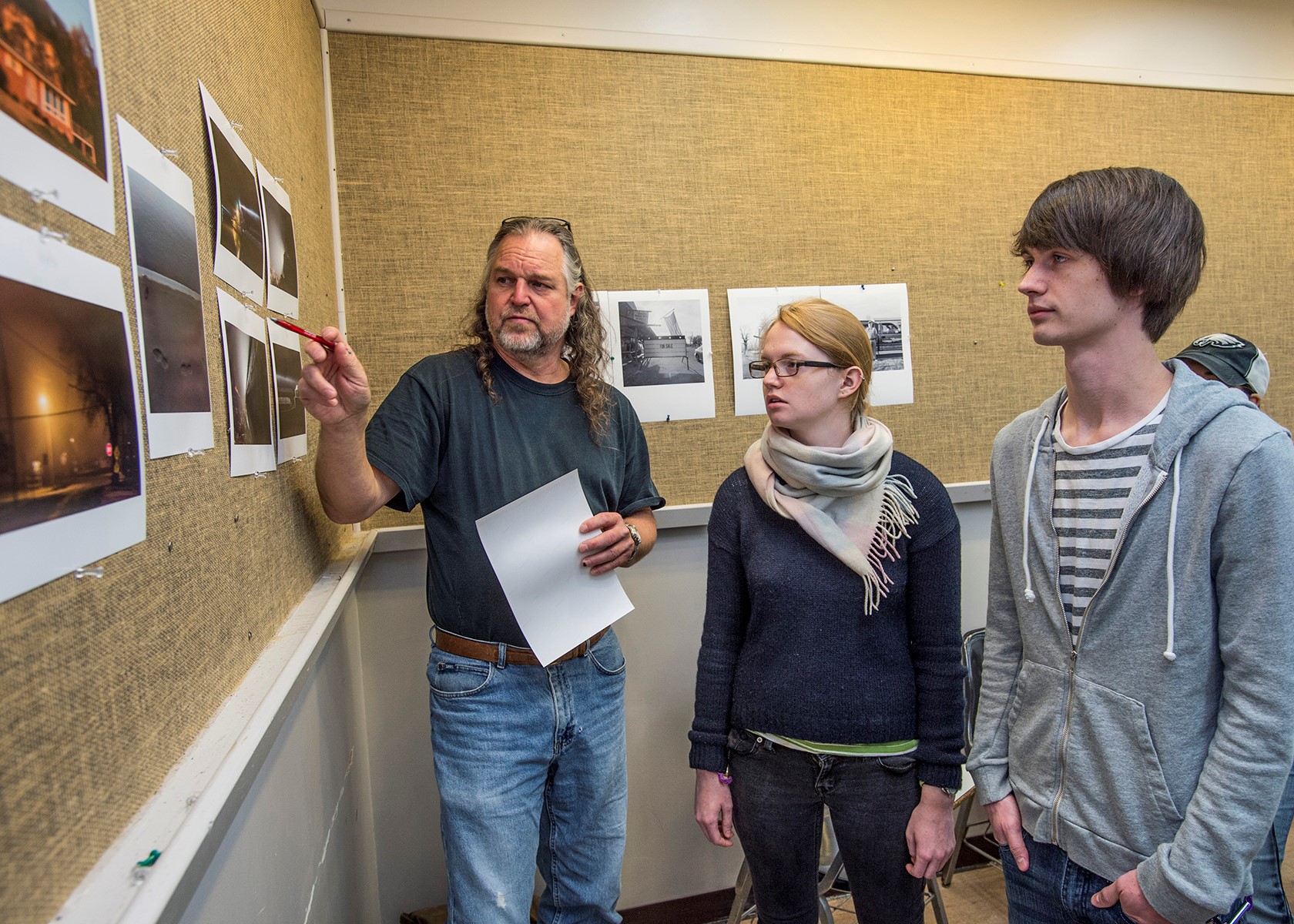 Putting a focus on small towns – Dan Overturf, left, a professor in Southern Illinois University Carbondale's Department of Cinema and Photography, discusses photos shot by Aaron Sandage with Jane Flynn, center, and Sandage. The two students are in Overturf's biennial Small Town Documentary class. (Photo by Russell Bailey)
December 01, 2014
Student photographers capture life in small towns
CARBONDALE, Ill. -- The opportunity to photograph and document residents in Stonefort has been a rewarding challenge for Southern Illinois University Carbondale graduate student Jane Flynn. 
She is one of 10 students in a Small Town Documentary class who are chronicling a separate community in the region as part of a semester-long project. In addition to helping her build her confidence by learning to approach and work with strangers on a project, Flynn, an international student from Edinburgh, Scotland, said she is learning that getting to know her subjects is a "real two-way interaction." 
"They are really interested in my life and I am equally interested in their life," Flynn said. "I believe you get out as much as you put in; I almost always leave Stonefort very emotionally and physically tired. Interacting with people has never been one of my strong points, so this class has really pushed my boundaries in this sense, as well as allowing me to push my photography." 
Work by Flynn and the other students will be on exhibit beginning Dec. 4 through the end of the semester in numerous display cases in the north and west wings of the Communications Building between the School of Journalism and the cinema and photography department. An opening reception is at 4:30 p.m., Dec. 4. The reception and exhibit are open to the public. 
Daniel Overturf, a professor in the Department of Cinema and Photography, teaches the biennial class. This is the ninth edition of the class since it began in 1996. Students blend geography, sociology, history, contemporary issues, education, art, individual curiosity and photographic skill. The work can be a mix of portraits, every day and unique events and other notable features of the students' selected community. The students also research their communities and form attachments to them. 
Aaron Sandage, a junior from Macomb, said the class allowed each person to take the town and approach it how they wanted, which lets each student "express their creativity in their own way." Sandage, who has been working in Grand Tower, said there "is a tight sense of community" among the 600 or so residents. As the semester-long project wound down, most people there knew him and were supportive. 
"Families invited me in to visit locations around town, they invited me in for meals, and even gifted me photography equipment," he said.  "Being able to throw yourself into a community, make connections and document them is an important ability to have with any form of documentary, and this class definitely helped me develop that skill." 
The class is not just about photography, but an avenue for sharing stories and experiences. That "holds a lot of value when so much emphasis is put on technical skills in the majority of production classes," he said. 
For Overturf, one of the joys in the twice-weekly class is hearing the students' stories from their journeys. Overturf and invited guests review students' prints in class. Students are also required to keep journals documenting their experiences as part of their overall course portfolio. The work of current and past students is at flickr.com/photos/smalltowndocumentary. 
"One of the reasons documentary appeals to many photographers and filmmakers is that you are responding to something that is discovered and not created. It's the discovery process and the renewal of that process that is one of the greatest benefits," Overturf said. 
Sandage shared one of his experiences recently while photographing a Devil's Backbone campground along the Mississippi River. A woman on the sandbar was waiting for her uncle to pass on one of the barges, and they waved at each other as it passed and talked on the phone. Because people on barges work 30 days at a time, seeing them as a barge passes is often only the time families can see one another. 
Among Flynn's subjects are Mennonites who live in the Stonefort area. Based upon their beliefs, Flynn may photograph them while they are at work. In a sense, she said, "Their work is their identity." 
Flynn said she admires the Mennonites' respect for their land and labor; living their lives by the word of the Bible and how they deal with community issues. "There is a true sense of community and honesty that I really appreciate," Flynn said, adding this section of her class project is "growing into a much larger body of work" that she believes will be the focus of her Master of Fine Arts thesis. 
Now in her second year in the MFA program, Flynn came to SIU Carbondale after meeting Overturf at her "degree show" at Duncan of Jordanstone College of Art and Design at University of Dundee in Scotland.  She learned of SIU through a professor in Scotland who previously taught at SIU. After meeting Overturf, who was accompanying SIU students on a study-abroad trip to Scotland, Flynn flew over to begin attending classes in less than two months in August 2013. 
"It was insane but I can honestly say I haven't regretted my move at all; I love it here in Carbondale and I really enjoy my course," she said.  "I really appreciate all the support my family and professors have given to me in moving and living here." 
Students participating in the project, by hometown, year in school, major, and their chosen communities, shown in bold, are: 
ILLINOIS:
Cobden: Margaret Howell, senior, cinema and photography, Wolf Lake.
Columbia: Darren Schroeder, graduate masters, mass communication and media art, Thebes.
Decatur: Lewis D. Marien, senior, journalism, Prairie du Rocher.
Glendale Heights: Stephanie Weber, senior, cinema and photography, Dongola.
Glenview: Gene Park, senior, industrial design and photography, Galatia.
Jacksonville: Andrew Calise, junior, cinema and photography, Creal Springs.
Lake Forest: Ian Low, senior, cinema and photography, Goreville.
Lake Zurich: Ryan Gorey, senior, cinema and photography, Alto Pass.
Macomb: Aaron Sandage, junior, cinema and photography, Grand Tower.
SCOTLAND:
Edinburgh: Jane Flynn, graduate masters, mass communication and media art, Stonefort.