November 13, 2014
David Lynch named Lincoln student laureate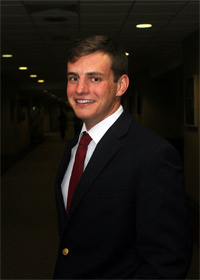 CARBONDALE, Ill. -- A political science student is this year's Lincoln Academy of Illinois student laureate for Southern Illinois University Carbondale. 
David Lynch, a senior from Rockford and the founder of the University Honors Leadership Organization, was honored during the annual Student Laureate Convocation on Nov. 1 in the Old State Capitol State Historic Site in Springfield. 
"Clearly (David) has a social conscience and is very interested in public service as a career path," John S. Jackson, professor of political science emeritus and visiting professor at SIU, wrote in a letter in support of Lynch's nomination. 
The Lincoln Academy of Illinois presents the award annually to one distinguished senior at each of Illinois' four-year colleges and universities, as well as to one student from each of the state's community colleges. 
"David is an outstanding scholar, a dedicated student leader and has the personal character that makes him stand out among his peers," Matt Baughman, assistant to the chancellor, wrote in his nomination letter. "His many volunteer and leadership activities represent a talented student who is fully engaged with his campus, his peers and his interests… His success as a scholar partnered with his experience in meaningful leadership roles and his interest in public policy provide clear evidence to me that David has much promise as a future leader.  He is self-confident but humble.  He takes full advantage of the opportunities he is presented and seeks to excel in all that he does." 
Lynch came to SIU as a Chancellor's Scholar and a University Honors Program student. In fact, he was at work in the University Honors Program office when he learned he'd been named the student laureate. 
"I was speechless," he said. "I told the staff in the office, and then called home and told my parents. There are some very impressive students on our campus with extremely impressive resumes, and I was grateful to have been chosen from such a group." 
Lynch's own resume is plenty impressive. He recently finished a term as vice president of the Kappa Alpha Order fraternity, and served as recruitment chair and treasurer. He is also vice president of the Inter-fraternity Council, where he leads the organization's judicial board. 
Lynch has racked up other awards as well. In 2013, he won the Paul Simon Public Policy Institute Director's Award. He earned the Betty Lou Mitchell Award, given to the top two Greek (fraternity/sorority) students on campus, and garnered the John and Nancy Jackson Scholarship, presented to the top junior in political science. He also received the 2014 SIU Environmental Ambassador Award for activities including volunteer work on recreational trails in the Shawnee National Forest. 
His dedication to his university shines in his many activities. He served as executive director of the SIU Leadership Conference. He served on the Dean of Students Advisory Board, and was a student member of the Student Legal Assistance Board of Directors. 
The chair of that board, Andy Morgan, acting associate dean of students, also wrote a letter supporting Lynch for student laureate. "David has an incredible work ethic and because of his positive attitude, he can easily motivate others into "doing good" because they see him doing it. He is a true servant leader," Morgan wrote. 
Lynch has taken hands-on learning to heart. Through SIU Carbondale, he interned with U.S. Sen. Dick Durbin, D-Illinois, in Washington, D.C. He represented SIU in Taiwan at National Formosa University at an English-language summer camp. He served as an extern, spending his spring break with the Illinois Attorney General's office, particularly with the legislative affairs office in Springfield. 
His post-graduation plans include continued service. He hopes to work for the Kappa Alpha Order's national office while he weighs his options. 
"I would like to give a special thank you to the Paul Simon Public Policy Institute and the University Honors Program," Lynch said. "Both places have given me tremendous opportunities and experiences, and the staffs have given me some of the best advice I have had.  Finally, I would like to thank Dr. John Jackson, Dr. Andy Morgan, and Matt Baughman for their help and guidance." 
The Lincoln Academy of Illinois started the student laureate program in 1975, 10 years after the founding of the academy. Award winners receive a medallion of Lincoln, a certificate of merit and a stipend. The award goes to students who show overall excellence in their fields of study and also a commitment to worthy extracurricular activities.