October 21, 2014
Ojewuyi earns Carnegie fellowship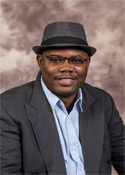 CARBONDALE, Ill. -- Segun Ojewuyi, associate professor of theater at Southern Illinois University Carbondale, will spend a semester at the University of Ibadan in Nigeria as the recipient of a Carnegie African Diaspora Fellowship. 
Ojewuyi will be part of a curriculum review, mentor graduate students in the department, and co-edit a special issue of the Departmental Journal on Intercultural Theater and Performance. The three-month fellowship is from April to the end of June 2015. 
The competitive fellowship is open to African-born college- or university-employed scholars living in the United States or Canada. Applicants submitted personal statements describing their qualifications and expertise. Meanwhile, universities in several sub-Saharan African countries submitted proposals for projects that would benefit from a visiting scholar. The fellowship program matched successful applicants and programs. In Ojewuyi's case, the University of Ibadan requested him specifically. He is well-known in Nigeria. A year ago, the National Association of Nigerian Theater Arts Practitioners inducted him as a "Fellow of Theater Arts" for his "outstanding contribution" to the development of Nigerian theater. In addition, he credits his role at SIU as chair of the University College liberal arts advisory council as providing valuable experience for curriculum review and development. 
For Ojewuyi, earning the fellowship and traveling overseas is part of practicing what he teaches. He is a firm believer in the need for studying abroad to enhance a student's comprehensive education. 
"What we train students for is not just to become mere hands, maintaining the status quo of the present," he said. "That quota is already taken … We must explore the imperative of nurturing curious, multifaceted and imaginative thinkers, those whose branches of professionalism and citizenship can reach into the heart of global efficiencies. This requirement is particularly compelling for students of the humanities." 
In other words, in order to create a class of scholars and professionals who understands the world in a broad sense, not limited by nationality, Ojewuyi believes we need to promote international study. 
Ojewuyi is himself well-traveled. He has earned international scholarships and fellowships to promote theater arts in Europe, and in the Caribbean and the Mediterranean regions. In the early 1990s, he served as a Cultural and Educational Affairs Specialist with the United States Information Agency, evaluating, designing and helping to implement cultural and educational exchange opportunities. 
"I find it incomplete, if I limit my teachings to the classroom alone," he said. "In essence the world itself becomes a universe of learning. I see how all these (experiences) play major roles in my day-to-day creative and teaching responsibilities." 
There is nothing "day-to-day" about some of Ojewuyi's international theater and teaching experiences. This past summer, he was at the Habima National Theater in Tel Aviv, Israel to direct a production of Nobel Laureate Wole Soyinka's "A Dance of the Forests." Ojewuyi was in Israel throughout the most recent hostilities between Israel and the Palestinians. In addition to the challenges presented by working on a theatrical production in a war zone replete with physical danger and thinning resources, Ojewuyi faced internal struggles within his own cast and crew, who represented different religions and outlooks. However, he was able to lead the production with such success that Raphael Gamzou, ambassador and head of the Division for Cultural and Scientific Affairs with the Ministry of Foreign Affairs in Jerusalem, sent a letter of high praise to the provost's office at SIU. 
"While it can be physically tasking, these trips never fail to open new vistas of existential meanings, such that a parochial worldview would never be able to access," Ojewuyi said.