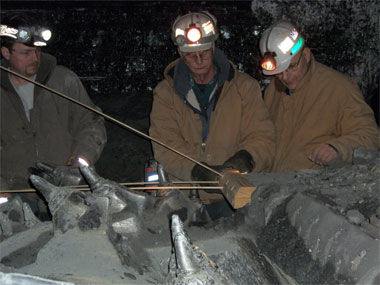 Southern Illinois University Carbondale researchers John Pulliam, center, and Harrold Gurley, right, along with Dave McBride of American Coal Co., discuss the technical aspects of outfitting a continuous mining machine with dust control technology developed at SIU. The researchers worked with Yoginder "Paul" Chugh, professor of mining and mineral resources engineering at SIU, to develop the technology, which recently received a patent and licensed for use. (Photo provided)
October 16, 2014
Mine dust control research hits marketplace
CARBONDALE, Ill. -- A new technology for controlling dust in underground mining operations, developed by researchers at Southern Illinois University Carbondale, has made its way into the marketplace.
The university recently awarded a sole source licensing agreement to Minerals Development Technologies Inc., a local startup company owned by several SIU employees. The company will pay the university a royalty based on each dust control system it sells to mining companies anywhere in the United States.
The technology, which utilizes strategically placed, custom-engineered water spray nozzle arrays to knock and pull coal dust out of the air, received a patent early this year, said Yoginder "Paul" Chugh, professor of mining and mineral resources engineering, and lead researcher on the technology.
Chugh, who is part owner of MDT Inc., said the company is working with American Coal Co. at its Galatia mining operation to install the custom-engineered system on one of its continuous miner machines. They also are working with Wallace Diesel and Mining Equipment in Raleigh to manufacture "spray blocks," which house varying nozzle arrays that the team mounts on continuous miners in strategic locations.
In an underground coal mine, dust is the miner's enemy. Particles too small to see work their way into the respiratory system, where they can accumulate and cause health problems such as pneumoconiosis or black lung in later years. Larger particles obscure visibility while others hang in the air and coat surfaces, presenting an explosion hazard.
The large continuous mining machines use a rotating cutting drum studded with tooth-like bits to rip coal loose from the coal seams before scooping it into a conveyer system. The cutting process and the falling, tumbling coal create continuous clouds of dust that obscure the machine operator's sight and cause health and safety risks.
Water spray has been used for some time to control dust in mines, but its application was more haphazard than the engineered system Chugh's team has designed. Wetting the dust makes it heavier and takes it out of the air. This happens at a very small scale, with tiny droplets of water colliding with tiny dust particles. Often, however, the dust and water fail to come into contact, or the water fails to adhere to the dust particle.
Chugh's team began working on the technology several years ago in attempt to find smarter, more efficient ways to bend that technique into something more efficient.
Using water spray technology and strategic placement of the spray nozzles to create "umbrellas" around dust clouds, Chugh's team has seen up to 65 percent reduction in airborne dust.
"The critical thing we've done is to create multiple umbrellas at key locations so the dust cannot escape," Chugh said. "We are the only people who can do the manufacturing and marketing of this technology in the country. We developed the technology and we provide technical support to industry to implement it because site-specific factors such as the nature of the coal and mine operational practices must be considered."
"It's a designed system that is tailored to each mine," said Harrold Gurley, a researcher in the Department of Mining and Mineral Resources Engineering, who worked with Chugh on the project.
During the engineering study for each mine, Chugh and his team closely examine exactly how the dust moves in the given setting. They also look at other variables, such as the characteristics of the coal, ceiling height, air circulation volume and many others. Each variable impacts the placement of the spray blocks retrofitted on each continuous mining machine.
Often, the continuous mining machines end up with more nozzles than it previously came with from the factory, yet the volume of water used is practically the same, and no chemicals are used in the process.
"We are within a few GPM (gallons per minute) as the original set up," said Chugh, adding that the system uses water droplets of about 25 microns in size. "We try our very best not to use one more gallon of water than is necessary to do the job. Our system is just much more efficient.
"We are reallocating our water volumes where the dust is being created. And creating multiple check points and doors where we can trap the dust," Chugh said.
Chugh said the current location, the first for commercial application of the technology in high mining areas, presents unique challenges that will be a good test for the technology.
"It is a fairly thick coal seam, and the wettability of this coal is not as high as others because of its chemical structure, so that will be a challenge for us.
"It's a very turbulent environment, so it's critical to know where to put our sprays," he said.
While it was in development, the team tested the new technology at five different mines in the area. Chugh said the team spends about 140 man-hours conducting an engineering study before putting a new system into play.
"We work with the mining company to locate sprays at particular locations on the machines.  So we go over those details before we finalize our design."
The system currently is in operation on about 25 continuous miners on a research basis. The team is hoping to outfit several more on a commercial basis this year alone, with its manufacturing partner, Wallace Diesel and Mining Equipment, building about 10 new spray blocks this year.
"Now we are on a commercial basis," Chugh said. "The good thing is that we are also working with a local manufacturer, trying our best to synergize with the regional economic development."
A continuous miner does a lot of work in an operating coal mine, taking out rows of coal but also creating paths for a longwall mining machine, which is the bigger, more powerful and more aggressive mining machine that takes the rest of the coal from the seam. Up the road, the team is working on engineering similar dust control approaches for the longwall miners. The team is doing much of the work at the university's newly opened Longwall Dust Control Facility.
The facility, located in the Illinois Coal Development Park in Carterville, uses state-of-the-art equipment aimed at finding ways to better control dust aerosols in certain types of coalmines. It opened in March under Chugh's direction.
Longwall coal mining has grown rapidly in Illinois during the last five years. There are five such operating longwall faces in the state now, with another three or four expected to open during the next two to four years, Chugh said. 
Chugh said it costs a mining company up to $70 million to open a longwall mining face and therefore costs to halt production for dust control testing are prohibitive. 
Engineering ways to cut down on airborne dust in longwall operations will be a robust challenge, Chugh said.  But it is a very important effort.
"A longwall mining machine mines at a faster rate and pretty much non-stop," Chugh said. "The dust conditions are far worse, and the dust is traveling faster, as the machine cuts coal at about twice the rate of a continuous miner.  Because it is also cutting a lot of rock along with the coal, the operation creates a lot of quartz dust, as well."
His team is currently working on several designs and concepts, which it will test at the facility and in the field.