September 19, 2014
Series to explore income disparity gap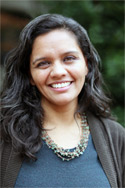 CARBONDALE, Ill. -- A lecture series at Southern Illinois University Carbondale will examine issues surrounding the nation's income disparity and the possibilities for narrowing the gap. 
Sarita Gupta, executive director of "Jobs With Justice," will present the inaugural lecture of the "State of the American Worker" series at 7 p.m., Thursday, Sept. 25, in Student Center Ballroom B. The lecture is free and the public is invited. 
The Paul Simon Public Policy Institute is sponsoring the series, with support for Gupta's appearance provided by Edward M. Smith, president and CEO of Ullico, Inc., a labor-owned insurance and investment company. 
Gupta is a nationally recognized expert on economic and political issues that affect people across all industries, particularly low-wage workers. Gupta's work has appeared in "The Wall Street Journal," "Bloomberg," "Politico," and "The Hill," in addition to "MSNBC," "Current TV, now Al-Jazerra America," and other international television news programs. 
David Yepsen, institute director, said the nation faces a "huge income disparity gap" with a middle class that is shrinking. The impact is an adverse consequence for the nation's economy. For many Americans, "hope for a better future seems to be evaporating," he said. 
The new lecture series will bring speakers to SIU Carbondale to discuss their ideas for resolving the problem.  Jobs With Justice is a "leading progressive organization dedicated to improving the lives of the nation's workers," Yepsen said, adding the institute is pleased Gupta is kicking off the lecture series. 
Yepsen also thanked Smith for his support. 
"Ed Smith is a longtime supporter of the institute and a leader in the American labor movement. He's a Southern Illinois native who is well known to many of us for his work to improve the lives of his members and the lives of people in this region." 
For more information on the program, contact the institute at 618/453-4009 or visit paulsimoninstitute.siu.edu.