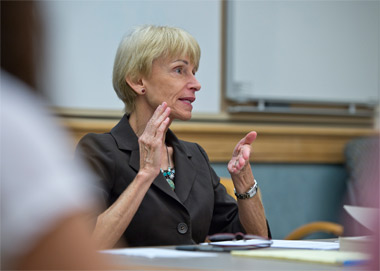 Janice Jacobs discusses immigration reform with her University Honors class (Photo by Russell Bailey)
September 05, 2014
Former diplomat now inspiring SIU students
CARBONDALE, Ill. -- After spending more than three decades "touching lives" in the U.S. and around the world through public service, Janice Jacobs hopes to inspire SIU Carbondale students to do the same.
Jacobs, who grew up in Murphysboro and earned her bachelor's degree in French from SIU, is back at her alma mater as a visiting lecturer in political science. She retired from the U.S. State Department in April after a 33-year diplomatic career.
From 2008 until her retirement, she was the assistant secretary for consular affairs, responsible for the State Department's second largest bureau with 12,000 employees worldwide and annual visa and passport revenues totaling $3 billion.
Prior to that, Jacobs, who also earned a master's degree from the National War College in Washington, D.C., served in a variety of roles, including as deputy director of the Office of Cuban Affairs,  principal deputy assistant secretary for the Bureau of Consular Affairs, and as U.S. ambassador to the west African nations of Senegal and Guinea-Bissau.
At SIU, Jacobs is teaching two courses and a University Honors Program seminar class on major domestic and international issues that occupied much of her time as a diplomat: the Middle East, terrorism and counter-terrorism, and immigration reform. Among her priorities in all three courses is helping students understand the nuts and bolts of policy making.
She also will be serving as a consultant to the Center for International Education during her semester-long tenure at SIU. Her efforts will help the center identify and analyze trends in the international education marketplace, develop outreach and cultivation strategies for existing or emerging markets, advise students on the value of Study Abroad opportunities, and meet with international students and groups to foster strong relationships among students, faculty and staff.
There are strong family connections to the university. Jacobs' late father, Robert, was an SIU alumnus and was recruited by SIU President Delyte Morris in 1962 to serve as dean of international programs. Her younger brother, her sister and a niece all graduated from SIU. Returning to the university to teach also provides Jacobs with the opportunity to spend time with her 95-year-old mother, who lives in Murphysboro.
Jacobs joined the Foreign Service as an officer in 1980. In addition to Senegal, she has lived in Ecuador, Egypt, Ethiopia, France, Mexico, Nigeria and Thailand. On 9/11, Jacobs was serving as the deputy chief of mission at the U.S. Embassy in Santo Domingo, the Dominican Republic. Shortly after the attacks, she was asked to return to Washington as deputy assistant secretary for visa services in the Bureau of Consular Affairs. Initially she was hesitant.
"It was a very tense time for the bureau, because the hijackers had visas," Jacobs recalled. "Long before 9/11, we had to strike a balance between border security and openness. We did understand the importance of keeping the bad guys out of the U.S. After 9/11, we really had to prove ourselves. I went to meetings with law enforcement and Homeland Security, and they were convinced we were handing out visas to everyone. I spent a good deal of time in briefings and congressional hearings, and with colleagues in the department, explaining that there was no derogatory information available to the consular officers at the time those visas were issued."
There were numerous General Accounting Office studies of the visa process, inquiries from the State Department's inspector general, and extensive press coverage.
"I knew the job would be difficult, but I also knew that I would be part of history as we completely revamped the visa process," she said. "As difficult as I knew it would be, I thought it would be worthwhile if I could be a positive influence in helping to keep the door open to legitimate visitors while making sure we kept out those who would do us harm."
The Bureau of Consular Affairs issues 8 million visas annually, and extensive security precautions are in place. Every visa applicant is checked against records in a "lookout system" that contains 31.7 million names; 72 percent of those names come from agencies outside the State Department.
"The entire intelligence structure of government changed after 9/11 to force people to share more information," Jacobs said. "We work closely with the National Center for Counter-Terrorism, and share a lot of the visa information we collect with other agencies. Congress wanted us to know more about the people coming into the U.S., and we do."
In her University Honors course on immigration reform, Jacobs believes it is important that her students are aware of the history behind this controversy.
"A lot of the issues being debated today have existed for years and years, such as openness versus being more restrictive, targeting certain groups, and bringing people into the U.S. for labor purposes but not offering them all the benefits of citizenship," she said. "We also will talk about the latest efforts by Congress to come up with an immigration reform package. The Senate passed a measure, but it doesn't look like the House will anytime soon. Mainly I want the students to understand why this is so hard."
Jacobs acknowledges that immigration reform is "a very difficult conversation" in the U.S. because of persistent high unemployment.
"People naturally believe that those who are here illegally are taking jobs away from Americans," she said. "The truth is a lot of the jobs done by illegal immigrants are ones Americans are not that interested in."
She believes provisions should be made for those who are here illegally.
"The number of undocumented people is estimated at around 11 million," Jacobs said. "From a national security perspective, after 9/11, we put such an emphasis on screening people coming into the U.S., but we have this enormous population we don't know anything about. We need an incentive program so we can identify the people who are here and we can legalize their status. Many of them are abused in their employment, but they can't complain because they know they will be deported."
As assistant secretary, Jacobs also oversaw the Bureau of Consular Affairs' efforts to assist American citizens during times of crisis overseas.
"During the Arab Spring, we helped evacuate more than 2,000 American citizens and their family members from Tunisia, Egypt and Libya," she said. "We did the same for more than 10,000 American citizens and family members, including orphans who were being adopted in the U.S., following the 2010 earthquake that devastated Haiti."
In addition to enhancing her students' understanding of major domestic and international issues, their history, and the challenges of policy-making, Jacobs wants them to understand the value of public service.
"It offers an opportunity to make a positive difference," she said. "It comes with a lot of responsibility, but also the chance to help others, to give back, and to promote a positive image of the U.S. government."
Among the groups involved with hosting Jacobs on campus are the Office of the Chancellor, College of Liberal Arts, the Department of Political Science, University Honors Program, the Center for International Education, and the Paul Simon Public Policy Institute.