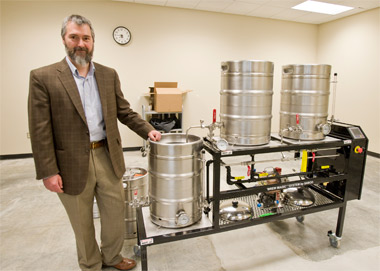 Career choices, research at heart of fermentation institute -- Matt McCarroll with a half-barrel pilot scale brewing system in the McLafferty Annex Collaborative Research Facility, the home of the Fermentation Science Institute. (Photo by Steve Buhman)
August 21, 2014
Fermentation institute puts SIU 'on cutting edge'
CARBONDALE, Ill. -- Opportunities for a new field of study and interdisciplinary research are on tap at Southern Illinois University Carbondale.
The Illinois Board of Higher Education this summer gave its initial approval for the creation of the Fermentation Science Institute at the university. The institute serves as an umbrella for the support and development of educational, research and outreach programs related to fermentation processes and products.
Sitting amid the dust created by construction of the institute's offices and teaching and testing labs at the McLafferty Annex Collaborative Research Facility on the west side of campus, Director Matt McCarroll envisions robust programs that will create new career options for students, enhance collaborative research efforts, and serve regional fermentation-related businesses. The colleges of science and agricultural sciences are partners in the institute, and faculty from those colleges, as well as the College of Engineering and the School of Medicine, also will be involved.
Among his goals are the creation of a fermentation specialization for chemistry majors and to begin accepting students in a fermentation science bachelor's degree program in fall 2015.
"We will be able to offer a real brick and mortar, hands-on experience that will tie into our very strong core science curriculums," McCarroll, a professor of chemistry and biochemistry, said. "This will help us attract students and equip them to do really well in the fermentation science field. In my conversations with employers, they want really well-trained brewing scientists. In some cases, they are more interested in the solid science background than the brewing experience."
McCarroll pointed to the growing potential of craft brewing and distilling in Southern Illinois, as well as the well-established wine industry. He also noted the significant growth of the craft beer sector nationally.
According to the Brewers Association, the not-for-profit trade association that represents the majority of the nation's 3,040 breweries, overall beer sales fell by nearly 2 percent in 2013, while sales of craft beer increased more than 17 percent. The association believes this is the first time since the 1870s that the number of U.S. breweries has exceeded 3,000. Fueling the growth is an increase in small and regional breweries, which have a comparatively large impact on job creation. The association estimates craft brewers employ more than 110,000 full- and part-time workers nationally.
Just last week, the association released data for the first half of 2014 showing that American craft beer production volume increased by 18 percent.
In Southern Illinois, Big Muddy Brewing, the region's first production brewery in more than 50 years, opened in 2009. Little Egypt Brewing and Scratch Brewing opened within the past two years.
"We're not the only ones thinking about this, but there are a relatively small number of programs like it nationally," he said. "One of the members of our Professional Advisory Board is head of the technical division at Anheuser-Busch, and they are interested in seeing us develop this stream of students. In addition, craft breweries across the country have been focused on their specific regions, but more and more of them are now moving into national distribution. They all are hiring fermentation scientists."
Marika Josephson, co-owner of Scratch Brewing Co. in Ava, echoed this in a letter of support for the institute, noting the "thousands of breweries in operation and the hundreds waiting in the wings." But she emphasized that there is "an almost inconceivable lack of fermentation science research and training in higher education in the United States."
Josephson said there is only a handful of major degree programs in the country, including at the University of California-Davis and Oregon State University.
She also said that she has talked with hundreds of young brewers in the area who want to break into the industry, dozens of whom are students at SIU or at universities in St. Louis and elsewhere in Missouri.
"SIU would be on the cutting edge, particularly for students in the Midwest," Josephson said.
McCarroll pointed out that fermentation science also encompasses energy, pharmaceuticals, food safety, cheese making and agricultural production of feedstock.
"Fermentation science is an evolving area; it isn't just for brewing and viticulture," he said.
He also emphasized that the institute will not require new funding from the state, since resources to support it already exist at the university.