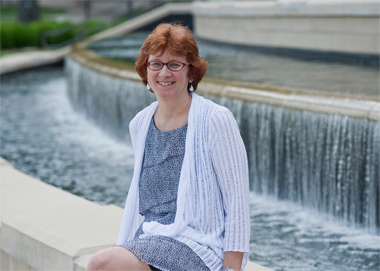 June 26, 2014
Library, staff evolve to meet changing needs
Morris Library has undergone a dramatic transformation in recent years. Every time I walk in the building for meetings or events, I am amazed at how vibrant the once quiet, stodgy facility has become.
Like many of our other buildings, programs and services, the academic heart of the university had to evolve to meet the changing needs of students, faculty and staff, and the many community patrons. It remains a place for serious study, and you still will find millions of volumes and microform units, along with tens of thousands of current periodicals and serials.
The bright, modern facility also is home to a rich array of other resources, including an e-book collection that has grown to 200,000, the Center for Teaching Excellence, and spaces and equipment that encourage collaboration – including the recently completed sixth and seventh floors.
Susan Tulis, associate professor and associate dean for information services, says the library is no longer merely a repository.
"It now is much more of a social environment," she said. "We are seeing more and more students come in to do collaborative work, to meet friends, to have a cup of coffee at Delyte's café."
Susan joined library affairs in 2001 as the government documents librarian and became associate dean, responsible for all public areas of the library, the following year. Her fondness for libraries dates to her days as a first-generation student at the University of Connecticut, where she worked in the reserve book room. After earning her bachelor's degree in psychology and statistics, she earned a master's in library science at the University of North Carolina-Chapel Hill.
She spent the next 20 years in libraries at the University of Virginia, the last 16 working with government documents in the law school library. In fact, the American Library Association will honor Susan for significant lifetime contributions in the field of government documents during its annual conference next week.
I appreciate the expertise Susan and her colleagues share with all of us who take advantage of the library. But what also stands out to me during conversations with Susan is her passion for customer service, something she developed at a young age.
"My parents bought a small grocery store and gas station when I was 10 years old and I started working there," she said. "I worked the cash register and pumped gas. I loved the interaction with customers."
Just as libraries have evolved in the digital age, so too have librarians.
"Libraries are not declining in importance," Susan said. "People are changing the ways in which they use them."
That means, for example, that our librarians teach information technology literacy. They help users understand that, as Susan said, "The top hit in a Google search might not be the most reliable item. We also teach students how to evaluate websites."
Libraries also help bridge the gap for people who do not have access to the Internet. And, as Susan points out, there are valuable materials you will not find on the Internet, such as the historical collections held in our library.
 As important as technology and the Internet have become in our lives, there is no substitute for the passion and expertise of Susan and her colleagues in our library.