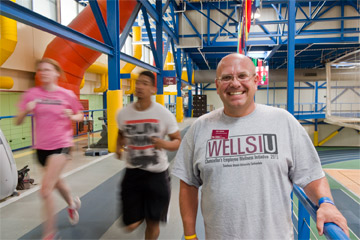 June 20, 2014
Recreation staff helps enhance quality of life
Among the many ways SIU enhances the quality of life for the campus community and friends and neighbors throughout the region are our great facilities and programs that encourage physical fitness. From the path around beautiful campus lake – a personal favorite of mine for running – to the 235,000-square-foot Student Recreation Center, opportunities are available for every age, every ability and every goal.
Recreational Sports and Services oversees the facilities and programs that attract thousands of participants every year. I know how hard Director Troy Vaughn and his 23-member staff work to meet the needs of so many sports and exercise enthusiasts, offering everything from adaptive and inclusive recreation to youth and fitness programs. From my conversations with students, faculty, staff and community members, it is clear they appreciate those efforts as much as I do.
Troy, who is an Indianapolis native, joined the SIU family two years ago. He earned his bachelor's degree at Franklin College in Indiana and a master's degree in recreational sports administration from Indiana University. He has held recreation positions at the University of Evansville and at Ball State University, and prior to joining SIU, he served as director of recreational services for seven years at Southeast Missouri State University in Cape Girardeau. 
"I love what we do with students and I love what we do in reaching out to the community," Troy said. "There are so many ties between the university and the community, and every one of those collaborations matters. We have 700 community members using the Rec Center every week, and those relationships are important."
Every year, the Rec Center logs what Troy refers to as 700,000 "participations" – an incredible array of users that includes students, faculty, staff, alumni and community members, SIU athletics teams, and such groups as the Saluki Swim Club.
"In the space of an hour, we will see a 95-year-old member and a 3-year-old girl come in the door, and everyone in between," he said. "And the passion of the members here is far greater than anywhere else I've been."
That's why it is so important that we maintain the facility, which was built in 1976-77 and expanded in 1986. We just completed a two-year project that included a total overhaul of the HVAC systems and replacement of all 10 flat roofs.
The Rec Center staff, which includes around 400 student employees during the school year, also knows how passionate members are about the equipment. It is not uncommon for our treadmills, which are commercially rated, to have 100,000 miles on them over a four- to five-year lifespan.
"We have students who maintain every piece of equipment in this building," Troy said.  "We want the equipment to be fun to use, attractive and clean. But our top priority is making sure all of the equipment is safe."
Like many of you, I run for the health benefits and for stress relief. But, whatever physical activity may appeal to you, I encourage you to take advantage of our facilities and programs. Troy and his staff will inspire you with their passion and commitment to a healthy lifestyle.