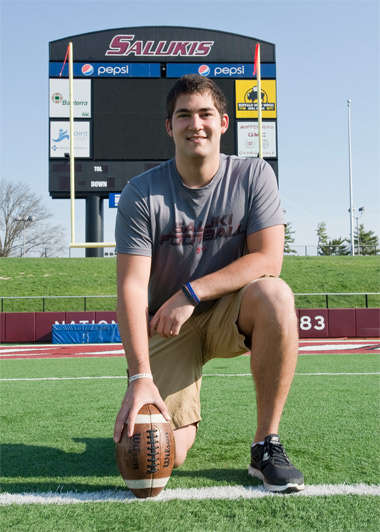 May 08, 2014
Class of 2014 ready to make a positive difference
One chapter will end and a new one will begin on Saturday for the nearly 3,300 proud members of the Class of 2014. Thousands of family members and friends will pack the SIU Arena during three commencement ceremonies to celebrate this milestone with students earning undergraduate, graduate and professional degrees.
I always enjoy congratulating our newest alumni as they cross the stage. As is true of the faculty and staff who generously share their time and expertise to mentor and guide our students, I am extremely proud of their many accomplishments. I get to know many of them, such as Austin Pucylowski, and I appreciate how hard they have worked to earn their diplomas.
If his name sounds familiar, that is because he was the outstanding punter for the football Salukis over the past four years. Last season, for example, the New Berlin, Wis., native led the Missouri Valley Football Conference in the percentage of punts inside the 20-yard line (43 percent), and recorded the second-longest punt in school history, an amazing 72 yards.
SIU and Illinois State recruited Austin out of Catholic Memorial High School. As so many other students tell me, his campus visit made the decision an easy one.
"I felt very welcome here," he said. "I tell many people I wouldn't trade my experiences and my education at SIU for the world."
As much as I enjoyed watching him and his teammates at Saluki Stadium and on the road, I also have appreciated Austin's commitment to academic success. He graduates tomorrow with a perfect 4.0 grade point average in biological sciences, a very demanding major. He was named to the 43-member FCS Athletic Directors Association Academic All-Star Team in both his junior and senior years, and was one of only four students with that perfect GPA.
Austin's accomplishments illustrate the commitment required of student-athletes. Regardless of the sport, we expect them to learn how to balance classes and homework with workouts, practices, meetings, games and travel.
"Once you find the perfect rhythm, you can do it," Austin said. "You do need discipline. After a day of classes and practice, it can be tempting to just go home and lie down. But you have to motivate yourself."
That he has. Early in his Saluki career, Austin considered playing in the NFL, even working out with a couple of NFL punters. But he wanted a more stable career, and set his sights on medical school. His dedication was rewarded earlier this spring when he was one of just two players nationwide named Scholar-Athlete of the Year by the Division I Football Championship Subdivision Athletics Directors Association. The $5,000 postgraduate scholarship will go toward the medical degree he will pursue at Indiana University.
After suffering his own share of injuries as a football player – he also was a tight end in high school – Austin is considering a career as an orthopedist. I am confident that Austin and his fellow members of the Class of 2014 are prepared to make significant contributions, regardless of the path they may choose. As they leave SIU tomorrow, they know big things are within reach.