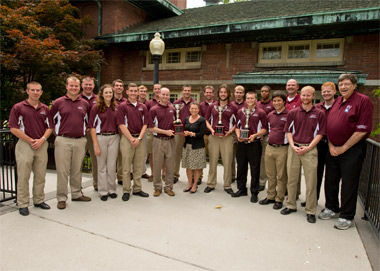 The best in collegiate aviation -- SIU Chancellor Rita Cheng and members of the Flying Salukis celebrate the 2014 National Intercollegiate Flying Association championship the team earned Saturday.  Holding the national title trophy with the chancellor is senior co-captain Dane Fearneyhough, who placed fourth overall. To the chancellor's left, team member John Behnke holds the judge's trophy, and to his left, Davin Miles holds the flight events trophy.  (Photo by Russell Bailey)
May 20, 2014
Flying Salukis win second title in four years
CARBONDALE, Ill. -- Southern Illinois University Carbondale's Flying Salukis are atop the collegiate aviation world for the second time in four years. 
With 11 team members scoring 349 points, the Flying Salukis earned the 2014 National Intercollegiate Flying Association championship on May 17 at The Ohio State University Airport. This is the eighth national title in program history; the team finished third in 2012 and 2013 after winning the championship in 2011. 
"This is another historic moment in our aviation program's proud tradition," Chancellor Rita Cheng said.  "The talent and dedication of the team members and coaches is inspiring to all of us and again shows the strength of our university and its programs." 
Paced by junior Jacob R. Schwarz and co-captain Dane K. Fearneyhough, the Flying Salukis captured the flight events title and finished fourth in ground events.  The team scored in each of the events and beat two-time defending champion Embry-Riddle Aeronautical University-Prescott by 31 points. The University of North Dakota finished third with 317 points. Twenty-seven teams competed May 12-17. 
Coach Nathan J. Lincoln said that with "an extremely talented group of kids" there is always a chance to win a national title, but with the close competition that exists "it takes a lot of things coming together to be able to win it." 
"To win this is a compliment to our program," Lincoln, who also credits the hard work of his assistant coaches, said.  "It's extremely challenging every year to get a team together that will be nationally competitive and knowing that you are going against schools that are four times larger than you makes it that much more difficult. They have a lot more population to draw from for their flight teams.  Some of their flight teams are twice the size of our flight team. To be able to go in there and win over people who have a lot larger resource pool than we do is amazing." 
There were seven ground events and four flight events. Ground events are aircraft preflight inspection, aircraft recognition, computer accuracy, crew resource management, ground trainer simulator, IFR (instrument flight rules) simulator and simulated comprehensive area navigation (SCAN). Flight events are message drop, navigation, power-off landing and short-field approach and landing. The top 20 contestants in each event earn points for their team. 
Results are available here. 
Prior to 2011, the last national title was in 1985, capping off a string of seven championships within a 10-year stretch in the mid-1970s to the mid-1980s. 
David A. NewMyer, chair of the Department of Aviation Management and Flight, believes several factors contributed to this win. In addition to the squad's dedication to team practices, the depth of the talent played an integral role, he said.  In most events there were multiple Flying Salukis who scored points toward the title; that depth allowed SIU to also earn the Judge's Trophy, which includes cumulative results of competitors outside the top 20 scorers in each event. 
"Another key point with this group of kids and those over the last four years has been the support of parents and family members of the team," NewMyer said. About 25 family members including parents, grandparents and siblings attended Saturday's banquet. 
"The coaches and team members have my gratitude and admiration for winning the national championship," he said. 

Schwarz, a senior aviation management major from Chesterfield, Mo., was third overall scorer with 88 points while Fearneyhough, who earned his aviation management degree earlier this month, was fourth with 73.5 points.  Schwarz won short-field approach and landing, placed in the top 20 in the three other flight events and was seventh in scan.  Fearneyhough won aircraft preflight inspection and scored in four other events. 
Schwarz said he was pleased to win the short-field event and said the team's commitment "definitely showed off." He finished second for the national top pilot award. 
"This is what hours and hours of hard work does for you.  It's definitely a commitment for this team," he said. 

Fearneyhough, who is from Louisville, Ky., will begin training early next month in Memphis, Tenn., with SeaPort Airlines to become a first officer with the Portland, Ore.-based commuter air carrier. The hard work paid off for a "full team effort," said Fearneyhough, who was fifth for national top pilot. 
Coming together to win a national title "and show we are the best team in the country means a lot to us," Fearneyhough said.  He believed there was opportunity for success with continued hard practice after the team won a sixth regional title in seven years in October. 
"If we came out and just played like we practiced I believed we could go out and win it," he said. 
Prescott R. Dean, a senior in aviation management from Olathe, Kan., finished 11th in overall scoring with 53.5 points, including fourth in SCAN and scoring in five other events.  Other scoring team members were John M. Behnke, senior, aviation management, from Arlington Heights; Robert W. Hutchinson, a May 2014 graduate, aviation management, from Johnsburg; Sean S. Gipe, senior, aviation technologies, from Media, Pa.; George H. Nimmer, sophomore, aviation flight, from Plymouth, Wis.; Kyle E. Hayes, a May 2014 graduate, aviation management, from Bourbonnais; Kevin D. Grandberry, Jr., sophomore, aviation flight, from Chicago; Michael T. Maughan, senior, aviation management, from Pinckneyville; and Joshua A. Sager, junior, aviation management, from Lincoln. 
Other team members are: Aaron I. Applebee, senior, aviation flight, from Seneca; Jonathan R. Dowell, senior, aviation management, from Lake in the Hills; Emily K. Frasca, senior, aviation flight, from Champaign; and Davin L. Miles, sophomore, aviation flight, from Penfield. 
Lincoln, a senior lecturer in aviation management and flight, smiles but gives little insight when the subject of practice regimen comes up.  He was a member of Flying Saluki teams in 1997 and 1998 that finished fourth in the nation each year.  Entering his ninth season as coach, Lincoln credits the team and the assistant coaches for their individual motivation. 
"To be taking full class loads and be able to dedicate the amount of time necessary to be competitive at the national level is extremely difficult. I appreciate all of the sacrifices they do during their college years to be on the team," he said. 
The Flying Salukis assistant coaches are senior lecturer Kim Carter, also an academic adviser, and assistant instructors and former Flying Salukis Michael LeFevre, James Libuszowski and Samuel W. Oas. 
"The people I have on the coaching side have been amazing," Lincoln said.  "They put a lot of extra hours in ensuring that the students have the information and the talents they need to be able to succeed." 
Lincoln thanked NewMyer for being a "critical voice" for the program's success through the years.  NewMyer, who became a professor in 2000, is retiring next month after nearly four decades with SIU, including 21 as department chair. He started at SIU as a part-time visiting instructor in 1975; in 1979 he became coordinator and a visiting assistant professor in aviation management. 
"I'm glad we were able to give him one last national championship before he retires," Lincoln said.