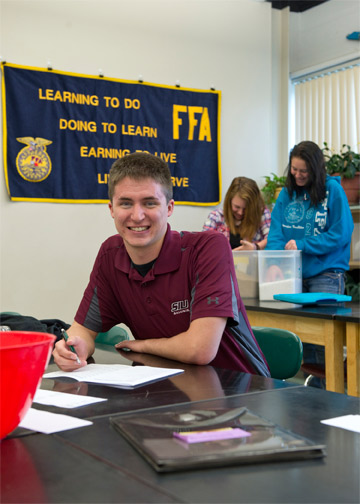 Building for the future -- John Edgar of Ava has played a leadership role in FFA since high school.  Recently, he helped get a new FFA chapter at Carbondale Community High School off to a good start.  He graduates Saturday, May 10, from Southern Illinois University Carbondale with a degree in agribusiness economics and plans to return in the fall as a graduate student in agricultural education.  (Photo by Russell Bailey)
May 09, 2014
Grad inspires commitment to agriculture
CARBONDALE, Ill. -- When Michelle Buchheit, a teacher at Carbondale Community High School launched an FFA chapter there, she appealed to Southern Illinois University Carbondale for an expert.  The College of Agricultural Sciences sent her John Edgar. 
His assistance in helping set up the Future Farmers of America program, she said, is invaluable. 
Susan Graham, business administrator in the dean's office in the College of Agricultural Sciences, said much the same about Edgar, a Student Employee of the Year nominee.    
When Edgar graduates from SIU on Saturday, May 10, with a bachelor's degree in agribusiness economics, he leaves behind him a path filled with accomplishments, competence, and dedication.  Commencement exercises for the College of Agricultural Sciences are at 5:30 p.m. at the SIU Arena. 
John Edgar, the fifth generation of his family's name, is from Ava, where his father and his grandfather both worked at the First National Bank of Ava and ran a family farm. He graduated from Trico High School in 2010 -- the only high school in Jackson County at that time with an active FFA chapter. 
Edgar spent his first year out of high school in Springfield as one of five elected state representatives to the Illinois FFA organization.  His experience during that year -- working out of an office in Springfield, leading workshops for FFA chapters and participating in study trips to Washington D.C. and Argentina -- opened his eyes to how policies and decisions are made.  He began to understand what is involved in bringing agricultural education to a school district.  
He returned to SIU as a Chancellor's Scholar, and immediately he got to work promoting the most visible advocate of agricultural education -- FFA. Edgar joined the SIU chapter of Collegiate FFA, where he served one year as chapter reporter and one year as president. Currently, he holds an advisory position with the group.  He was an integral part of increasing the presence of FFA on the SIU campus. 
"SIU has the third largest FFA chapter in the nation as of 2012, the last time the official numbers were posted," Edgar said.  "Since then, our membership has grown.  We now have approximately 100 paid members, with a regular meeting attendance of about 60 members." 
The SIU chapter, Edgar said, remains the FFA model for collegiate chapters, in large part because SIU hosts more events and networks with more schools than any other collegiate FFA chapter.  Edgar estimates that SIU FFA works with 100 different high schools each year and hosts approximately 20 events each year for high school FFA students.  Three of the largest events each bring approximately 500 students at a time, with a total of approximately 3,000 students attending SIU collegiate FFA events each year. 
As an officer in the SIU chapter, Edgar was also part of earning a collegiate "FFA Living to Serve: Environmental Grant," funded at 150 percent of the chapter's request.  The project uses shredded office paper from the College of Agricultural Sciences as an ingredient, along with sawdust, as livestock bedding.  The SIU Equine Center is testing the product, and experimenting with optimal mix of paper to sawdust. 
Edgar was heavily involved in the recycling project in its first year. When the grant renewed, he let other students share the experience and Edgar moved on a wholly different project -- helping Buchheit bring FFA to Carbondale.  
"I was so grateful to have John working with us because he understands the area and he understands the culture of FFA," Buchheit said. 
The chapter is in its second year, and is already growing. Edgar said a highlight was accompanying the fledgling chapter to the FFA National Convention in Louisville, Ky., and seeing those students succeed in horse judging competitions and other events. 
FFA isn't Edgar's only gig.  He's also a member of the Ag Council, the coordinating body for the several agriculture-related registered student organizations and a member of Agbassadors. Agbassadors represent the College of Agricultural Sciences as student recruiters to represent agricultural sciences generally and SIU in particular. Agbassadors visited 50 high schools and community colleges this academic year alone, said Edgar, who is also a member of the University Honors Program. 
As a student employee in the dean's office, Edgar has the opportunity to be involved with event planning, including building on his relationships with high school teachers and counselors, students from across the broad range of agricultural sciences majors, and with local members of the community. 
"I hope to build on what my education has taught me about policies and how they are made," he said.  "I think it's going to be a challenge in coming years to find people who understand both how the policies are made, and also what effects they really have on the people in agricultural education and agriculture." 
Edgar plans to return to SIU in the fall to earn a master's degree in agricultural education.