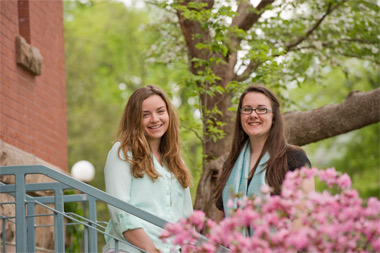 Future architects -- Gabrielle Lowe, left, and Andrea Stegeman, are SIU students and future architects who participated in a service-learning trip to the Dominican Republic during spring break.  Stegeman will graduate Saturday, May 10, with a bachelor's degree in architectural studies.  Lowe will also participate in commencement ceremonies and complete her master's of architecture degree in August. (Photo by Steve Buhman)
May 07, 2014
Architecture grads thrive on unique project
CARBONDALE, Ill.  -- Andrea Stegeman and Gabrielle Lowe will one day be licensed architects, and both are confident that the different perspective they will bring to their work will be thanks to their "outside-the-box" education at Southern Illinois University Carbondale. 
Their educational journey included being part of a design/build/service project on a tropical island some 1,700 miles away from Carbondale this spring. 
Stegeman, a senior from Glen Carbon, will graduate with her bachelor's degree in architectural studies on Saturday, May 10. Lowe, of Rochester, will also participate in commencement and complete her master's of architecture degree in August. 
Stegeman and Lowe were among a group of 20 students who spent their spring break, March 8-15, working in the Dominican Republic. 
Led by Jon Davey, SIU architecture professor, the Dominican Republican Eco-Challenge Spring Break 2014 students visited Santa Domingo and viewed its architecture.  From there it was on to the Dominican Alps, the site of the highest peaks in the islands, where they helped residents of the Jarabacoa area with valuable construction projects.  
"It was an eye-opening experience to get out there touching and building on a very basic level," Stegeman said. 
"This was real world stuff, away from iPhones and computers, working hard every single day.  They lived the embodied cognition pedagogy (a philosophy that asserts that the body plays a role in shaping the mind), doing things with their own hands, really experiencing things," Davey said. 
Students of all majors, including many architectural studies students, participated in the service-learning trip. The students took in the architecture and culture of another country and assisted in building an interpretive Ecological Center for the Dominican Women's Foundation and a nearby scenic educational overlook and landscaping.  The SIU team worked at National Forestry Service sites in Jarabacoa and Salta de Jimenoa with local residents and members of the Dominican Republic's Brigada Verde (Peace Corps). 
Davey secured a $1,000 grant from the Southern Illinois Chapter of the American Institute of Architects and the local Peace Corps group received a $5,000 United States Agency for International Development grant to help fund the construction project.  
Stegeman had never left the United States before but quickly signed up for the trip after learning that Davey, "who is very interesting and a lot of fun," was leading the excursion.  She was entranced by what she saw on the island -- a mixture of colonial architecture alongside the vibrant colors and concrete and stucco construction of other buildings.  
Stegeman helped build trusses for the center, plant flora along hiking trails, work in the nursery on the property and assist in building a deck and benches for the scenic outlook. Stegeman, who will be going to the University of Nebraska at Lincoln to complete her master's in architecture, said she was touched by how proud the hard-working Dominican people were and how appreciative they were of the help. 
Being able to work with her hands and power tools, view the different styles and colors of architecture there, and be immersed in the Dominican culture provide lasting impressions, Stegeman said. She is sure the experience will influence her future work as an architect.  
Lowe likewise said the trip expanded her perceptions of architecture and the world around her.  
"It gave me a greater appreciation for the things we have in the United States.  I'm very grateful for what I have.  But, I learned so much about their architecture and local culture.  I even brushed up on my Spanish.  It was so heartwarming to be with Dr. Davey when he presented the grant check to the women and to see the tears of appreciation in their eyes," Lowe said. 
She planted a lot of trees, stained decking for the scenic lookout and barbecue area and helped with other grounds maintenance.  She and the other SIU students worked alongside students from a local school program and area women and Peace Corps workers.  Lowe said she's pleased she could be part of a project that will help the area in many ways for a long time.  
The Ecological Center project has been in the works for a couple of years and will provide an educational venue for people in that area. Local women will also sell their crafts and wares and do interpretative work at the center, Davey said.  
Amid the hard work, the students got acquainted with the local people, giving ball caps to young boys and chatting with the residents.  One evening, the students and Dominicans celebrated their newfound friendships and efforts together, dancing non-stop for about four hours.  The SIU students did manage a bit of whitewater rafting and snorkeling, too. 
"It was a wonderful experience.  It was really fun and I learned so much.  I would encourage anyone who can to travel to get a better understanding of other people and their cultures," Stegeman said.  
"The trip was beneficial in so many ways," Lowe agreed.  "We got to travel, learn about architecture and cultures somewhere else, help wonderful people out and we got college credit for the service-learning, too."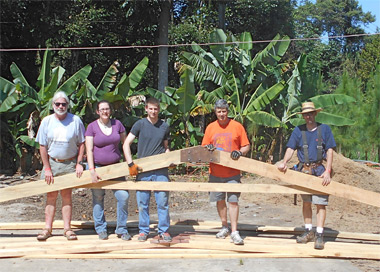 Building an ecological center -- The team from SIU began construction
of an ecological center in the Dominican Republic over spring break. 
Working on roof trusses, from left were:  Jon Davey, professor of architecture,
Andrea Stegeman, Joshua Fowler, James Fouse and Randy Thoms. 
Stegeman will graduate Saturday, May 10, with a bachelor's degree in
architectural studies.  Fowler, Fouse and Thoms are all master's degree
students in architecture. (Photo provided)