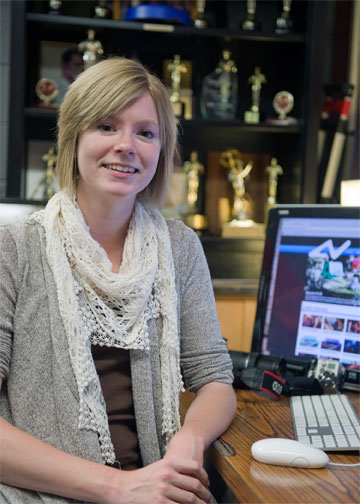 May 06, 2014
Bender takes full advantage of program's offerings
CARBONDALE, Ill. -- When Marta Bender arrived at Southern Illinois University Carbondale three years ago, she knew what she wanted to accomplish.
Bender will earn a double-major degree in new media news production and photography during commencement exercises for the College of Mass Communication and Media Arts at 5:30 p.m., Saturday, May 10, at the SIU Arena.  A University Honors Program student from Morrison, Bender said she embraced the chance to learn everything possible in the continually changing media field while at SIU.
"Every time another opportunity arose for me to learn something I took it because I thrive on learning," said Bender, who taught herself how to make and code websites when she was 12 years old.  "I love getting new information and learning new things and building a skill set. I thrive off of that."
William Freivogel, director of the School of Journalism, said Bender is "one of the most talented students" in the college.  She is one of the first students to take the specialization, specifically designed to prepare modern media professionals, he said.
"She is the prototype of the journalist of the future and maybe more broadly, the media maker of the future," Freivogel said. 
Bender's degree will be cinema and photography and journalism, specializing in photography and new media news production.
She was in Freivogel's First Freedom honors class last year and he came away impressed with how she understood the subtleties found in U.S. Supreme Court cases and critical doctrines.  She was also the student representative in the journalism school's faculty meetings and offered good advice there, Freivogel said.
"Marta has been very focused from the very beginning.  She knew that she wanted to do new media from the beginning and learn all of the skills she needed to learn," he said.
Bender excelled in using modern technology to tell stories. She was a web designer and staff member for alt.news 26:46, the student produced program that earned a seventh College Television Award for best television magazine news show in April. Among several segments Bender produced was one in the winning episode on a coffin race in Manitou Springs, Colo., and a parody of a fast-food restaurant chain's well-known commercial. Bender was one of the crew present to collect the top award two years in a row in Los Angeles, Calif.
"Marta is a multi-talented young woman who has taken advantage of many of the opportunities that our college provides for our students. She never shied away from the challenge and actually seemed to thrive learning new things. She is the epitome of what we hope our students gain from attending SIU," Jan Thompson, a professor in the Department of Radio, Television, and Digital Media and alt.news 26:46 faculty adviser, said.
Even before college, Bender, the daughter of Curt and Corinne Bender, was a webmaster for her hometown online newspaper for four years, wrote articles, took photographs, designed advertisements and made short documentary videos.  She has her own website and her freelance work includes the chamber of commerce and area development corporation in Morrison, along with work there for local businesses.
She got a jump on general education college courses while still in high school by taking classes at Sauk Valley Community College in Dixon and through the Whiteside Area Career Center in Sterling. Doing so gave Bender, the Morrison High School valedictorian in 2011, more time to spend on courses in her majors she was interested in, she said.  Bender is one of 832 members in the University Honors Program where at least a 3.3 overall SIU GPA is required.
Bender said when she visited SIU she found people who were welcoming and interested in projects she was already working on.  Some universities tried to dissuade Bender from pursuing a double major and others didn't have the program she was seeking.
"I was looking for a place that would allow me to do everything that I loved doing at once," Bender said.  "The new media news production program promised that."
Bender has also been able to pursue her love of photography and she became involved with Photogenesis, a registered student organization on campus.  She went to St. Louis to have her photography portfolio reviewed, and attended a Society for Photographic Education conference in New Jersey where she met some of her favorite photographers. 
The experiential learning in addition to her classroom work was also valuable.  She is considering her options, including an internship in St. Louis.
"I've learned so much more through all these additional opportunities that I never expected would be so abundant," Bender said.
The secret to keeping track of her various projects and work?  Bender laughed and said she likes to have a plan. 
"I stick to a very regimented, very strict schedule," she said.  "I have everything written out so I don't forget anything." 
Bender "represents the best kind of students we have in MCMA," Robert Spahr, an assistant professor in cinema and photography, said. 
"In today's world where everyone is using digital technology and delivering most of their media over the Internet, students need to be well-rounded in communicating by text, still and moving images, and with a strong understanding of how the Internet works." 
Bender is "exactly that kind of student," Spahr said.