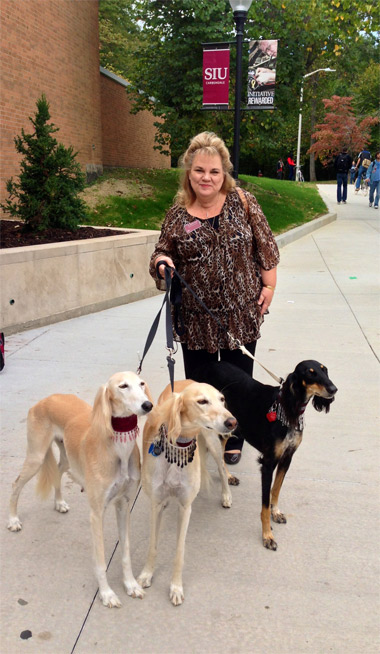 April 17, 2014
Advisers instrumental in student success
Every member of the faculty and staff at SIU plays a role in helping our students realize their dreams. In recent years, we have put a renewed focus on the success of our new freshmen, because that critical first year sets the stage for the rest of their college experience. We have enhanced many programs and created new initiatives, such as University College, to help ease the transition to university life for our newest students.
Like her colleagues in First-Year Advisement, Jeannie Killian is a passionate advocate for our students. To this day, she remembers how intimidated she was when she tried to register for classes as a freshman, and how the kind words and guidance of an adviser helped her overcome those early fears.
Jeannie went on to earn three degrees from SIU, and she has devoted more than 30 years to our university in a variety of roles, the last 12 as an adviser. She also has been an instructor in UCOL 101, the student success course all freshmen must take, and served as an adviser to student organizations. I have appointed Jeannie to a number of committees and task forces, including one currently focused on student retention, because of the valuable insights she shares.
I have advised many students throughout my career, and while the emphasis is on academics, it is important to connect with students, to understand their hopes and dreams, and appreciate their individual situations. That's what Jeannie and her fellow advisers are doing. They become life coaches, maintaining relationships with hundreds of students that extend well beyond that initial class registration appointment.
"My job is teaching, it is mentoring, it is academic advisement, it is being available to students when students need someone," Jeannie said. "I think of myself as a spark hunter, as a person who stirs the embers to create the flames within our students."
She told the story of a student who came to see her just after spring break a few weeks ago. While her first semester had gone well, she was finding the second semester to be far more challenging, making her question whether she was ready for college.
"She told me, 'I just kept hearing your voice, your encouragement' and she realized that by asking for tutoring and other assistance, she can do this," Jeannie said. "Many students come here like I did, feeling unprepared. But in reality, they just need someone to believe in them and help them build that confidence in themselves."
Her only goal is to see the students she has mentored earn their diplomas. And students – who refer to her as "Dr. K" -- appreciate her many contributions.
"Caring for a student takes time, it takes an investment of your heart, soul and spirit," Jeannie said. "It is heartwarming to go out to my car after work and see a nice note stuck on the windshield that a student left for me. It is heartwarming to have students come back years after graduating who tell me, 'You held me accountable, and for that I'm thankful.' I hope I am helping to shape, direct and grow students into good world citizens."
Jeannie and her fellow advisers really are champions for our students, and I appreciate the passion and commitment they bring to campus every day.