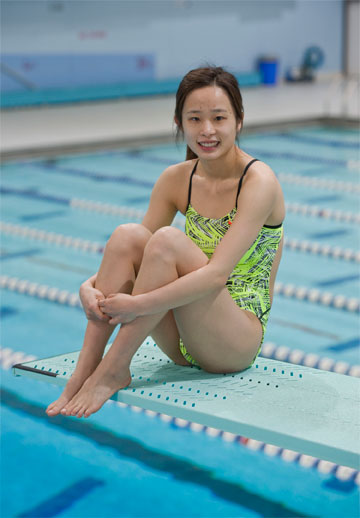 April 03, 2014
Student's hard work leads to academic, athletic success
If you follow men's and women's college basketball, this is a great time of year. I am a big fan, so I will be paying close attention to the semi-finals and finals of both national tournaments over the next few days.
But I also am a fan of all of our student-athletes. Many of them, like sophomore diver Kaixuan "Sherry" Zhang, train and compete outside the "glare" of the bright lights. When I talk with Sherry, her teammates, and other student-athletes, I can hear and see the pride they take in their preparation and in representing our university. And they understand the choice they have made. They are expected to stick to a rigorous training schedule so they can compete at the highest level. But we also demand the same of them when it comes to academics.
Sherry's hard work is paying off. She is the Missouri Valley Conference Diver of the Year for 2014, and our diving coach, Chunhua "Joy" Zhao, earned conference Coach of the Year honors. Then, during the NCAA Championships just a few weeks ago, Sherry, who is from China, earned both first team and honorable mention All-America honors in her two events. Sherry is just the fourth diver in SIU history to earn All-America honors.
She is as focused on academics as she is on diving. A radio, television and digital media major, Sherry maintains a 3.5 grade point average and was named conference Scholar-Athlete of the Week three times during the just-completed season. Then again, there is strong reinforcement about the importance of academics from teammates. Both the men's and women's swimming and diving programs earned Scholar All-America honors from the College Swimming Coaches Association of America for the fall semester. The women's team, with a 3.55 grade point average, tied for the second-best GPA in the country.
As a little girl, Sherry knew nothing about diving. But encouraged by her parents to take up the sport, she began competing as a member of a club team. Despite 10 years of experience and extensive training, which runs about three hours every weekday during the season, she still gets nervous before every meet.
"Diving is not only physical, it also is mental," Sherry said. "Every time you learn a new dive, it's scary, so you have to learn to believe in yourself and trust your coaches and teammates. It's like life experiences. If you have a problem in life, you have to think positively, that nothing is impossible."
Sherry gives much of the credit for her diving and academic success to her teammates and Joy, her coach. Like her colleagues in the athletics department, Joy's focus throughout her 11 years mentoring our men and women divers is on the student in student-athlete.
"All of my divers have to see their academic performance as their priority," Joy said. "When I notice they are struggling with their classes, I will reduce the training time and have them put in more time on academics. It is important that I balance the divers' academic and athletic schedule and performance."
Our student-athletes, and our coaches, know that with focus and training, big things are within reach during competition. They also know that by emphasizing academic performance, bigger things are in reach in life.